Bernie Sanders Meets With The Congressional Black Caucus — And Mostly Talks Policy
Six members and Sanders sat down on Thursday in Washington in an informal meeting heavy on policy, lighter on politics.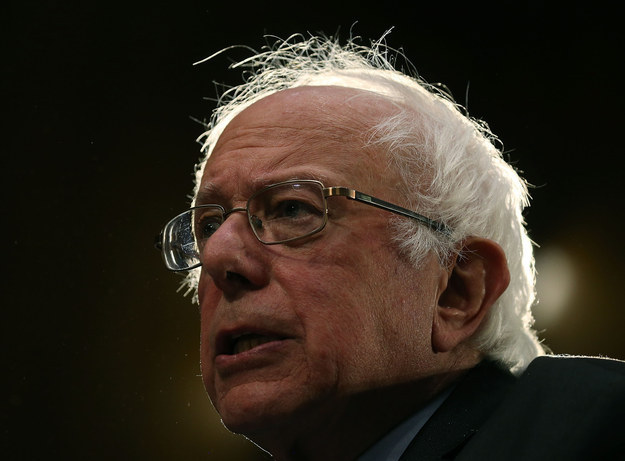 WASHINGTON — Bernie Sanders began personally reaching out to Congressional Black Caucus at a private meeting Thursday afternoon on Capitol Hill.
Sanders, according to multiple people briefed on the meeting, was light on official campaign overtures, and instead spoke about moving the conversation on CBC's bread-and-butter issues — criminal justice, gun control, the economy, jobs — further left.
A source familiar with the meeting confirmed that the attendees were Reps. Charlie Rangel and Yvette Clarke, both of New York; Texas Rep. Sheila Jackson Lee, CBC Chair G.K. Butterfield of North Carolina, and John Conyers and Karen Bass of Michigan and California, respectively.
The Sanders campaign wouldn't comment on the specifics of the meeting. "It was a very good meeting with many long-time friends that focused on the important issues they all care about," spokesperson Michael Briggs said.
An aide with direct knowledge of the meeting said, "There was nothing said that would be of interest to the Clintons." Instead, the meeting, the aide said, "was a reminder that our party is a lot more unified than the other side."
The CBC has been highly supportive of Clinton's candidacy. To date, more than a dozen members have publicly thrown their support behind her and that number is said to be growing. Clinton hired LaDavia Drane, a former CBC executive director under Ohio Rep. Marcia Fudge, to lead black outreach for her campaign. It was an outward signal that the Clinton campaign values the caucus' support and leadership but also takes seriously Drane's knowledge of the levers inside of the CBC.
While Clinton has seen her support shrink nationally, it's not evident that any of that support has waned with black voters, and that may be especially true of the CBC.
One member who met with Sanders on Thursday, Rangel, openly said last year that while he doesn't like coronations, "I don't see where anyone is gonna challenge her, on the Republican side or the Democratic side."
One member, who did not attend the meeting because of votes later the afternoon, expressed shock when informed that only six members had gone to the Congressional Black Caucus Institute to meet with Sanders. Another acknowledged that it was scheduled at a tough time, smack dab in the middle of the bustle of the first week back after recess.
Sanders faces some skepticism from people within the CBC. Another staffer of a prominent member of the CBC said, "I think a lot of folks saw the hiring of his press secretary as a little too convenient for him," the staffer said, referring to Sanders' campaign's national press secretary, Symone Sanders, who is black. "He's going to need to try harder to establish his street cred within the CBC."
But top aides in the CBC who spoke to BuzzFeed News on the condition of anonymity because they were not authorized to speak on behalf of their office's political engagement, said CBC members view Sanders as another partner in struggles for changes to the criminal justice system, racial justice, and better access to education. "Sen. Sanders speaks our language," Butterfield told the blog Crew of 42, which covers black lawmakers.
The Sanders campaign told BuzzFeed News that the candidate will be a presence at the Congressional Black Caucus Foundation's Annual Legislative Conference next month, a sign that the courtship may have just begun — next time on turf that Clinton historically owns.