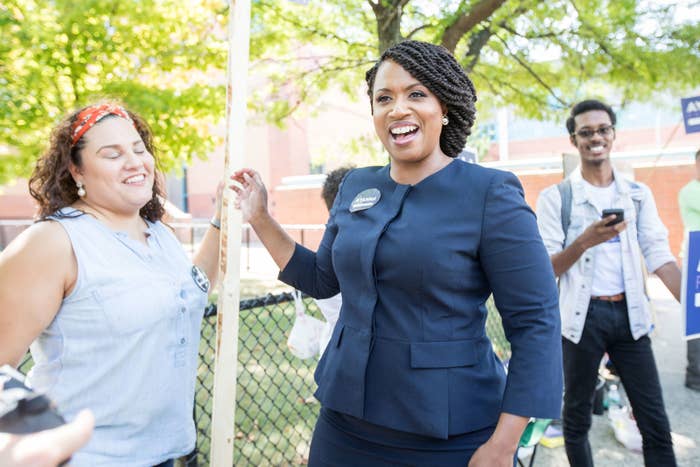 Ayanna Pressley, a Boston city councilor and sexual assault survivor, on Tuesday became the first black American woman to win a House primary in Massachusetts, ushering into Congress a new era of fierce, activist leadership in the mold of Shirley Chisholm and Adam Clayton Powell Jr.
Incumbent Rep. Michael Capuano, a 10-term lawmaker who until now had never been seriously challenged for his seat, conceded to Pressley early Tuesday night as votes were still being counted.
Video of the moment Pressley learned she had won the campaign went viral on Twitter, showing the likely member of Congress bursting into tears and hugging her husband.
Pressley presented 2018 as an urgent tableau, drawing for voters a stark contrast between the insufficiency of a progressive voting record and her own personal biography in an era where progressives are demanding an end to inequality.

"It seems like change is on the way," Pressley said in her victory speech to supporters. "I am so humbled to be standing before you tonight, victorious." She later added, "It's not just good enough to see the Democrats back in power, but it matters who those Democrats are."
Capuano, meanwhile, told his supporters, "I'm sorry it didn't work out, but this is life, and this is OK." He then gave his support to Pressley's campaign, saying she is "going to be a good congresswoman." Pressley, in her speech, praised Capuano's career, saying "he forced me to bring my best" and thanking him for his work.
"This is the most progressive district in the country," Pressley told BuzzFeed News earlier this summer. "So [Capuano] can be bold, he can innovate, he can [take chances]. Activist leadership is about leading and legislating, so the fact that he keeps talking about how progressive his voting record is — like, well, so what? The person in this seat doesn't just lead for the delegation or the district, which needs leadership because it's the most diverse and it's the most unequal. They're also setting the tone for the country. To me, that is the difference."

Barring a risky, late-stage write-in campaign, Pressley is all but certain to take the state's 7th District seat in the next Congress. Her victory is further evidence that the electoral politics of the left are not simply a matter of substance but, increasingly, style, where authenticity trumps machine politics and the status quo, as first evidenced by Alexandra Ocasio-Cortez's primary win over Rep. Joe Crowley.
For Pressley, Tuesday's win marks the zenith of her career in politics, in which she has been widely viewed as a comer, even if her path was for a while unclear in Massachusetts politics.

In the fight for his political life, Capuano called on a litany of backers that included former Gov. Deval Patrick, Rep. John Lewis, Rep. Joe Kennedy III, and Boston Mayor Martin J. Walsh. Capuano campaigned on the foundation that Democrats fighting Trump needed an experienced leader and someone with seniority poised to deliver for the district should Democrats take the House in November.
Capuano sought to downplay how Pressley's blackness, youth, and gender were factoring into the campaign. He struggled with questions of race and, at times, Pressley's dynamism. Responding to a question about Pressley's assertion that she brings a new lens to Washington, Capuano told the Globe, "I've always been put off by identity politics on every level. It's not new. It's not going away. But I've always been put off by it, and I continue to be put off by it." Additionally, Capuano told WGBH earlier this year, "Look, I cannot be a woman of color. And if that's what people care about, that's fine. I accept that, I understand that. I just don't think there are that many people who will vote for me because I'm a white male or vote against me because I'm a white male." He told the New York Times he thinks the "average voter wants somebody who's best for them and not just someone who may look like them at a given time."
Pressley did not shy away from questions about her identity, saying throughout her campaign that it's not just her experience as a black woman that informs her politics and how she'd lead in Washington, but also the people who feel shut out of the political process who she talks to regularly.
"I happen to be black and a woman and unapologetically proud to be both," she said during a debate at the University of Massachusetts Boston. "But that is not the totality of my identity. I am a wife, I am a mother, I was a caregiver [for] my mother end of life with a pre-existing condition, I'm a leader and I'm a problem-solver. And that's what this district deserves. However, representation does matter."
She told BuzzFeed News in June: "My experiences as a black woman, my worldview and how that's shaped my values are in sharp contrast with how he sees the world. Now, the electorate gets to decide if my view is better. All I'm saying is it's different."
Chisholm and Powell are remembered for their advocacy in Congress on behalf of vulnerable communities of color during an era that coincided with the civil rights movement, a pivot point in US politics where black politicians envisioned the political process as a path to black American progress. That Pressley has come along now, though, cannot be divorced from Trump, the Black Lives Matter movement, the new American progressivism, the #MeToo movement, and other new political realities with which any newcomer to electoral politics must eventually reckon.

In a sign of Pressley's strength, several Massachusetts heavyweight Democratic names stayed out of the race, including the state's senators, Elizabeth Warren and Ed Markey, and Rep. Seth Moulton, who himself unseated a longtime Democrat, John Tierney, in 2014.
In 2015, EMILY's List gave Pressley its Gabrielle Giffords Rising Star Award. The group, however, did not endorse her during the primary. The Congressional Black Caucus PAC backed Capuano, citing his strength as an ally.
Maura Healey, the state's attorney general, came out in support of Pressley, but it was the endorsements of Boston's two largest newspapers that catapulted her campaign in the latter stages. The Boston Globe highlighted her "rare political talents, combining personal charisma with a shrewd understanding of how to translate values into policy."
Puzzled Democrats like former Massachusetts Rep. Barney Frank decried the utility of a "family fight," saying Democrats and progressives should take the fight to Trump instead of each other. Capuano and Pressley agreed on just about all of the major issues, but Pressley went further than Capuano on the abolishment of Immigration and Customs Enforcement (ICE), opposition to Trump's border wall, and over the Protect and Serve Act, a so-called "Blue Lives Matter" bill that would make assault on a police officer punishable by up to 10 years in prison. While Pressley said she would vote against it, Capuano called it "a throwaway vote."