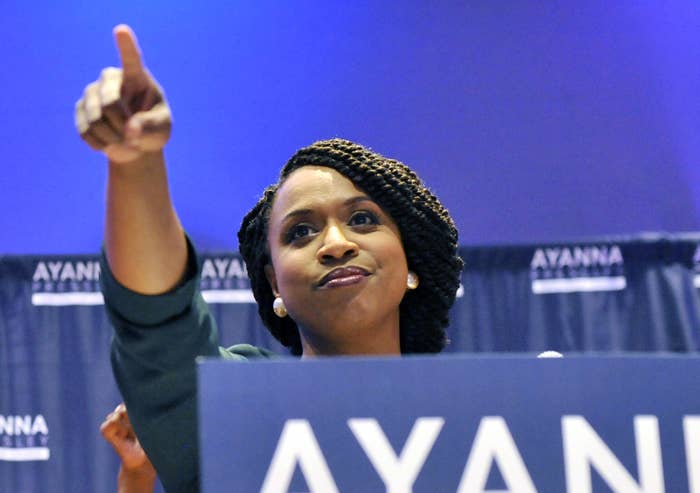 The institutions that an earlier generation of Democrats created to support women and black candidates for office didn't do anything for Ayanna Pressley.
The Congressional Black Caucus PAC backed her white incumbent opponent. EMILY's List — the mammoth organization that supports pro-choice women and named Pressley as its Gabrielle Giffords Rising Star in 2015, using her poignant biography to move donors at a glitzy Washington fundraiser — stayed out of her contest with a 66-year-old man.
And when Pressley won anyway Tuesday, she didn't just beat Mike Capuano: She and a new generation of insurgent candidates raised deep questions about a set of big money institutions whose ties to the establishment may turn them into victims of a revolution they used to champion.
Democrats have an Ayanna Pressley problem.
EMILY's List has stayed quiet publicly about Pressley in the days since she won her Massachusetts congressional primary. But privately, EMILY's List president Stephanie Schriock reached out to Pressley Tuesday night. They did not speak, according to a person with knowledge of the matter. A spokesperson for the group told BuzzFeed News that they "can't wait to see" what Pressley does in Congress.
"We at EMILY's List are so proud of Ayanna Pressley for this tremendous and hard-fought victory," said EMILY's List spokesperson Julie McClain Downey.
Pressley was not available for an interview for this story, but a source close to her said it would be "naive" of EMILY's List to move forward as if everything were all good.
Back when Pressley was fighting for votes and money, the endorsements would have been welcome support. They didn't come, though, and the result is a divide between a potent new force in American politics and two Democratic groups with a stated mission of inclusivity and commitment to electing women like Pressley.
Initial outcry inside the party that Pressley's journey was lonelier than it should have been took its cues from the movement in politics that all people — but especially powerful Democrats — should stand with, trust, and empower black women. Increasingly, Democrats believe investing in candidates like Pressley is a must for establishment groups that are missing the larger picture and the shift underway in Democratic politics.
The split is by no means irreparable, political strategists say, but Pressley's 18-point victory exposed Democratic groups and political figures currently adhering to an antiquated model of politics out of step with a progressive-minded electorate that wants leaders who embody the energy and urgency of the left. Now, both EMILY's List and the CBC PAC are dealing with the fallout from Pressley's resounding win Tuesday, a next step Democratic operatives say is awkward but necessary.
On the night of Pressley's victory, EMILY's List released a statement on "Senator Elizabeth Warren Advancing to the General Election," declaring that "when it comes to pushing back against the GOP's disastrous agenda, Senator Warren has proven time and time again that she is a fighter." Warren's primary was uncontested. The group then announced a Manhattan fundraiser with Sen. Kamala Harris, Georgia Democratic gubernatorial nominee Stacey Abrams, and House candidates Lucy McBath, Debbie Mucarsel-Powell, Mikie Sherrill, and Jennifer Wexton.
EMILY's List is looking at a large map this fall with limited resources and only so much money to go around, and it's reasonable, if not understandable, that it would choose to focus on helping allies running against anti-abortion candidates. But the message it sent in Pressley's race isn't lost on the broader new progressive movement.
According to two people with knowledge of the correspondence, Pressley's campaign was sent an EMILY's List candidate questionnaire after her primary for the group to endorse her. It's not clear if Pressley filled it out, but the group still has not officially backed her.
The CBC PAC, meanwhile, went ahead Wednesday morning like all was about normal, holding a planned coffee discussion with Reps. Anthony Brown, Dwight Evans, and Donald McEachin.
However, the CBC PAC's endorsement of Capuano didn't exactly jibe with a sense of pride in Pressley's candidacy and an anticipation among members that, if elected, she'd be a dynamic and experienced leader in Washington, according to interviews with top staff and other aides close to black lawmakers. As BuzzFeed News reported in May, the CBC PAC board's vote on the race was on whether to endorse Capuano or stay out altogether. The vote was not unanimous, but the aides said the perception that the endorsement of Capuano was made on behalf of each member of the Congressional Black Caucus was not reality.
One congressional aide close to several members told BuzzFeed News many "were really rooting for her." People did not go public with their support, the sources said, because the caucus likes to "speak with one voice," even if there is internal dissent.
"Early on they didn't want anything to do with it," said one aide who asked for anonymity to describe the politics of the race. "I think they respected Capuano, but they were supportive of and respectful of her right to run. And then there were some who said, 'We're always going to pull for the black girl because they need more of us here.' It was hard, because they actually support her, but her opponent had been a supporter and engaged in so many of the issues and a strong champion."
In a phone interview with BuzzFeed News, CBC PAC chair New York Rep. Gregory Meeks said he called Pressley to congratulate her this week, complimenting her on running a fine campaign that was buoyed in his estimation by her experience on the city council and a movement of women in electoral politics no longer sitting back in the age of Donald Trump. He said the CBC PAC did not have a blind spot in electing to support Capuano, who Meeks said he sat next to for 20 years on the House Financial Services Committee.
When you work with someone who has been as loyal as Capuano, who has supported issues important to black Americans in Congress, "you don't forget that factor," he said, adding his message to Pressley was going to be, "Congratulations. Congratulations and welcome aboard."
Meeks said race was just one part of how the CBC PAC makes its decision to back candidates. He added that at least 11 members of the CBC represent districts that are increasingly diverse and that it's "no longer the way that it was 30 or 40 years ago," when black lawmakers chiefly represented majority-black districts. "We've got to make sure that we are focused on that in the long run," he said.
Democrats, and even Pressley herself, understand political realities surrounding loyalty. Pressley told BuzzFeed News in June, "I didn't come into this with any delusions about what this journey and what this walk would be like." But concerned Democrats say the groups have a relevancy problem, and the question going forward is if establishment groups are prepared to make taking risks on women like Pressley and New York's Alexandria Ocasio-Cortez part of their mission or...nah.
Ocasio-Cortez had her own issues with EMILY's List during her primary campaign, before she beat Rep. Joe Crowley in a major upset. "As a female progressive candidate of color, I mean, I didn't even feel like I was welcome to EMILY's List," she told BuzzFeed News before her win earlier this year.
Neil Sroka, the spokesperson for Democracy for America, which backed Pressley and Ocasio-Cortez, said part of the reason DFA got involved was because "we felt like we really didn't have a choice." He argued that Democrats have lost dozens of congressional and state House seats over the last decade and "lost the presidency to this idiotic bigot" because the Democratic power structure focused on "ever-dwindling swingable, right-leaning, white suburban voters" and ignored millions of voters who want an inclusive populist agenda in the process.

"If you believe that's why we've been losing, you have to embrace and make different kinds of choices in the types of candidates you support and the kind of races you get involved in. The old way is not working and it hasn't worked in a really long time."
"There is a need for constituents to feel heard and listened to and want to know that there are elected officials who are really taking their opinions into consideration," said Kimberly Peeler-Allen, a cofounder of Higher Heights for America, which backed Pressley in the race. "Black women have a really unique perspective because we know what it means to be unheard in society. Ayanna really traveled her district and spent the time listening to people and voters responded. It's as much about the messenger as it is the message and methodology that's really resonating."