Keisha Lance Bottoms plans to endorse in Georgia's Democratic primary for governor "in the near future," her office told BuzzFeed News, ending weeks of speculation over whether the newly elected and enormously popular Atlanta mayor might get involved in the most hotly contested intra-party, statewide race in the South.

Her office did not say which candidate she would endorse, but her intention to do so provides yet another layer of intrigue leading up to the May 22 primary between Stacey Abrams and Stacey Evans. The candidates hold contrasting views on how to expand the voter base in Georgia for Democrats as the party tries to capitalize on President Trump's unpopularity. The fact that, if elected, Abrams would be the first black woman governor in US history has added to the race's significance and complicated the intra-party politics.
Democrats in the state have long speculated Bottoms will endorse Evans, a 39-year-old former state legislator and lawyer — not least because Evans endorsed Bottoms in her mayoral bid over Mary Norwood, a white 65-year-old businesswoman. A source close to Evans said when the endorsement was made there was no "quid pro quo" expectation for Bottoms to endorse back. An Evans adviser told BuzzFeed News Evans had indeed "stuck her neck out" for Bottoms, but that the campaign hadn't banked on a returned favor.
At the time of Evans' mayoral endorsement, Bottoms, touting their similarities as the products of single mothers with young children, said she still had a race to run, but "you can glean from us standing together how I feel about Stacey and how I feel about her campaign for governor, and when the time is appropriate I look forward to standing with her as well." (Asked if Bottoms would officially endorse Evans, Anne Torres, a spokesperson for the Bottoms administration, told BuzzFeed News she couldn't comment beyond saying an endorsement was coming.)
Bottoms is also a staunch ally of former Atlanta mayor Kasim Reed, an Abrams adversary dating back, in part, to when Abrams ran a mayoral campaign against him. "No one here was ever expecting Keisha to endorse Abrams," an Atlanta-based political strategist told BuzzFeed News.
Still, if Bottoms does endorse Evans, it will ruin the hopes that some black Democrats have harbored: Bottoms and Abrams working in tandem in the state's most powerful executive offices, as Democrats are hoping to turn Georgia blue in 2020.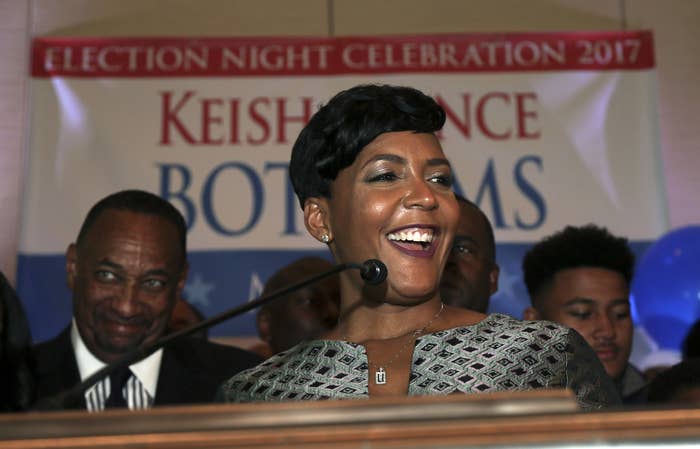 Republicans still control the state legislature, but the movement to turn Georgia blue is strong. A young Democrat, Jon Ossoff, nearly peeled off a key Congressional seat once widely believed to be safely Republican in a 2016 special election. Lucy McBath, the mother of Jordan Davis, a 17-year-old who was shot to death by a white man later convicted of murder, is running for the chance to take on Rep. Karen Handel. Hillary Clinton performed better than Barack Obama in 2012 by more than 100,000 votes.

"It would be foolish, if not career suicide, for Bottoms to endorse Stacey Evans."
Black Democrats are bracing for the fallout. "If Abrams wins despite a Bottoms endorsement, I can see it as being an even more toxic and counterproductive than the relationship between Bill de Blasio and Andrew Cuomo in New York," said one national Democratic strategist who agreed to speak on the condition of anonymity because she is an admirer of both women.
And Team Abrams — an organized web of political operatives, donors, and progressive activists — readily acknowledge that if Bottoms endorses Evans, it would hurt their candidate, and are arguing it would be bad for Bottoms to do so.
Steve Phillips is a pro-Abrams Democratic donor and political strategist who argues that a seismic demographic shift means the Democratic Party has to double down on its efforts to invest in communities of color in order to win. Phillips says that when black voters have the opportunity to make history by electing someone from their community to a higher office, the endorsements of a few black elected officials are all but rendered irrelevant.
"It would be foolish, if not career suicide, for Bottoms to endorse Stacey Evans," said Phillips in an email to BuzzFeed News. "From Harold Washington in Chicago to the presidential campaigns of Jesse Jackson and Barack Obama, black voters ignored elected officials and embraced inspiring black candidates. That's what's going to happen in Georgia, where African Americans are the majority of voters."
In private, pro-Evans Democrats like to argue that Georgia voters aren't swayed by a candidate's race, and say that voters are especially suspect of national forces playing in their state's politics. (Abrams' national donor base, for instance, has been the source of criticism of her campaign.) These Democrats don't have a particularly high opinion of the $10 million New Georgia Project, an Abrams-led effort to help identify some of the 1.5 million unregistered voters in Georgia, saying it didn't register as many people as it aimed. "I don't believe nor did I believe that the New Georgia Project is the model," then-mayor Reed told the Atlanta Journal Constitution. "I think that you have professional organizations that are experts at building the voter database in states, and I think that they should be a part of the overall political campaign."
Abrams also started an institute to train young people how campaigns are run. Her supporters say they believe Abrams' status as a builder of the party in Georgia earned her the right to campaign for the nomination, and they argue people like Bottoms benefited from her party-building efforts. "Ironically so [has] Evans," said Stefanie Brown James, the cofounder of Collective PAC, a new national group backing black candidates in races this year. "She will benefit from the same black voter support that Abrams has worked to empower."
Brown James told BuzzFeed News the Bottoms-Abrams dynamic is unique. "It would be a bad sign to America as a whole for Mayor Bottoms to endorse Evans," said James. "It's important to know that as black people we are not a monolith. But to me, it would be problematic for Mayor Bottoms to endorse Evans over Abrams not just because they're both black women, but more importantly, Abrams is more qualified than Evans. And as a leader you don't want to put yourself in a position to make a decision that isn't in the best interest of your community."
Abrams promises to have plenty of support outside of Georgia, including the recent endorsement of Our Revolution, the Bernie Sanders–aligned group run by Nina Turner, a prominent black voice in Democratic politics. She also has the support of Rep. John Lewis, a legendary figure in Atlanta.
But Bottoms has showcased an independent streak as a candidate that also earned her admirers. "This will not be a third term for Atlanta Mayor Kasim Reed," said Bottoms last year, pushing back at criticism she was being controlled by Reed. "I will not be controlled by anyone when I become mayor of the city. We need to put to bed this conversation because the mayor is not responsible for me. I'm not a pixie dust candidate. I'm an independent candidate with an independent mind."