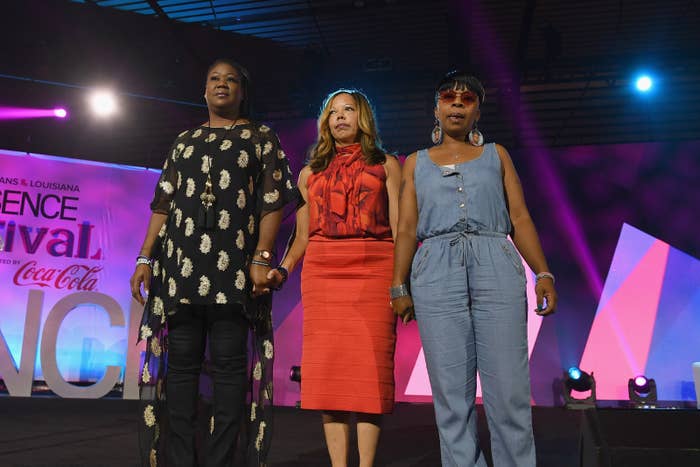 PHILADELPHIA — On Tuesday night, eight women will take the stage in Philadelphia and tell stories of grief.
The Mothers of the Movement — black women whose children died as a result of police or racial violence, and whose children's deaths helped spark a new generation of activism — will speak on behalf of Hillary Clinton and make the case that that grief can be transformed into purpose.
According to interviews with nearly a dozen people around the mothers and the Clinton campaign, they will frame Clinton as a devoted, big-hearted vehicle for change in policing and the justice system, a candidate who reached out to them when it wasn't politically gainful, spoke directly to them, and invited them to share their stories with the nation. A spokesperson for Clinton said the mothers will focus on their personal narratives and children; discuss policing, systemic racism; and argue Clinton is the best candidate to stem gun violence.
Some of the mothers have chosen to write their speeches themselves, a Clinton campaign official said. They are often asked to speak, and even though they will hew closely to the theme of turning pain into purpose, there is a certain level of uncertainty as to what to expect when Sybrina Fulton, Geneva Reed-Veal, will be joined by Lucy McBath, Gwen Carr, Cleopatra Pendelton, Maria Hamilton, Lezley McSpadden, and Wanda Johnson, walk on the stage.
"For some of them the pain is more recent… some of them are remembering anniversaries," Minyon Moore, a longtime Clinton confidant told BuzzFeed News. "So there are phases and each time they tell their story they have this internal steeliness and resolve but it's still painful. Every time I don't think there's any [worse] pain that a woman can experience than losing her child."
"We can never take for granted that every time they tell their story to us they're opening up that wound again," she said. "But we're grateful because it gives us a chance to help them and and share with them and say, 'We're here for you.'"
The task of introducing the mothers to Clinton was handled by LaDavia Drane, the campaign's director of black outreach, during the Democratic primary. In April, the New York Times reported that Clinton met them for dinner in Chicago in November. Since then, the mothers have criss-crossed the country as surrogates for her.
Many of the young activists involved in the Black Lives Matter cause are either skeptical of electoral politics or supported Bernie Sanders. But throughout the Democratic primary, the mothers were strong surrogates for Clinton, who did extremely well with black voters, especially older voters and black women. And while the mothers' advocacy for Clinton has drawn the attention of black voters, senior Clinton aides and friends believe their stories transcend race.
"When you're talking about people who have lost a child," senior spokesperson Karen Finney said, "there's a shared experience there that opens the door to hear a story from someone they thought they might not have anything in common with."
Benjamin Crump, the civil rights attorney who has represented several families who lost people due to police violence said about their control their emotion on stage.
"I'll be praying that they don't lose their ability to communicate their thoughts clearly as they want to the world," Crump told BuzzFeed News in an interview. "It's obviously going to be emotional because any parent that has a child immediately puts themselves in that situation and says, 'My God, what if that happened to my child?' Especially people of color — but any parent can feel that. It's the most horrific any parent can imagine. You would rather die than your child die."
Moore said the connection between the mothers and Clinton was palpable, particularly around wanting to do something together to create changes in society.
"I remember Trayvon's mother saying, 'She saw me,'" Moore recalled. "And it's very unique that you have mothers who have suffered from tragedy, especially with young black men and they have been elevated in way that people know that they have pain that has been hidden. But these mothers that you'll see [Tuesday], there's thousands of them. They're black, they're white, they're brown."