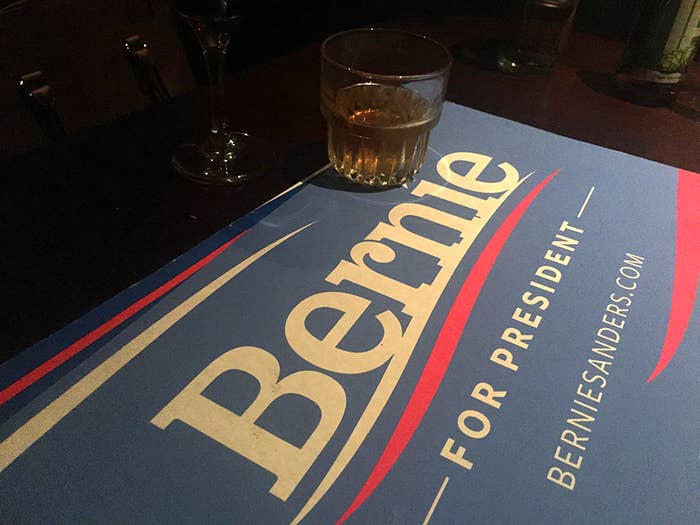 COLUMBIA, South Carolina — "I hate the fucking music."
Those words, from a Bernie supporter, rang just minutes after Hillary Clinton addressed her supporters a few blocks away. No one knew, exactly, what the music was. Or what had happened on Saturday.
Sanders' watch party, sans candidate, was held in the upstairs lounge of a restaurant and jazz bar called Pearlz on a well-populated strip downtown. The music was percussive, and yet sad — the handiwork of David Cosgrove, the campaign's scheduling and advance director for South Carolina.
When the complaints rolled in, there was little Cosgrove could do about it. "What do we want? A little something more upbeat? A little Tribe Called Quest up in this bitch?"
For the crowd of about 85, the drinks were strong, at least. A bartender named Guy Lugenbeel, a Bernie supporter from Columbia, had no idea he would be working for an event. He found out on Facebook and came into work an hour earlier than scheduled after deejaying a rave until 6:15 in the morning. Then, he went to vote for Bernie.
"I just happened to work here and I saw it on Facebook and just hauled ass in here," Lugenbeel said. "Hey, we gotta go vote, it's time to shut it down."
He was conflicted about the results.
"I don't know, man," he said. "The best thing we could have hoped for was, like, a small victory, which would have been a 30-point loss. A victory would have been a 20-point loss. Obviously it didn't seem to work that well."
"You can only vote and try and do what you can," he said. "For the most part of course I would be happy with a small victory but I was definitely realistic about it." Then he poured a huge bourbon on two ice cubes.
If there was an optimistic soul in the whole place, it was Diane May, a former spokesperson for the South Carolina Democratic Party who confidently said she was about to join to the campaign.
"Bernie had a decisive win in New Hampshire and she had a decisive win here," May said. "We're looking forward to Super Tuesday and the March 15 primaries. There are a lot of voters who are out there who identify with Bernie's message and who want to hear from him. We look forward talking with them and seeing them come out."
Her plans are rough — "I'm literally just gonna pack a bag and go for two weeks" — but they also involved a drive to Vermont.
Others kept looking forward, too.
"I'm proud of our efforts here," said Aneesa McMillan, Sanders' South Carolina communications director. "We've shown several signs of being able to win. We won the Latino vote in Nevada and the argument there was that we couldn't do well with minorities and we proved that we could."
Of Clinton's margin of victory, McMillan said she wished it was narrower, but felt that there wasn't any reason for Bernie's operatives in South Carolina to hang their heads over it.
"When this race started we were polling in the single digits so I think the momentum continues. It really is the beginning of the contest."
"I don't feel defeated, I'm not even [kidding] you," McMillan said. "I'm looking forward to continuing the campaign."
There were jeers when Clinton spoke on television, but also the absence of much hope. Black voters were said to be close to be about 60% of the electorate in South Carolina and voted overwhelmingly for Clinton — by potentially more percentage points than they did in Obama in 2008, though turnout was down significantly from that contest.
State Rep. Justin Bamberg addressed the crowd. Never one for scripted speeches, Bamberg sent along the candidate's regards and assured those in attendance that it wasn't over — not by a long shot.
"I wanna tell everybody to keep your head up because we are not done yet. Set back is a set up for a comeback," he said drawing saying to a supporter who recognized him from TV. He corrected the volunteer from California who said his switch from Clinton to Sanders was due to him seeing "the light."
"Well, I educated myself," he said.
Of his address, Bamberg kept it short and simple like his speech. "Just wanted to keep everybody encouraged," Bamberg said.
Bamberg gave his address to a rapt audience, filled with people looking for some reassurance that things were going to be OK. "And we can crank the music up!"
That music was still a problem, though. Cosgrove had tried, but in the end, this was all there was. "He never changed the music!" one campaign staffer said, then cursed.