As A Broader Movement, Black Lives Matter Braces For Trump's Presidency
The specter of a law-and-order presidency has created an unfamiliar dynamic inside the influential Black Lives Matter movement.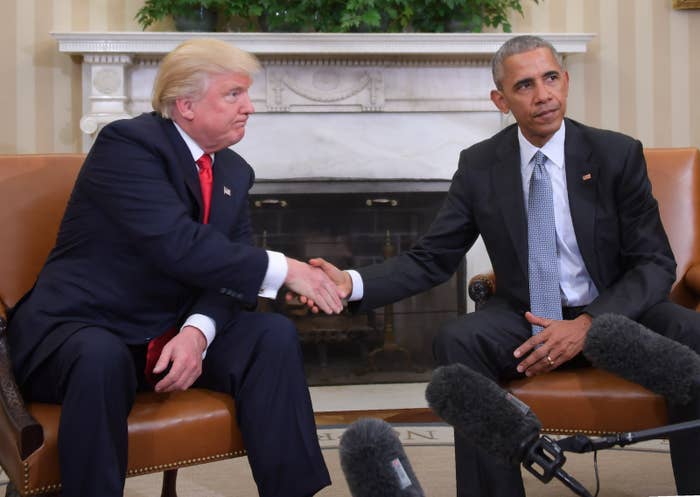 WASHINGTON — On the night of the election, Black Youth Project 100 threw a party in Durham, North Carolina to watch the results come in. By the end of the night, organizers faded minute-by-minute into a disbelieving — and in some cases, alcohol-induced — haze.
The day before, the group mobilized voters. But they're best known for leading the fight in Chicago to release the video recording of Laquan McDonald's murder resulted in the resignation of a police chief, the state's attorney and almost got a former mayor up and out the proverbial paint. This year, BYP 100 defined and defended its foray into electoral politics strategically — namely, the group organized with voters as a method to achieve "harm reduction."
Now that Trump was elected, they are among the groups in the movement hunkering down trying to figure out what's next in the age of Trump, a pro-police candidate who has demeaned certain minority groups, helped try to de-legitimize the first black president, and who repeatedly praised "stop-and-frisk" — a favorite tactic of top advisor Rudy Giuliani — as a crime-fighting policy.
"This is an opportunity for us to dig into deep strategic planning and building and understand the whole landscape before we can so quickly move forward," said BYP 100 spokesperson L'lerrét Jazelle Ailith.
Activists are worried about what Trump's presidency could mean in regards to victories achieved during the tail end of the Obama administration. In recent days, aggression toward people of color have dominated headlines. Recorded incidents in coffee shops, classrooms, and on television news are interpreted by groups inside the movement as Trump's influence over his supporters who don't feel confined by political correctness or their own shame.
Trump told his supporters harassing people of color to "stop it" in a nationally-televised interview. But the movement is concerned about what a Trump presidency means for things he can undo with the stroke of a pen. Only in October did the Justice Department announce it would be begin collecting nationwide data early next year on police shootings. Under Obama, the DOJ sued Ferguson over police conduct, and launched probes into cities like Chicago and Baltimore.
"We have work to do to protect our communities from harm at every level, to continue to push for progress and move forward from the important places we've come to, and continue to work to build a culture and systems that move toward equity — not hate and division," said Brittany Packnett of Campaign Zero, who sat on the president's policing task force that put forth sweeping recommendations for police departments. "The work ahead will be just as much about the person occupying the Oval Office as the culture that got him there."
Several prominent activists are already in the planning stages of a 100-day agenda. The plan, according to key organizers, takes the Movement for Black Lives policy agenda and marries it with advocacy-based solutions.
The groups inside the movement working on the agenda expect the political climate to be hostile to not just black people and people of color, but also to the LGBTQ community. Leaders view the agenda as a firewall against extreme policy — in the words of one activist it's a template for how to "stand guard for what's about to happen."
One activist called it the "blacklash."
"The movement has done an amazing job of creating a foundation for our work together," said Jessica Byrd, an activist and Democratic strategist who works with groups inside the movement. "Now is the time that container becomes powerful — we need each other to heal and resist."
Activists who spoke with BuzzFeed News said they were curious about the evolution of the movement when there is expectation is no progress on matters of racial justice, and a movement behind Trump they feel is hostile toward black Americans and other people of color.
How the groups will respond — if they are pushed toward pragmatism under a Trump presidency, or if they wage a rhetorical war against Trump — could end up being one of the core tensions over the next 18 months. At the Race Forward conference in Atlanta, for example, there was an emergency strategy session. Many meetings now are about coalition-building and how to protect vulnerable groups of people who feel endangered.
Trump's plans on immigration have what feels like the most urgency to people in the black immigration movement. Tia Oso, the national organizer for Black Alliance for Just Immigration, who was a central figure in the infamous 2015 Netroots protests of presidential candidates, said the people she serves in BAJI have one of three reactions to Trump's election.
There is anxiety over what people who are vulnerable perceive as Trump's rise as a serious threat to their safety. But there's also been a resurgence of purpose —meetings and a commitment to added cohesiveness and fundraising. Oso said that to many of the black immigrants she works with from Africa, the Caribbean, or Central America, Trump's ascendancy looks painfully familiar to immigrants of varying levels of status who lived through the election of authoritarian leader.
"Their message is, 'Welcome to my world," Oso said.
In a statement to BuzzFeed News, Shanelle Matthews, a spokesperson for the Black Lives Matter organization said it has "always had a mandate to advocate on behalf of and support immigrant communities because immigrant communities are Black.
"We are committed to ending violence against and emboldening black immigrant communities, especially now given Donald Trump's commitment to tear apart our families and seal up our borders. We are eager to work alongside other liberation groups to find ways to protect immigrants under the Trump regime," she said.
Given plans to limit immigrant access to public benefits and work authorization, Trump's association with strict immigration architect Kansas secretary of state Kris Kobach, and a plan to build a wall, Oso described Trump winning as a "worst-case scenario" but one America should have expected. "If anyone, black people should know that electing the best, most qualified person" is irrelevant in "a system that is set up to benefit straight white men."
Activists who acknowledge that the new reality is reinvigorating them in ways they hadn't anticipated, like to express dismay at Trump's big win, or no surprise at all: "This is America."
"We are the right people, at this right time for a reason," Byrd said. "I'm ready to fight back in the ways black people need."