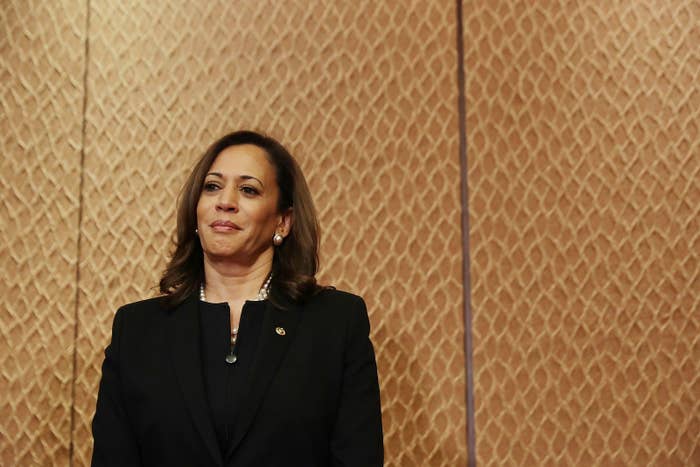 California Sen. Kamala Harris is headlining a Martha's Vineyard reception next week amid a swell of excitement here for her possible candidacy for president.

Politically connected Vineyarders are packing the island this week and the next, when at least half a dozen groups and national figures running for office — including Georgia Rep. Stacey Abrams and Tallahassee Mayor Andrew Gillum — are hosting receptions and fundraisers as their campaigns sprint to primaries and the November election. On Tuesday, BuzzFeed News reported that another potential candidate for the 2020 Democratic presidential nomination, former Vice President Joe Biden, would appear at a fundraiser for a political group with close ties to Rep. Jim Clyburn, the most powerful Democrat in South Carolina.
Three sources confirmed Harris, who held a fundraiser here last year, will make another trip and attend an event hosted by her sister, Maya Harris — a former top policy adviser to Hillary Clinton — and her husband, Tony West, according to an invitation. This trip is more notable because the politically connected donor class — many of whom are black women — expects a Harris presidential bid, said Glynda Carr, a prominent political operative and cofounder of Higher Heights for America, which works to get black women elected to office.
"I think the excitement here signals that black women are poised to harness our political power to catapult a black woman to the White House," she said.
Regulars vacationing on the island off the coast of Massachusetts are familiar with Harris though sometimes mispronounce her name. (It's KAHM-a-la not Kuh-MAH-la, and you're welcome!) The voters of Martha's Vineyard said they definitely knew who she was and were excited to hear that she was coming again; it reminded them about how thrilling it was to know that the president of the United States and the first family vacationed here frequently. (Hundreds lined the streets earlier this week where Barack Obama was rumored to be eating dinner. He came out of the Cardboard Box and waved to an adoring crowd.)
One well-connected Democratic donor, who asked not to be identified because the donor isn't prepared to begin speaking publicly about the primary, said Harris is gaining steam because, in all but a few 2020 scenarios, Harris is likely to be the nominee or vetted seriously for vice president by the eventual nominee.
Jarrod Loadholt, a Democratic strategist, said that many voters and donors see someone who can beat Trump — but they're also interested in something more. "It's hard not to look at her and not see the history you can make," he said. "That alone will be very attractive to a lot of people."