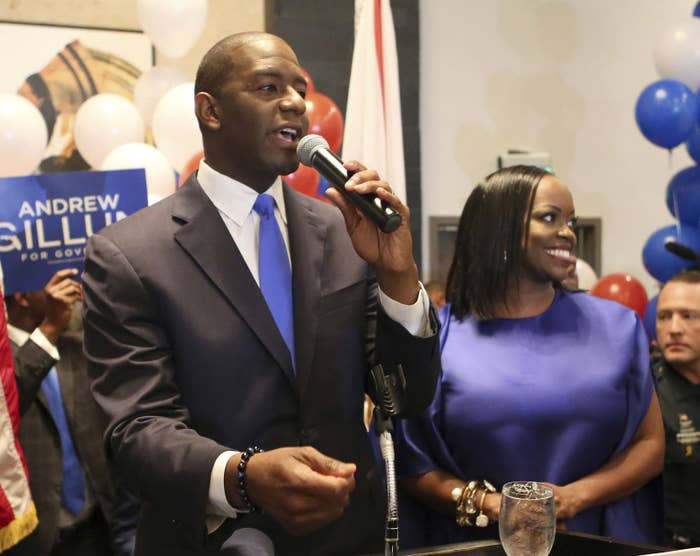 The new politics of America are taking shape in Florida.

On Tuesday night, Tallahassee Mayor Andrew Gillum, whose campaign first sputtered then surged in its final weeks, staged an upset in Florida's Democratic primary for governor — shocking the state's political establishment and setting the stage for a November contest against a staunch political ally of Donald Trump, Rep. Ron DeSantis, who owes his own nomination to the president.
Gillum ran in the style of the new Bernie Sanders left, emphasizing big, progressive policy programs with an expanded view of the government in service of helping improve the lives of the working and middle classes. But he also added an intersectional dimension, joining the ranks of candidates like Alexandria Ocasio-Cortez.
He was significantly outspent in the five-way primary, one of the most competitive races of the 2018 midterm cycle. Gillum edged out former representative Gwen Graham, whom he depicted as a millionaire milquetoast moderate who could not be trusted to govern as a progressive.
The rest of the field, including former Miami Beach mayor Philip Levine, Orlando businessman Chris King, and billionaire real estate investor Jeff Greene, Gillum cast as aristocrats likely to lose to Republicans in the fall because of their lack of ability to excite and connect with the party's base of voters.
The 39-year-old is the first black American to win either major party's nomination for statewide office in Florida and the third top-of-ticket black candidate in the United States to be nominated this year, joining Maryland's Ben Jealous and Georgia's Stacey Abrams, who's also running for governor in a highly competitive state against a candidate who also received Trump's endorsement.
Seemingly crucial to Gillum's success Tuesday was the recent endorsement of Vermont Sen. Bernie Sanders, who visited state when the candidate badly needed the momentum. Sanders lost Florida in the 2016 Democratic presidential primary by a wide margin to Hillary Clinton, but Sanders still campaigned hard in the state, earning 566,000 votes and activating a long-dormant progressive base.
Notably, Gillum's winning coalition — black voters, young voters, Hispanic voters, and white progressives — last together voted for Barack Obama's reelection in 2012. Gillum's election makes him a star who black Democrats, young voters, and Bernie-wing progressives can get behind.
"Today is a historic day not just for Democrats but for every Floridian," the Florida Democrats said in a statement on Tuesday night. "We have an opportunity to elect a leader who truly represents the best of Florida. Someone who can go through incredible odds and come out victorious. I'm proud to join my fellow Democrats to rally around Andrew Gillum for governor of Florida. This November, we have a chance to finally move this state in the right direction. It's going to take all of us — Democrats, Republicans, and independents. If tonight is any indication of what's to come, it's that we're ready to transform Florida."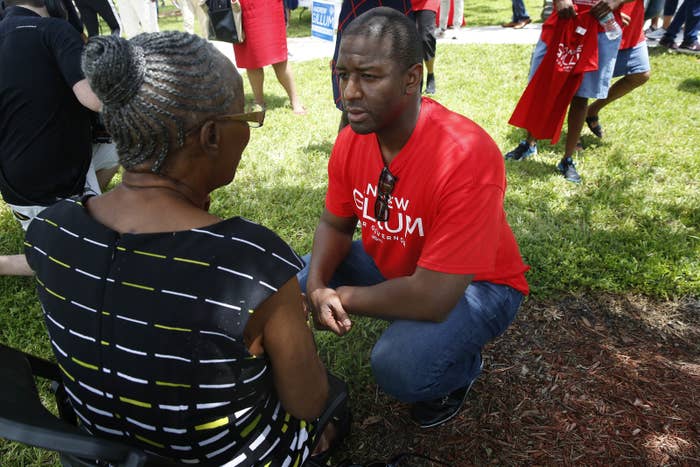 On the Republican side, Rep. Ron DeSantis dismissed Agriculture Commissioner Adam Putnam in the Republican primary — once thought to be a race Putnam would easily win, a testament to how much politics has shifted over the last two years.

For all of his problems as president, Trump remains a potent force in national electoral politics — and his endorsement of DeSantis, who has long supported Trump and boasts a sterling academic and military resume, completely changed the primary. Showing his affinity for Trump, DeSantis's campaign released an ad narrated by his wife, Casey, describing how DeSantis incorporates the president's politics into every aspect of his fathering.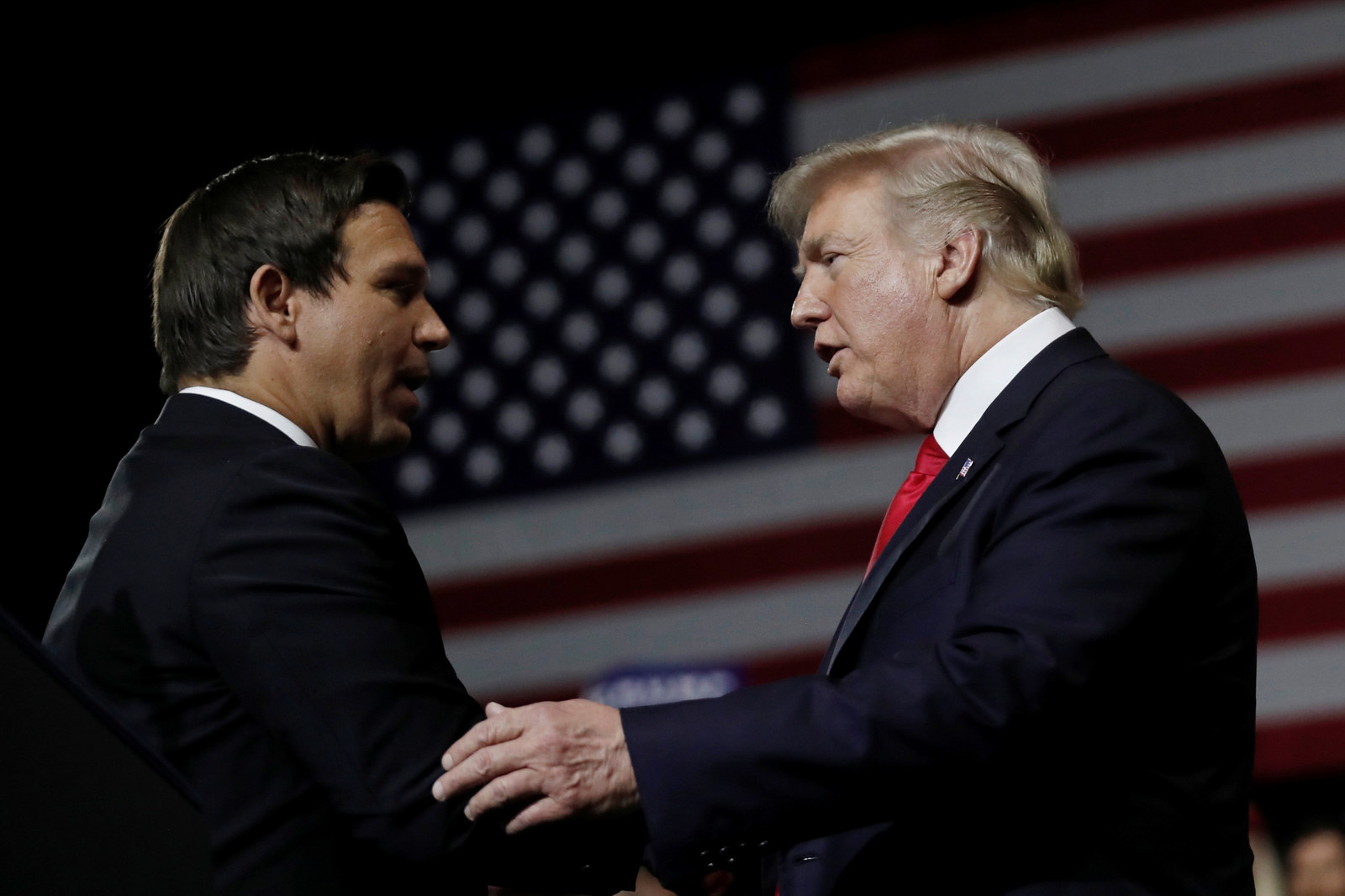 While forecasters are likely to frame the race as a referendum on Trump, they may not find in Gillum a campaigner willing to oblige the strategy.

In an interview with BuzzFeed News in April, Gillum said while he wouldn't take Trump "off the table," he was mostly focused on turning out voters based on the excitement around his candidacy and its progressive agenda. The others spent far more time on Trump. Some national Democrats, meanwhile, did not see a November scenario in which another more centrist candidate would have galvanized black Floridians, who make up nearly a third of the Democratic electorate in Florida. The relief accompanies an opinion that with Gillum on the ticket, Sen. Bill Nelson, whose campaign against Gov. Rick Scott has faltered recently, is in far less trouble.

On the campaign trail, Gillum leaned heavily into his personal biography as the only candidate in the race with a record in Tallahassee. The Gillum campaign's calculation was that it could. The victory may have taken the establishment by surprise, but it has electrified the base of the Democratic Party. The hashtag #FloridaPrimary was trending most of the day and the entire national black American political ecosystem of academics, press, activists, and strategists pushed Florida to elect him.

He assumes the mantle of Democratic leadership at a particularly fraught period in national politics with Florida at the center. Perhaps most interestingly for 2020, Gillum becomes the nominee as Florida votes in November on Amendment 4, which would automatically restore the right to vote to nearly 1.5 million Floridians who have felony records.
The race promises to be one of the biggest in the country, especially amid a highly competitive Senate race and a series of House races where Democrats hope to flip seats on their way to a blue wave.