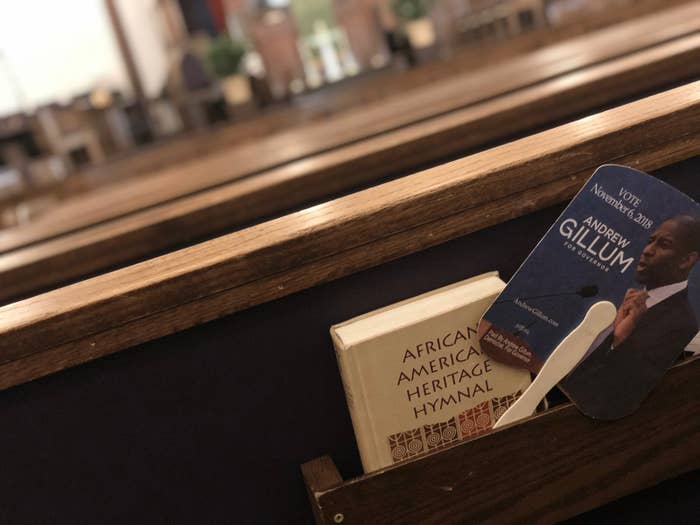 TALLAHASSEE, Florida — The opening chords of the selection "How Great Is Our God" rang through the sanctuary right after the leader offering the invocational prayer squinted his eyes closed. Requesting God "come to this service today," he prayed God would "strengthen" families affected by Hurricane Michael, "that they may rebuild their lives and their homes," before his voice rose.

"Lord, we ask not only for prayers who experienced natural storms," he said. "We pray for those who have experienced political storms!"
"Yes!"
The "political storm" was the one binding worshippers at the Bethel African Methodist Episcopal Church here in Florida's capital city for "Mayor Andrew Gillum Sunday," as they called the service. It was the first full day of worship since Tuesday, when Gillum conceded the race for governor to Ron DeSantis and since Saturday when Gillum un-conceded as the race headed into a recount.
Gillum had conceded without, according to three sources close to him, any information about outstanding votes that had yet to be counted and could potentially flip the race or trigger an automatic recount. Gov. Rick Scott was declaring victory in his race for Senate against Democratic incumbent Bill Nelson, even as his lead narrowed and the recount began. President Donald Trump has been tweeting that Democrats are trying to "steal" two elections.
Gillum tweeted at Scott, saying "counting votes isn't partisan — it's democracy." And after Trump tweeted that Broward County put Gillum "back into play," calling the sequence of events an embarrassment, Gillum shot back that, "what's embarrassing to democracy is not counting every vote — and you, of course."

"Count every vote," Gillum tweeted.
Those statements, to a sitting governor and president, that all votes be counted, was the pretext to scripture read on Sunday.
The congregation stood for the entry of the "Honorable Mayor Andrew Gillum." From a side door in the front near the choir in plainclothes, and many of them wearing the campaign's blue T-shirt, Gillum walked in carrying his youngest son, the same one cameras captured attached to his hip after he voted on Tuesday, his words full of hope.

For 20-plus months, the Gillums had edified the entire state, this church family included. Now it was their turn to encourage the Gillums.
"They have given so much in the effort to guide this state to higher heights."
"We love you. We're proud of you. And even in the midst of all that we're going through we can still say that God is good."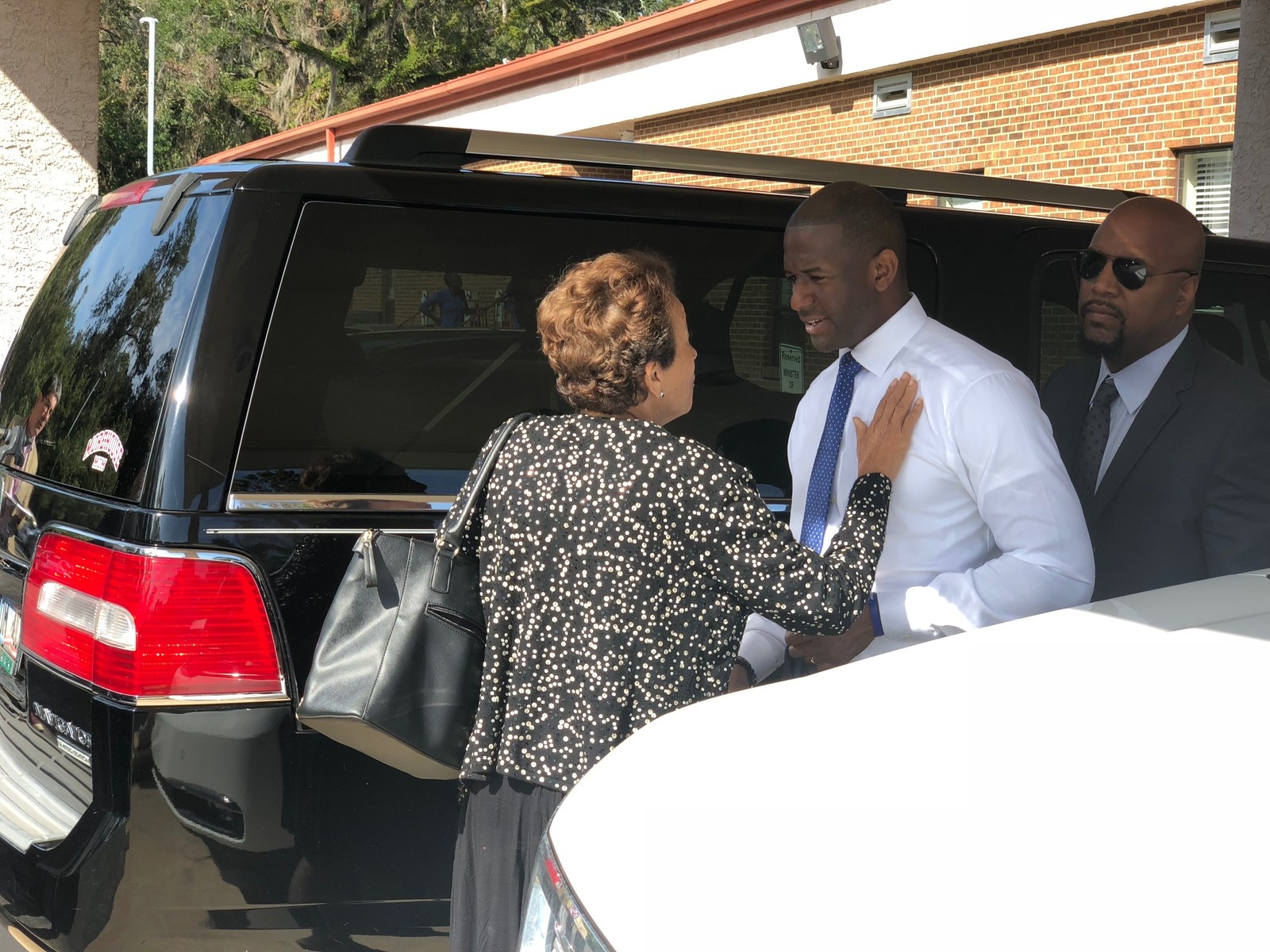 The showering of words, the renderings of songs like "Order My Steps," and the many words of encouragement, including a tribute to the mayor's wife, R. Jai, — "the greatest first lady that we have seen anywhere in this country" — disguised for a time the obvious: Bethel thought this service would be different. They thought they would be praising and thanking God for Florida's governor-elect and its future first family. "I think we all did," one parishioner jumping into her car said. But by the time Gillum walked in, a glimmer of hope still surrounding his candidacy, the church came alive, yelling chants of "Bring it home!"

In lots of ways, the worship service was still a seminal moment in the history of the AME Church, one of the most prominent black American faith traditions. Founded in 1787 by Richard Allen, an autodidact freed from slavery who led other black parishioners out of the Episcopal Church to worship free from the oppression and mistreatment, the church has been a model for civic engagement committed to social freedom movements and service-oriented spirituality.
Dignitaries like the Obamas have spoken to its national convenings, and one of its bishops, Vashti McKenzie, was appointed to Barack Obama's inaugural Advisory Council of the White House Office of Faith-Based and Neighborhood Partnerships.
"Most of my mature adult years have been spent in the African Methodist Episcopal Church," Gillum said in an interview with BuzzFeed News last month. "I cannot disassociate who I am from my faith or my faith tradition, and there's a lot of pride in the cardinal belief in the faith that we are very much so tied to what happens in greater society and in the community. So the pride I have in my faith has been largely informed by my experience as an adult being a part of the AME tradition."
Beginning his sermon, the Rev. Julius Harrison McAllister Jr. read from First Corinthians.
"What no eye has seen, what no ear has heard, and what no human mind has conceived the things God has prepared for those who love him.
He titled his address: "This Is Just the Beginning."
"He stood up for the city of Tallahassee when folk tried to make disparaging comments about our city. And even when the president of these United States of America said we live in the most wicked city with [a] tremendous amount of crime, our mayor stood up for our city and in the spirit of Bishop Richard Allen, he challenged President Trump by speaking truth to power saying we deserve better from our commander and chief!"
In his personal address to the church, Gillum reiterated his message from the previous day's press conference: Count the votes. All of them.
"We're not talking about new votes."
Yeah!
"We're not talking about miracle votes."
Yeah!!
"We're not talking about votes out of thin air," Gillum said. "We're talking about the people who did their civic responsibility. They showed up under the premise that their vote would be counted, and it is now my job to ensure that every single one of their votes is counted whether they voted for me or my opponent. That's what the democratic process is about!
"That is what the democratic process demands."
Reflective, Gillum added as an aside that he was proud of how he'd run the campaign, no matter what happens.
"We don't know what the future holds, but R. Jai and I know who holds the future."

"This is about the fact that these journeys sometimes have winding roads," Gillum continued. "And there are some pitfalls and speed bumps, and [sometimes] the road is washed out and you have to figure your way through it." He choked up with R. Jai at his side when he asked for prayers that the next few weeks and maybe months go easy for them.

He choked back tears. "It isn't easy when you pour everything you have."