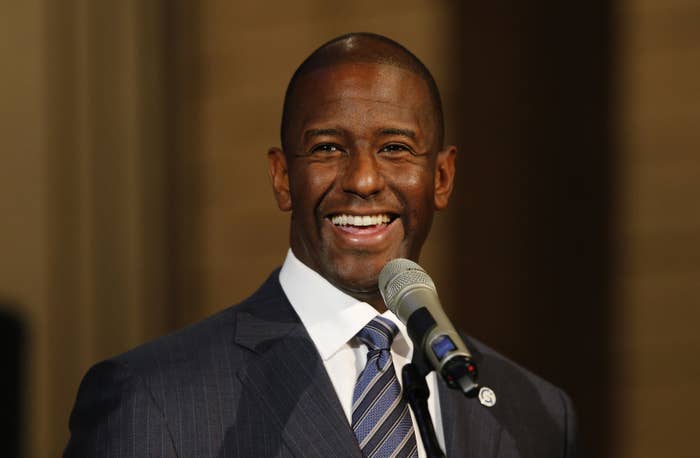 His meeting with Barack Obama went over schedule. He and Beto O'Rourke have spoken. Not long ago, he thrilled 300 well-heeled political donors hungry to win in 2020. But no one seems to know, except for Andrew Gillum, if he's actually thinking about running for president.
The door is open for Gillum to explore a run for the presidency, strategists familiar with the rigors of organizing presidential campaigns said. Gillum has not ruled it out. But according to interviews with nearly a dozen friends, former aides, or associates for this story, he is on his own schedule. He intends to do what's most effective for Democrats to beat President Donald Trump in 2020 and is said to be unfazed by the people pushing him to run for the Democratic nomination.
"The thing you have to understand about Andrew is he's been told he's going to be president someday his entire life," an aide who worked on his campaign for governor and has spoken to Gillum recently told BuzzFeed News.
Donors and activists have spoken to Gillum trying to gauge his interest, in some cases asking for even a wink and a nod, but they've been unable to get a sense of Gillum's thinking one way or another, the campaign aide said. Privately, though, Gillum is telling friends and associates that he's finding it hard to get into the right frame of mind to make another monumental decision, after the challenge of running for office in a state as big as Florida.
Gillum is an avatar of the frenetic pace of politics, and an example of how a young politician can struggle to adapt to lofty expectations, and the demands and deadlines of a party desperate to beat Trump. Unlike in an ordinary climate, when most losing candidates would be licking their wounds, Gillum has felt compelled to launch into a flurry of political activity. In public appearances and on Twitter, he looks and sounds more like an aspirant rather than as a defeated malcontent. This is all after losing a race many political observers believed he'd win going away, and a messy weeklong period during which he first conceded the race, then walked that back, and then reconceded once it became clear there was no way he'd overcome his small margin of defeat.
Through a spokesperson, Gillum declined an interview for this story. (A spokesperson referred BuzzFeed News to prior comments he'd made about using his campaign to create momentum for the future in Florida, and having no plans to run.)
He told BuzzFeed News in a November interview that he felt he had a responsibility to the voters who supported his vision for Florida, but that he was "detached" from the chatter over his political future. (Asked if he was thinking about seeking the presidential nomination, Gillum said, "Come on, give me a break. No, really. Give me a break.") He shed tears on the Sunday after the election. Flanked by his wife, R. Jai, he publicly thanked his home church, Bethel A.M.E., and solicited prayers, "because it's never easy when you give everything you have." He added, in the interview with BuzzFeed News, that he was excited to do something he hadn't done in two years while on the campaign trail — take his kids to their soccer games. "I can't even think about anything else," he said.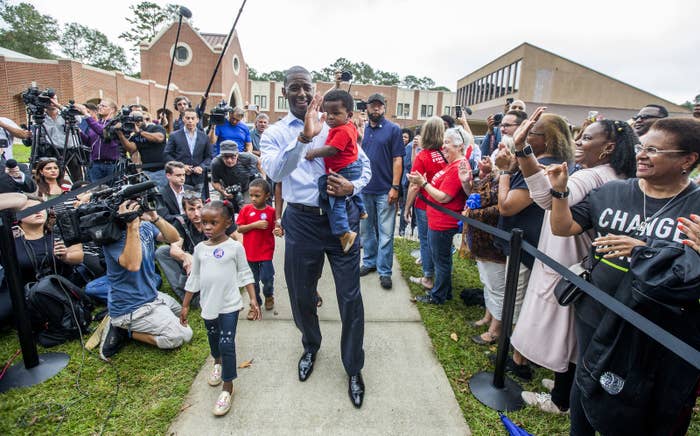 His recent political activity, more than a month later, suggests that now he can.
The sharp, dark suits and monochrome neckties are back. As is the optimism and upbeat demeanor that defined his campaign for governor. Unburdened with the task of putting together an administration (he had already tapped a seasoned political director to lead the transition in the Tallahassee mayor's office), he's publicly previewing what he thinks needs to be done in Florida for Democrats to win in 2020. He's even sprinkling in a synopsis of his patented "stick and move" Trump strategy that led Democratic National Committee chair Tom Perez to declare that Gillum was "a rock star yesterday, he's a rock star today, and he will be a rock star in the future" when introducing him to the party's top donors.
Gillum's busy schedule has dovetailed with the revelation that he was likely not the target of an FBI investigation into corruption in Tallahassee after prosecutors slapped a city commissioner with a 44-count indictment, including bribery, extortion, fraud, and racketeering.
With that cloud no longer hanging over him, Gillum is looking ahead. "I think I have a responsibility to the people who support and stood for the vision we put forward."
"The bottom line is he did a lot of things in the race that Democrats really need to be thinking about," said a political strategist who did not want to be on record about possible candidates. Indeed, the cachet that came with star power has created opportunities.
Citing Thomas Farr's record of "hostility and disregard for fundamental civil rights," the duo of Gillum and Stacey Abrams, who ran a close race for governor in Georgia, called on senators to oppose the US district judge nominee. Afterward, South Carolina Sen. Tim Scott said he would not vote to confirm Farr, sinking his nomination. Gillum's postelection meeting with Barack Obama, at the former president's office in Washington, went longer than originally scheduled, a source briefed on the meeting said. (An Obama spokesperson declined to comment further.)
Soon after he met with Obama, Gillum spoke by phone with Beto O'Rourke, who is weighing his own presidential run after losing Texas's Senate race in November. Deval Patrick, a close Obama friend who speaks with him frequently, told BuzzFeed News the only difference between Gillum and O'Rourke is that the latter has political experience at the federal level. On that point, Patrick and Obama agree, the source said.
But it's anyone's guess how long the goodwill will last before Gillum will be expected to make a decision. Perhaps no development was more intriguing than the opportunity Gillum had to present before DNC donors in a private setting at the Mandarin Oriental hotel in Washington earlier this month. A source familiar with the inner workings of the DNC said the organization is trying to stay away from associating too closely with likely candidates for president in 2020. But some of those in attendance remained convinced they were looking at a potential top-tier presidential hopeful, anyway. Gillum received a standing ovation.
"Mayor Gillum was honored to be invited to talk to the DNC finance committee about how we can keep a progressive movement that lifts up young and diverse voices," Kirsten Allen, Gillum's spokesperson, told BuzzFeed News in an email.
According to a source who heard the speech, Gillum gave his traditional stump speech highlighting his biography. Shifting a bit, Gillum spoke about commitment and compared the relationship between donors and Florida to a marriage that needs to be invested in year round. "What we need you to do is put a ring on it," the source recalled Gillum saying.
The chance to speak to 300 well-heeled donors is not something every national Democrat gets to do. But people around Gillum are beginning to signal their belief that Gillum is a generational talent more than worthy of consideration.
One of those people seems to be Kevin Cate, the genteel, boyish communications strategist for Gillum's gubernatorial campaign. Knowing his candidate's fate wouldn't change, he stood to his feet and buttoned his jacket to congratulate fans of Ron DeSantis at a panel discussion held deep in the bowels of Florida State University's basketball arena. That wasn't all. Shifting gears, Cate told Tallahassee's political elite that history would not fondly remember Florida's election of a clone of a "racist, womanizing, embarrassment of a president." Through groans and applause, Cate insisted the positive vision for Florida espoused by his candidate was the future. Andrew Gillum had won, he said.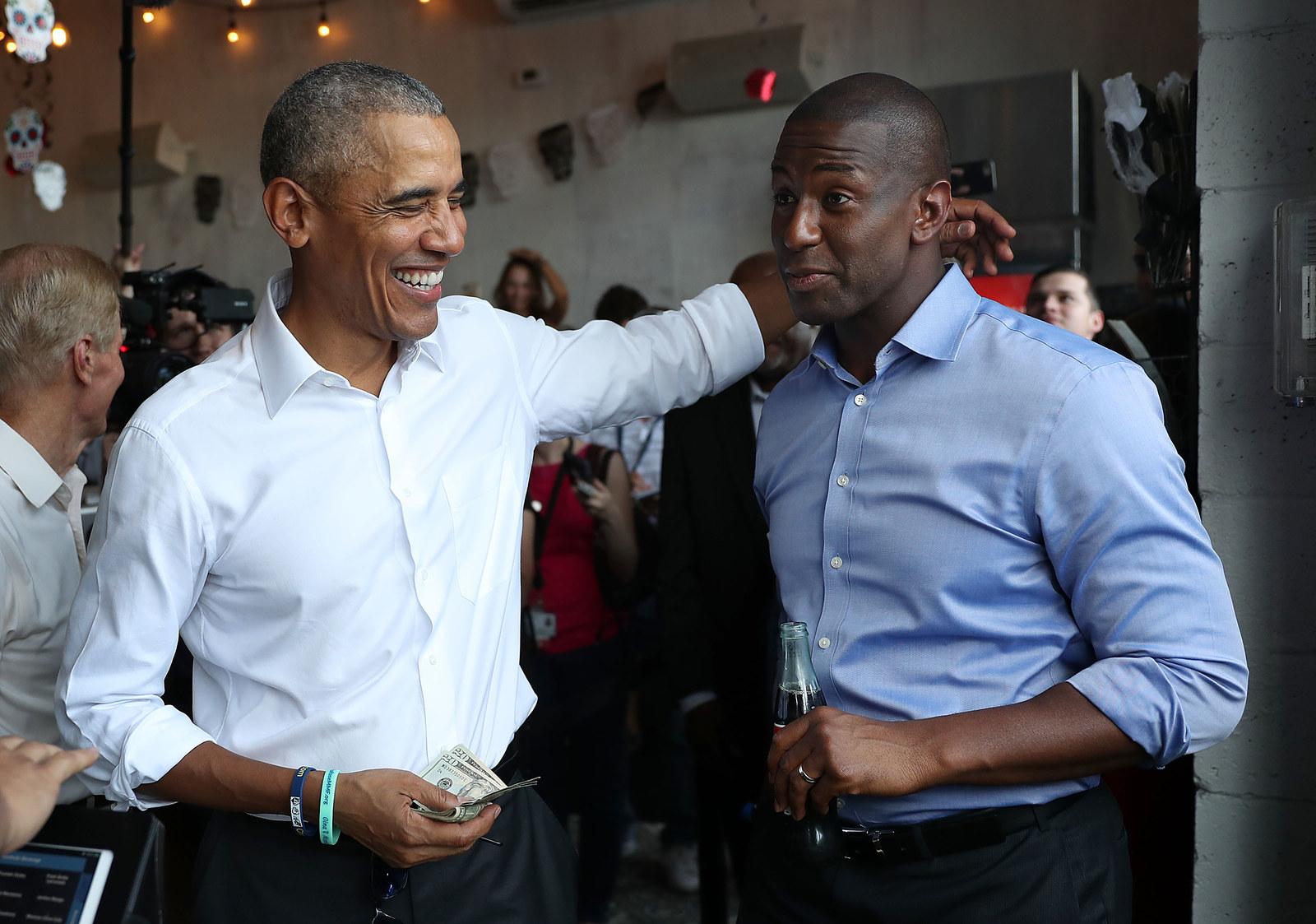 In reality, Gillum, who had been an elected official since he was a college student, was about to be a private citizen. A theme emerged after huddling to debrief and plan Gillum's next steps: Gillum's political constituency, his advisers believed, was no longer confined to just Florida. In trying to get him to think about exploring a run for the presidency, they said he had national popularity, a wide donor base, and, as the campaign showed, a story to tell.
A source who asked not to be named in order to discuss private talks said Gillum, who is a man of faith, has been counseled to determine if a presidential campaign would fit with his life's purpose. At 39, he'd be one of the youngest candidates. Only a handful of the likely candidates have been mayors, something that isn't a typical jumping-off point to the presidency. He has a major profile in Florida, perhaps the most important state for a presidential candidate. Steve Phillips, the Democratic donor and progressive activist who is encouraging Gillum, Abrams, and O'Rourke to run for statewide office again, said while he hadn't talked to Gillum about a presidential run, "he is certainly as worthy as Beto if not more for consideration."
Gillum's ascendance in the party — and why he is an intriguing prospect to people like Obama and Patrick — is related to the fact that his candidacy electrified a coalition of first-time voters, young people, and people of color. To other supporters, believing in Gillum made sense to poor Floridians, people to whom voting in elections can sometimes be amorphous.
Democrats say Gillum's youth and authenticity are badly needed for their party. Beginning in 2014, as Democrats began to look forward to the next presidential election, the party openly lamented how a thin and inexperienced Democratic bench that made Clinton's 2016 nomination all but inevitable. In a much better place now, national Democrats roundly laud Gillum's effort in his race, saying that talent-wise, senior strategists like his smoothness: It's rare for a politician to come off as clearly smart without opening themselves up to be caricatured as a know-it-all, and as telegenic but with an ability to present as an average person. Tiffany Cross, cofounder of the Beat DC (think Politico's Playbook, but for people of color) said that Gillum's emergence represents a healthy shift for the Democratic Party, part of a new class of politicians expanding what it means to be electable.
While "electable" was once a term synonymous with having appeal to white swing voters, Cross said Gillum's success means it now could indicate a politician might have the capacity to build a big grassroots campaign attractive to the Democratic Party's core constituency.
"The mainstream media puts a lot of focus on things like Nancy Pelosi's run for the speakership, as though she alone defines the party," said Cross. "However, there's a new generation of leaders that span the country who are not asking permission to lead. They're leading. It's a good reminder to everyone that people define the party. The party does not define the people."
Jamal Simmons, a top Democratic strategist, said, "For the party, it's just helpful to have someone like him. I don't know very many people who dislike him, even in Florida. He's got a really strong, positive demeanor."
The last several election cycles have also shown that even if you're a little green, waiting your turn to run for president can be ruinous.
"You run when you're hot and you go when the spirit moves you. Chris Christie is the example that comes most to mind. If he had run in 2012, he probably would have been the Republican nominee. But by 2016, he flamed out pretty early," said Simmons.
Gillum's window is open, even after a losing campaign. And he knows as well as anyone that it can close quickly.