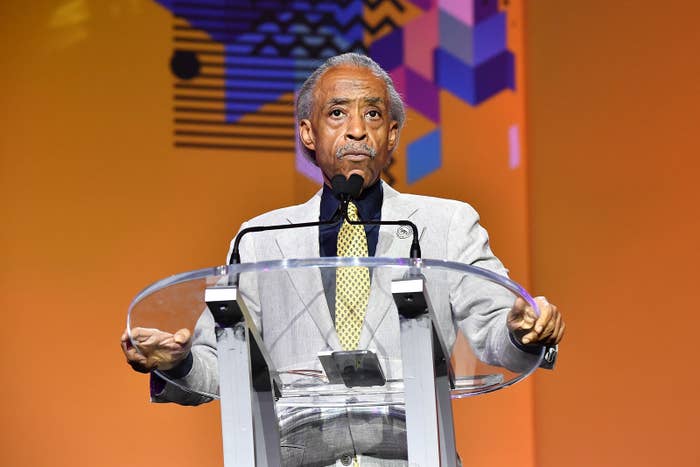 Rev. Al Sharpton said he isn't ruling out a run for the 2020 Democratic presidential nomination, just two days after some of his most pointed public critiques of President Donald Trump.
"I never rule anything out," said Sharpton, adding that he isn't currently exploring a run for the nomination.
Sharpton's feeling about where the Democratic Party is in relation to Trump is no secret. This year, on a recent visit to the United Kingdom, Sharpton told the Guardian Trump would likely Keep America Great because Democrats are "too tame to deal with an untamed opponent." And he's run before, citing among other things, a need to insert his voice at a time where the party had seemed insincere about its declared direction. That year, he also gave one of the more memorable speeches at the 2004 Democratic convention, saying he ran in part to show poor children who grew up like he did that they can also run for president of the United States.
Of likely candidates, none thus far come from the civil rights wing of the party, although several of the likely candidates, including Sens. Kamala Harris and Cory Booker, are black.

During the 2016 primary, young black protesters forced both Hillary Clinton and Bernie Sanders to address their issues head-on, and the Trump era has broadened out the protest movement, especially in a larger black cultural moment that could strengthen a civil rights–style candidate.
Sharpton, 63, who has more than once run for US Senate and also for mayor of New York City, has said privately that he was partially committed to a scale down his public profile to focus on other projects, including a monument to the civil rights activism of the north with a focus on New York City as the cradle of that movement. But Trump's election, Sharpton has said, reinvigorated him and strengthened his resolve to modulate his personal aspirations; this year he has both celebrated his 50th year of civil rights activism and is trying to engineer a fight against the nomination of Judge Brett Kavanaugh to the US Supreme Court.

A spokesperson for Sharpton said his organization, National Action Network, is focused on galvanizing voters to turn out for the midterm elections. The spokesperson also said that Sharpton has been pushing the issue of voter protection and is preaching Sunday in observation of the anniversary of the violent "Unite the Right" rally promoting white supremacy in Charlottesville, Virginia.

And he's been in Florida recently. Sharpton keynoted a Sunday afternoon rally calling for the arrest of Michael Drejka in the shooting death of Markeis McGlockton, an unarmed father of three. He and other protesters, civil rights activists, and the major Democratic candidates in Florida's governor's primary also called for a repeal of the "stand your ground" self-defense law used to justify the killing of McGlockton and Trayvon Martin in 2012.
He was met with loud approval when said he wasn't afraid of Trump, leading the charge at a spirited Clearwater church service that laid a nationwide increase in hate crimes, acts of violence against black Americans, and a rise of white supremacist fervor in American politics at the feet of the Trump White House.
In one of his set pieces Sunday, Sharpton recalled the story of how he went to Sanford, Florida, in 2012 after Martin was shot and killed. He relayed to President Obama what they had been doing, and how after that Obama appeared before the press and said that Martin could have been his son. Sharpton juxtaposed that Trump had gone to Tampa to campaign for Rep. Ron DeSantis, who is running for governor, and never mentioned McGlockton's name. "At least it represented the value of the life that was lost. It said that the government recognized the sacred nature of human life," Sharpton said.
Sharpton questioned why Trump hadn't addressed the July 19 incident.
"You want to know why we call you a racist? [You] talk like a racist and you walk like a racist and you act like a racist!"
Sharpton chastised black ministers he said had cowed to Trump last week, questioning whether any of them brought up what had happened to McGlockton. He singled out Pastor Darrell Scott, who, in that meeting with the president, called him the most "pro-black" president of our lifetime.
"I won't bow to Pharaoh," Sharpton said, "and I won't bow to Donald Trump."