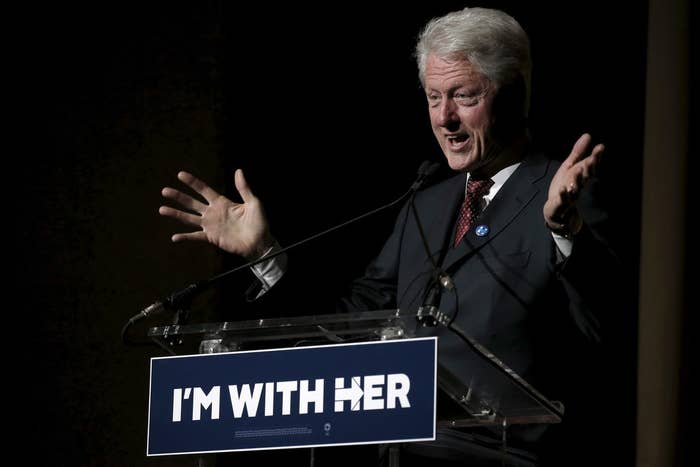 WASHINGTON — Racial justice and Black Lives Matter activists based in New York say they question the sincerity of Bill Clinton's statement at the NAACP last summer that the longer sentences in the 1994 crime bill were "overdone" after he clashed with BLM protesters earlier this week.
On Thursday, after protesters interrupted Bill Clinton's remarks at a rally in Philadelphia, the former president criticized the demonstrators and defended his wife's use of a controversial term — "superpredators" — in 1996 that has been the source of protests in recent months.
"I don't know how you would characterize the gang leaders who got 13-year-old kids hopped up on crack and sent them out into the street to murder other African-American children," Bill Clinton told the protesters.

"Maybe you thought they were good citizens—she didn't," he added. "You are defending the people who killed the lives you say matter. Tell the truth."
On Friday, BuzzFeed News contacted a dozen activists based in New York, which will hold a primary on April 19. The activists said they now question the calculus behind Bill Clinton's speech last summer, in which he said his administration was wrong for signing a bill that required longer sentences for many low-level criminals that did not justify their crimes. ("I signed a bill that made the problem worse. And I want to admit it," he said then.)
Bill Clinton, they said, seemed to justify his wife's 1996 usage of the term "superpredator" with the same rationale widely debunked by criminologists — a term she has apologized for and distanced herself from.
Tamika Mallory, a prominent activist and member of the board of directors of Justice League NYC, said the former president's views are out of touch.
"Bill Clinton's comments beg the question whether his apology — about how his policies as president negatively impacted the black community — was genuine or a campaign strategy to make Americans move past the devastation his administration caused," she said. "What we saw yesterday is a person who is very much out of touch and I believe his true colors have once again appeared."
Stanley Talbert, a racial justice advocate and minister said that while there is a "legitimate need" to deal with all crime, Bill Clinton, in his comments had continued "to criminalize blackness by laying the onus of crimes against black people by black people, and making protestors accessories to the crime."

"It is difficult to accept an apology from the Clintons in relation to characterization of young black criminals as 'superpredators', when Bill Clinton continues to criminalize black lives," Talbert said. "They may have apologized for their language, but they are still operating under the same ideology that has disproportionately criminalized black people in the U.S."
Bill Clinton's remarks yesterday weren't of any surprise to BLM, an organizer of the New York City BLM chapter said.
"If you follow the historical commentary — especially when defending his wife's campaign — along with the policies from his presidency, you'll see that those two things have often targeted our communities in a way that shuts us out," BLMNY organizer Kei Williams said.
Williams called Bill Clinton's rhetoric and that of the candidate's as one and the same. "Again this furthers why we will not endorse a presidential candidate," Williams said.
Rosa Clemente, a lecturer and Black Lives Matter organizer based in Albany said that Hillary Clinton did not deserve one "black, brown, or working class vote in New York."
She said she predicted that her campaign would distance herself from her husband's comments. Clemente, however, said that as an adviser to her husband's administration, Hillary Clinton was an accessory to the policies undertaken in the '90s.
"That's why I encourage anybody any progressive, leftist, or working class people that thinks to push the button to vote for the Green Party candidate or Bernie Sanders," she said.

Bill Clinton expanded on the comments on Friday, saying he wanted to turn it into a teachable moment.
"So I did something yesterday in Philadelphia. I almost want to apologize for it, but I want to use it as an example of the danger threatening our country," Bill Clinton said, according to MSNBC. "I rather vigorously defended my wife, as I am wont to do, and I realized, finally, I was talking past [the protester] the way she was talking past me. We gotta stop that in this country. We gotta listen to each other again."
Rosa Clemente, a Black Lives Matter organizer based in Albany, said she was speaking in Philadelphia on Friday about what she called Bill Clinton's anti-blackness.

"He's unconscionable," Clemente said. "His response to Black Lives Matter, for him to talk about what he thinks black-on-black crime is, when his policies exacted destruction on our community influence on mass incarceration and welfare reform destroyed the safety net for families and put a harsh burden on black and brown families."
"Now," she said, "he wants castigate and be condescending to a movement that is dealing with systemic white supremacy in this county and they don't like it. Black and brown people need to be very clear when they step into that voting booth. It's a wrap."
"A lot of were really appalled and yet, not really that surprised," said Zellie Imani, a BLM organizer and educator who participated in a meeting Hillary Clinton had with members of Campaign Zero in Washington last October.
Imani said the Philadelphia marked a much different tone from Bill Clinton's address at the NAACP last summer.
"We've been witnessing this switch of rhetoric from the Clintons depending on who the audience is," he said.
On the crime bill, Imani said Hillary Clinton emphasized that black groups had endorsed the bill, too. "It was like she was saying, 'Don't just blame me,'" he said, adding that he and others have no reason to believe the Clintons have a difference of opinion.
"For me, as well as others, it just shows that the Democratic Party really doesn't understand the aims and purpose of the Black Lives Matter movement," he said. "Right there, in Philadelphia, not really a year later, he showed his apology was just a damage control strategy to try and retain black support."