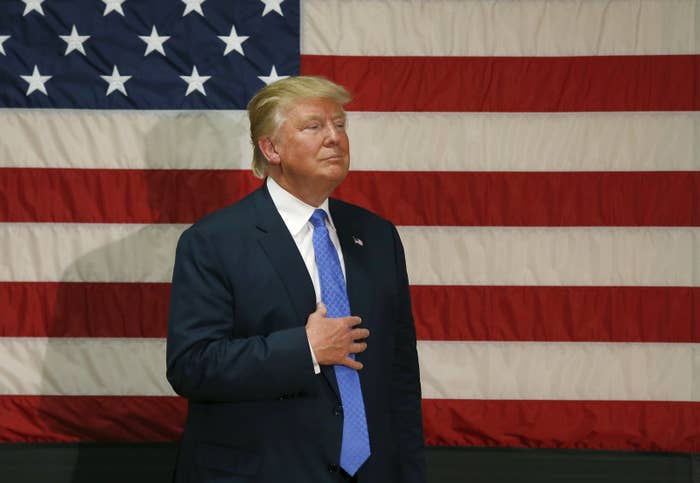 ST. LOUIS — Black activists want Hillary Clinton to go on the offensive against Donald Trump, who maintained that the five New York youths convicted of rape — who were later exonerated more than a decade later — were actually guilty.
The Central Park Five were wrongfully convicted, and the case and its fallout was the subject of a 2012 documentary. Today, the case is seen as a prime example of inequities in the criminal justice system. But that didn't stop Trump from submitting a statement to CNN last week, saying the fact that the case was settled was "outrageous" given the evidence against them.
Clinton has said she'll support legislation to end racial profiling by law enforcement, and has vowed to help end the era of mass incarceration — if elected she'd also "ban the box" for federal government jobs. But activists closely observing Clinton's debate performance Sunday think it's an opportunity to present more specifics on her plan — if the debate actually does take up policy issues. More specifically, the activists think it's an opening for Clinton to make some aspect of her criminal justice plan a part of her first 100 days in office.
Rashad Robinson, spokesperson for Color of Change PAC, said that Trump's statement last week reflects his "law and order" rhetoric, that he's okay with "black folks behind bars or on death row" with no regard of their innocence. "For the movements of black and brown folks who see a need to stop Trump but struggle with Clinton, the Central Park Five speaks not just to the harm done by a racist system, but what could happen under a Trump presidency".

Robinson believes the movement will have to hold Clinton accountable.
"Now she needs to lay out her plan to deal with wrongful convictions, mass incarceration, and corporate exploitation of prison labor," said Tamika Mallory, a New York-based activist. "I have worked with the Central Park Five for many years. They are interested in in the specifics of our way forward and that is what the people want to hear as well."

In the late 1980s, Trump called for the reimplementation of the death penalty in the case, and showed little remorse for calling for the death penalty for the Central Park Five in his statement.
"They admitted they were guilty. The police doing the original investigation say they were guilty. The fact that that case was settled with so much evidence against them is outrageous. And the woman, so badly injured, will never be the same."

Activists also see this opening as a way for Clinton to continue to show her understanding of implicit bias — a topic in recent debates — and a chance for her to further make the case about why the funding for proposes for training is important. Brittany Packnett, a co-founder of Campaign Zero and a member of the president's policing task force, said Trump's refusal to acknowledge the Central Park Fives's innocence as proven by DNA suggests he has a hard time seeing black men as innocent.
"Donald Trump's continued implications that the Central Park Five are guilty of a crime is not only further evidence that he does not abide by truth, it is also a scary indication of how much he may believe in the supposed inherent criminal nature of black people.