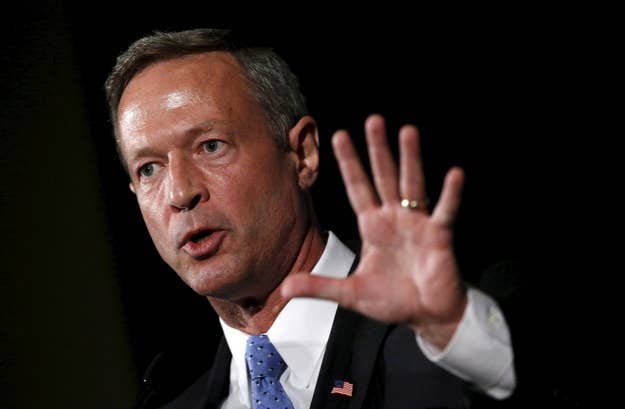 WASHINGTON — Martin O'Malley was getting ready to answer a question about social security at Netroots Nation, when activists from Black Lives Matter began chanting: "What side are you on, my people, what side are you on?" He even exchanged pleasantries with Tia Oso, the activist who addressed the crowd present for the presidential forum.
But it wasn't the first time the former Maryland governor had interacted with Black Lives Matter. Just four days before Netroots, at his campaign's request, O'Malley sat down with some Black Lives Matter activists at a private residence in Harlem.
Activists in Harlem had a clear message for the former Baltimore mayor: Whatever you do, don't say "all lives matter."
Days later, O'Malley sandwiched the phrases into an awkward reference on repealing the death penalty in Maryland in response to questions yelled from the audience, which he initially handled well. O'Malley was booed and later apologized.
"The worst part about that is we told him not to say it," said a source who requested anonymity because the meeting was off the record. "And then he did it anyway."
The meeting, first reported by BuzzFeed News, took place on July 14. O'Malley was flanked by his deputy campaign director Karine Jean-Pierre, who orchestrated the meeting at O'Malley's request. The Democratic candidate is said to soon be rolling out a big policy proposal on changes to the criminal justice system.
The intimate setting, which paired a presidential campaign not yet 30 days old and a movement still trying on its bona fides in politics, signaled how charged interactions between campaigns and activists can be.
According to two activists who attended the meeting, O'Malley seemed unprepared and unfamiliar with their work, despite the campaign being provided background information weeks in advance.
O'Malley "never said anything about Black Lives Matter or all lives matter or anything like that," said one attendee. "He didn't know who was at the table despite having our bios on hand a week before the meeting. He wasn't prepared or informed. He lost us after he gave us his stump speech."
Activists felt as if the O'Malley that emerged from the meeting was similar to the one from Netroots: As a politician stuck talking about what he did as mayor — and, as one said, nothing about what he'd do as president.
Jean-Pierre, the deputy campaign director, said the meeting was about introducing more people to the candidate's policy-making process.
"For us, the governor has been reaching out to Black Lives Matter and since criminal justice reform is the next policy proposal that he'll be unveiling we are making sure we ... are bringing as many people to the table as possible and listen to what they have to say," Jean-Pierre told BuzzFeed News.
O'Malley apologized for the "white lives matter, all lives matter" gaffe because "he understood what it meant to the community and wanted to convey that he didn't mean any disrespect," a source close to O'Malley said.
"He wants to make sure the black community has a voice. He gets why they were upset" by the statement, the source said.
O'Malley is expected to drop what aides say is an ambitious proposal on criminal justice. They say his boldness to meet with Black Lives Matter activists early in the game is in keeping with his progressive leadership on issues such as debt-free college and immigration.
The meeting was "an opportunity for him to mostly listen, and hear what they have to say," Jean-Pierre said. "The movement needed a voice and they wanted to be heard. And we're going to continue to do those types of meetings."