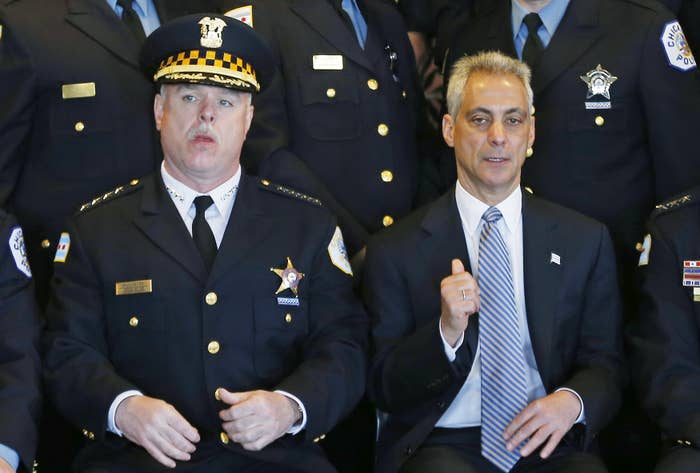 WASHINGTON — The Department of Justice's decision to investigate the Chicago Police Department is a welcome development for many of the activists whose rallies, protests, and statements over the last two weeks have centered on what they believe is rampant corruption within the Chicago Police Department.

But they say real accountability for the death of Laquan McDonald and police misconduct would start with the removal of Mayor Rahm Emanuel and an overhaul of the Chicago Police Department, and involve the creation of an elected police accountability board. Many fear the federal investigation is simply window dressing meant to keep protesters calm.
And that's not enough to people like Aislinn Sol, who is the chapter coordinator of Black Lives Matter Chicago. She says Emanuel is complicit in the cover up of the video of McDonald's shooting.
"What we need is actual accountability, not changing heads or superficial investigations that don't result in charges," Sol said. "If the police continue to not be held accountable and walk free after these committing these crimes, [the investigation] will be prove to be little more than a superficial attempt to quell dissent," she said.
Sol also said Emanuel has failed to hold police accountable in other cases, such as Ronald Johnson, who was shot and killed police 14 months ago. Emanuel's administration had sought to suppress video of shooting, but relented amid the continued fallout from the McDonald case.
On Monday, State's Attorney Anita Alvarez announced there would be no charges in his Johnson's death. Unlike McDonald, Johnson was allegedly armed with a gun when he was shot while fleeing the police.
Another activist, Camesha Jones, said that the Department of Justice's investigation was necessary but not as important the continued mobilization of people fighting for change.
"It's part of it, but the corruption has been going on for decades, it's going a lot of collective power and unity to push for change in this city so black people can have better lives," Jones, a spokesperson for Chicago-based Black Youth Project 100, a leading organizer of the protests, told BuzzFeed News.
The activists, pointing to Emanuel's sudden reversal on the idea of a federal investigation, say they think it's clear the mayor is in a corner and is trying to save his job. Sol said the first thing that he could do to regain public trust is to resign and to be honest and tran in terms of what occurred so the people of Chicago can understand how to the system came to work so inefficiently — and work to change it accordingly.
"There's local and international pressure that sees him as a culprit who's trying to salvage his career," Sol of Black Lives Matter Chicago said. "He has no principal convictions that have changed. This is about him saving face."
Emanuel has said he has no intentions to resign, telling Politico, "We have a process called the election. The voters spoke. I'll be held accountable for the decisions and actions that I make."
But Emanuel's reversal on the question of a federal investigation — at first, he opposed one, but last week said he welcomed an investigation — gave activists some pause.
On Monday, an investigation was opened only after a preliminary review, Attorney General Loretta Lynch said Monday. Lynch said there a climate was mistrust that failed community members and "conscientious" officers alike.
"This mistrust from members of the community makes it more difficult to gain help with investigations, to encourage victims and witnesses of crimes to speak up, and to fulfill the most basic responsibilities of public safety officials," Lynch said. "And when suspicion and hostility is allowed to fester, it can erupt into unrest."
But activists calling for Emanuel's resignation say they are disturbed by questions of what Emanuel knew about the McDonald shooting at the time of his re-election. They believe he knew what the tape showed, all while working to build a broad coalition of black voters to support him.
Emanuel won 58% of the black vote. Almost 60% of Chicagoans with a family income under $30,000 voted for Emanuel. Given this level of support during the political fight of Emanuel's life, activists have begun characterize his actions as a betrayal of the city's most vulnerable citizens who tipped the election in Emanuel's favor.
"I don't live in Chicago currently, I'm from Chicago but I haven't lived there in a long time. Rahm Emanuel is a piece of shit," Umi Selah, a native Chicagoan and organizer with Dream Defenders, said. "They knew he was a piece of shit before. I hope he goes. I hope Charlene [Carruthers], Malcolm [London] and others rid the city of him."
Selah said the circumstances of the the case's cover-up had set off incredulous organizers and activists who don't believe Emanuel can effectively lead Chicago.
"Either you want me to believe that you're an idiot, or you're very intelligent and you knew exactly what was going on," Selah said. "If the mayor wants me to believe that he's an idiot and could run an entire city without knowing the police force murdered a guy, I will believe you and you'll never get elected again. Or he's very intelligent and knew. For me, there's no gray area. If the police chief lied to him and he did what he needed to do, fine. But I'm not inclined to believe a guy [with Emanuel's background] is that idiotic."
Emanuel is not the only target. For BYP 100, the next phase of their work includes making sure that the officer, Dante Servin, who killed Rekia Boyd, is fired from the Chicago Police Department. Their campaign includes working with city officials and a broader coalition of Chicagoans that the percentage (40% by most estimates) of the city's budget that is currently spent on the police department. BYP 100 wants to see some of that funding and redirected into vital services in poor black communities, especially schools.
"Nothing has changed in terms of the work that we still need to do," Charlene Carruthers, national director of BYP 100, told BuzzFeed News.
Carruthers drew headlines when her organization declined a meeting with Emanuel's office before the release of the McDonald video. She said it was activist pressure that led to Chicago Police Superintendent Garry McCarthy's firing. (The removal of McCarthy was on of BYP 100's demands.)
"We believe that Mayor Emanuel's decision to fire Superintendent McCarthy is absolutely the result of the organizing and direct confrontation young black people have had with the Chicago Police Department in the past week and the past couple of years," she said. "We believe that it's one step toward a much, much stronger set of changes that must happen which begin with Mayor Emanuel and also State's Attorney Anita Alvarez resigning themselves."
Carruthers said she's not concerned with what Emanuel says he knew and when. "His intentions were to figure out how he could control and calm down young black people upon the release of the video depicting the execution of Laquan McDonald," Carruthers said. "We made the right decision.
"What's important to me is that he knew the details of the video," she continued. "He knew that Laquan was shot 16 times. He had access to the autopsy report, and he himself noted that the video was gruesome. He knew how horrible it was while saying he hadn't seen it. It's more about his inaction. He made poor choices from the beginning to the end."
Robert Peters, the director of political engagement of People's Lobby, said even though it remains unlikely Emanuel will resign, city government officials like Emanuel carry out "the action that the public wants, and the public has turned against them."
"He needs to say, 'I did do this, I failed the public trust,'" Peters aid.
Democratic presidential candidates Hillary Clinton and Bernie Sanders called for a federal investigation into the Chicago Police Department. Sanders went a step farther and said that anyone connected to the cover up should resign. For her part, Clinton has said she is "confident that he's going to do everything he can to get to the bottom of these issues."
"And any elected official with knowledge that the tape was being suppressed or improperly withheld should resign. No one should be shielded by power or position," Sanders said, without naming Emanuel.
Although activists say they've heard that Emanuel's ouster isn't possible, that has not deterred them.
"I don't think any change is ever expected," Carruthers said when asked about the unlikely scenario in which Emanuel stepped down. "As an organizer we always fight for the improbable. And sometimes the improbable actually happens."