Activists Call On Democrats To Hold Black Lives Matter Focused Debate
The #BlackLivesMatter network is calling for Democratic National Committee chair Debbie Wasserman Schultz to allow more Democratic debates — specifically so that at least one debate is devoted to Black Lives Matter. UPDATE: DNC responds to Black Lives Matter.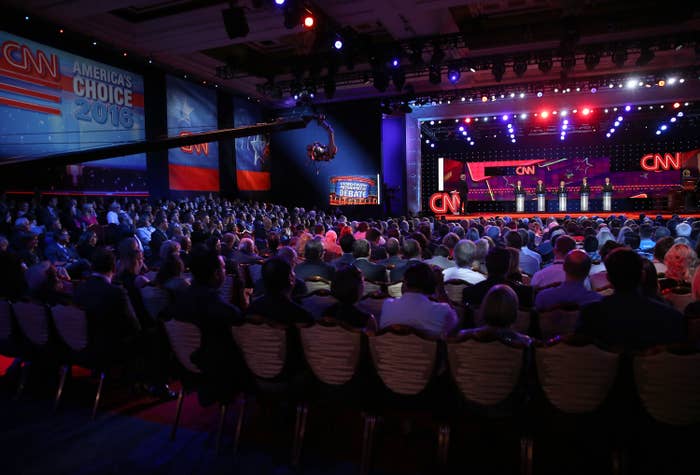 WASHINGTON — The Black Lives Matter network is calling for more debates from the Democratic National Committee, and is demanding a Black Lives Matter-themed presidential primary debate.
It's not clear when or how the network wants to do this, but the network is enabling people to share instantly their support for the idea to their Twitter or Facebook accounts when they sign up.
The call for the debate comes as many activists were displeased with how CNN and Democrats handled the first question of the debate program regarding the movement.
"It is not enough to poll the presidential candidates on whether or not they think 'black lives matter' or 'all lives matter' — we deserve substantive responses — including and in addition to criminal justice reform, what will the presidential candidates do to ensure that black lives matter?" a portion of the network's statement reads on its website.

Some black members of the media, including Roland Martin, perhaps in an effort to ramp up public pressure on the Democrats, had been increasingly vocal in the weeks leading up to the first debate that Black Lives Matter's impact in the presidential election warranted a debate or forum in which candidates could go toe-to-toe with each other on issues important to the movement.
"I think very action that Black Lives Matter has taken has really led up to now," said Elle Hearns, an activist for GetEQUAL and an Black Lives Matter strategic partner who was instrumental in the planning and execution of the Movement for Black Lives convention in Cleveland this past summer.

"Take Netroots or the Seattle confrontation, for instance, and especially how Bernie Sanders was really uncomfortable then," Hearns said. "And now what we've seen is really a 360 in terms of him embracing #BlackLivesMatter and #SayHerName. So right now it's just really time to have a more substantive conversation."

Hearns said that until now, the candidates have been spouting rhetoric, but the debates would give them the chance to give them the chance to talk about substantive policy and what they would do for black lives as president.
"What we're demanding is for more substance, not just rhetoric, because we know that a lot of the candidates are depending on black voters," Hearns told BuzzFeed News, citing a report by the Center for American Progress explaining the crucial impact women of color have on electoral politics.
Hearns argued the safety of black trans women, incarceration rates, police violence, "economic disenfranchisement," and efforts to defund Planned Parenthood as issues that needed to be discussed in a debate setting.
The plea is something of a departure for the network's two dozen chapters. In August, in response to a resolution the party passed at its summer meeting in Minnesota supporting the movement, the organization issued a tersely-worded statement saying that while it "applauds political change towards making the world safer for Black life" the network was not endorsing the Democratic Party.

Now, Black Lives Matter activists are clear: They want more debates and they want their own.
"Limiting the number of debates unfairly privileges some candidates over others, and cheats voters out of the opportunity to fully engage candidates on issues we care about," the statement from Black Lives Matter reads.

On Tuesday, Clinton's campaign responded to Black Lives Matter's call for more debates.
"Hillary Clinton looks forward to continuing to debate and lay out why she's running for president and who she'll fight for," a Clinton aide told BuzzFeed News. "As she has said, she will follow the DNC schedule and looks forward to a good exchange of ideas and to make sure that Democratic voters see exactly what she stands for."

UPDATE
A source on Wednesday provided BuzzFeed News with the DNC's email response to Black Lives Matter Network's demand for more debates, including one such forum to be dedicated to the issues related solely to the movement.
FROM: Democratic National Committee
TO: Elle Hearns, Robbie Clark and Anita Moore on behalf of Black Lives Matter Network
DATE: October 21, 2015
All,
Thank you for your letter. We are thrilled to hear about your interest in the Democratic nomination process, and we appreciate your commitment to a progressive agenda that will continue to move this country forward.
Just like in 2004 and 2008, the DNC plans to sanction six debates and is facilitating a fair, structured, and reasonable process for and on behalf of all our candidates so they can present their case to the American people, but that is not the only way they will make their case.
Given your organization's active grassroots membership and its commitment to progressive values including an end to institutional racism, we believe that your organization would be an ideal host for a presidential candidate forum – where all of the Democratic candidates can showcase their ideas and policy positions that will expand opportunity for all, strengthen the middle class and address racism in America. If you choose to organize such an event, we at the DNC would be happy to help promote the event.
We appreciate you taking the time to contact us, and we look forward to working with you should you decide to move ahead with a candidate forum.
Sincerely,
Amy K. Dacey