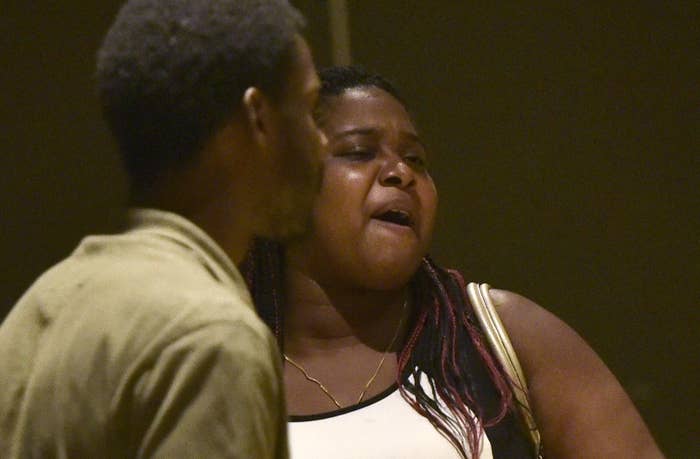 WASHINGTON — Activist Erica Garner said she believes she was used for ratings by ABC News after storming out of a taping of a presidential town hall hosted by the network Thursday.
Garner, an activist who is planning a march as the two-year anniversary of the death of her father, Eric Garner, approaches, took her bag and stormed off set, according to eyewitnesses.
In an interview with BuzzFeed News, Erica Garner said the agreement with ABC News was that she'd get to ask a question about the Justice Department's investigation into her father's death — something the network refutes.
"That was the agreement before I called my brother and sisters and before we got on the train to head to D.C. to do the town hall," she said.
She added that she was particularly annoyed because she cleared her schedule to come to Washington amid planning for the two-year anniversary of her father's death.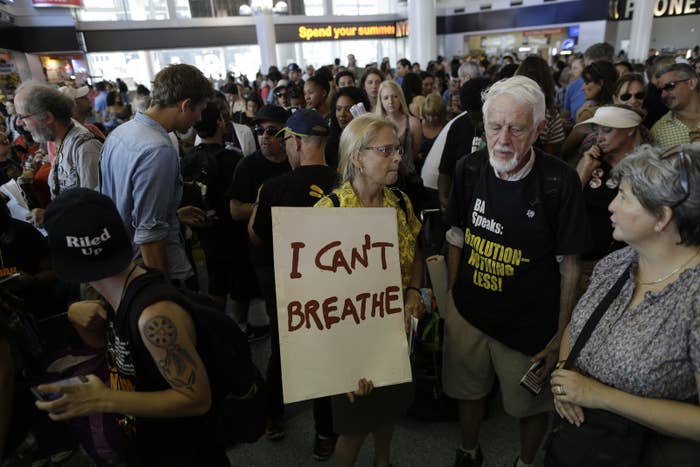 Eric Garner died in 2014 on Staten Island after a New York police officer put him in what was been described as a chokehold. His comment during the struggle, "I can't breathe," became a rallying cry for the demonstrations that followed.
"I'm doing a march," Erica Garner said. "I could have done a whole different thing with my day other than to come to D.C. based on a lie."
Ashley Kershaw, an attendee of the town hall, described a tense atmosphere in the 150-person seat theater as Garner exited the stage and began screaming within earshot of the president.

"It was uncomfortable. People were looking around and you could definitely hear her screaming," Kershaw said. "The president shifted in his chair for a second but you could tell he was trying to ignore it."

It wasn't her intention to embarrass the president, Erica Garner said, but she had to be "belligerent just to be heard."
In a private moment with Obama she asked about the federal investigation into her father's death, she said.
"He did acknowledge" what happened to her father, she said. "It showed me that he's human and sees what's going on but still it wasn't enough. I felt like my voice didn't matter in that conversation" on air.
The version of what was promised to Erica Garner and her family is disputed by ABC News. But Erica Garner told BuzzFeed News she was also angered by another development: The network sat her next to family members of Officers Wenjian Liu and Rafael Ramos, who were killed in an ambush days after a grand jury decided not to indict Daniel Pantaleo, the officer who applied the chokehold immediately before Eric Garner's death.
Erica Garner was not comfortable with ABC News' decision.
The producers 'said they thought that I knew," Erica Garner said. "I don't have nothing against [them] personally. They tried to tie it to my dad and I don't think it had anything to do with my father."

Patrisse Cullors, a co-founder of the Black Lives Matter network, said the ordeal at the town hall taping was symptomatic of a lack of progress under the nation's first black president.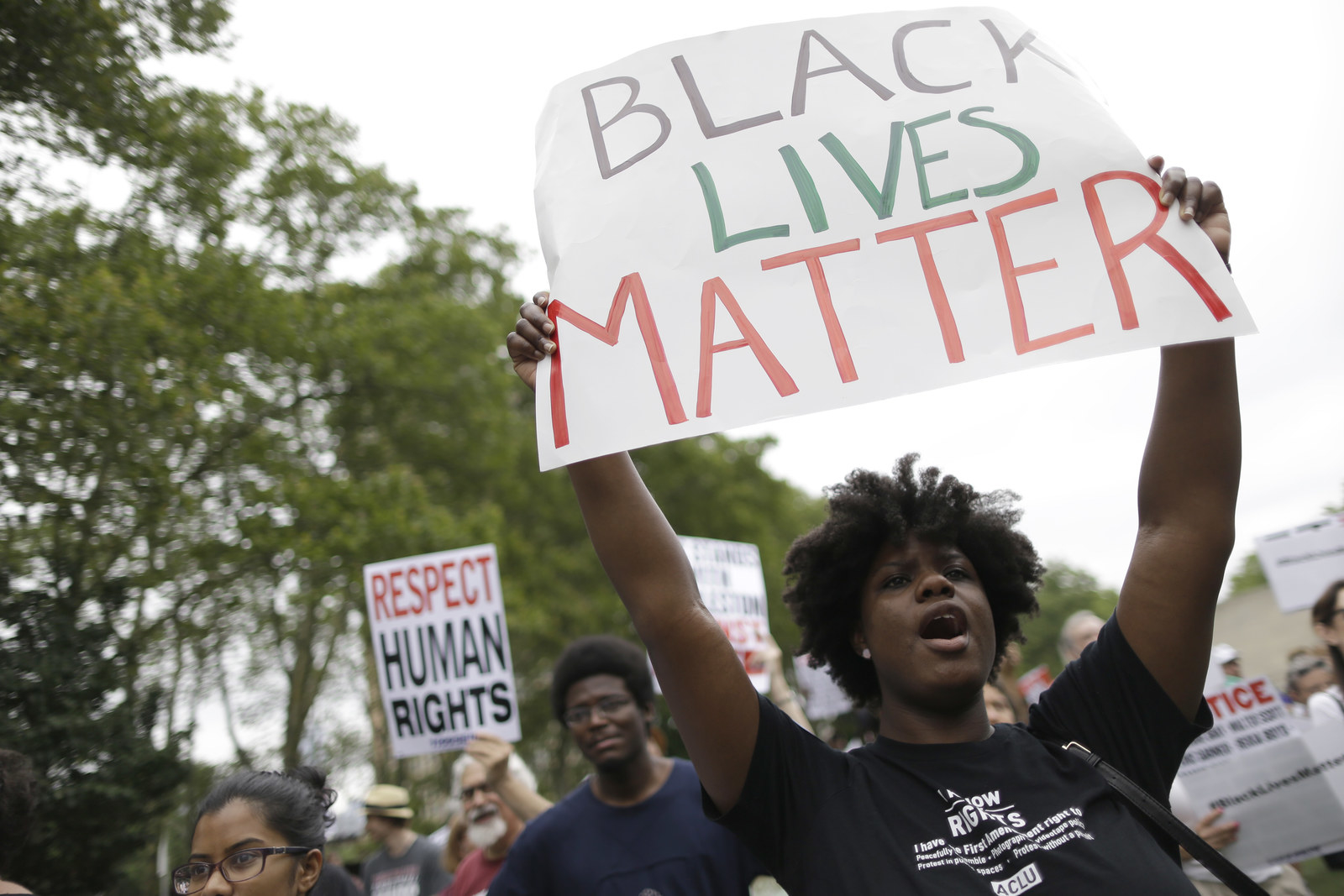 "Too much talk and not enough action from the president," Cullors said. "The movement has been meeting with him for years and yet we haven't seen an improvement for Black Lives. It's time the president commits to take executive action and defund law enforcement agencies that continue to violate the civil and human rights of black people."
Erica Garner intended to ask about the length of Justice Department investigations, including the one Obama reportedly assured her was still open.
She said Obama assured her the investigation is still open and said he can't put pressure on the Justice Department — or put his thumb on the scale — because of politics. He also told her she should be hopeful, according to Erica Garner.
"I just wanted to ask what he can do about it," Erica Garner told BuzzFeed News.
She also said she felt she had been "used for ratings," and she was upset that the broadcast didn't acknowledge her dad despite her family being in attendance. As she sat in her seat, Erica Garner grew agitated as the conversation veered into "respecting officers," so-called black-on-black crime, and even gun control.

"Well, my dad wasn't killed by a gun," she said.
Asked why her emotions boiled over so close to the grim anniversary, Erica Garner paused.
"I'm tired," she said. "I'm tired and I'm exhausted. I've exhausted every avenue trying to pursue justice for my dad. I've spoken to a rep from the DOJ. I've spoken on panels — whoever you can think of I've spoken with them. I'm tired of having this conversation. I'm tired. And I think the only way do this is to shut shit down. That's not what I wanted to do or intend to do, but it's a shame that I have to be loud and act 'ghetto' to get my point across. But I will be not be used and I will not be silent."
Backstage, Garner was seen pacing, clearly aggravated that she'd been "railroaded" by ABC News on the two-year anniversary of her father's death at the hands of the NYPD.

Reached by BuzzFeed News, a spokeswoman for ABC News said the taping went overtime to accommodate more people.
"We took an extra 30 minutes to get to as many people as we could during the town hall," Heather Riley, ABC's vice president of communications, said. "The president spoke to several people after the event ended, including at length with Erica Garner."
There were 150 invitees in the room, according to ABC News. Eyewitnesses said the exchange between Erica Garner and Obama lasted about three and a half minutes. On Thursday evening the White House confirmed the visit.
"After the ABC-hosted town hall that was taped this afternoon, the president had a brief opportunity to visit with Erica Garner who was upset that she didn't get called on to ask a question," an official said.
Reggie Harris, Erica Garner's political director, said ABC News reached out to Erica Garner to attend and their team wasn't immediately "enamored" with the idea, as she'd already met with the president. They came wanting to participate in the conversation on air, he said.
According to Harris, ABC News said it couldn't promise anything, but eventually acquiesced.
"I asked them, 'Short of a camera going out, if any questions get asked today, will you promise me one of those question will be Erica's?" Harris said. "They said, unequivocally, yes."