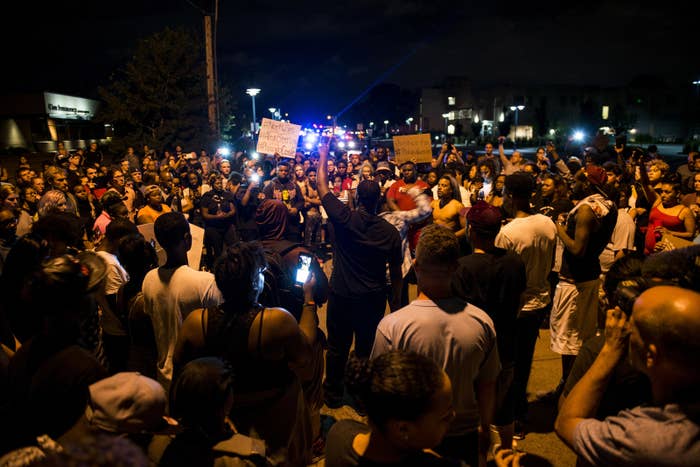 FALCON HEIGHTS, Minnesota — For as long he can remember, Andrew Schommer has wanted to be a police officer.
He woke up on Thursday to the news that Philando Castile had been shot and killed by an officer. He thought he'd watch the video — he usually watches video or reads the facts of the case — and analyze the situation, to determine for himself whether the cop was justified. Then he watched it. "I tried to look up another video because I thought it was fake. And it was the same thing," Schommer said. "I was like, 'Okay, this is real.'"
On Friday, Schommer and a friend to drive 30 minutes to Falcon Heights — a far more diverse community than his hometown of Hugo — where Philando Castile was shot and killed just steps from an entrance to the Minnesota State Fair.
Before this week, Schommer, who is 17, never questioned the police use of lethal force — an issue that has dominated news coverage over the last few years, in the wake of high-profile deaths of black Americans.
"The other ones, I thought, you know, I could see why the cop took the shot," Schommer said. "But this one I couldn't really understand. And it's in Minnesota. It's close to us."
Schommer loves the profession: When he graduates from high school next year, he plans to enroll in law enforcement school.
He is also one of the Minnesotans horrified by the apparent sequence of events captured on a Facebook Live video that resulted in the death Castile, a 32-year-old native of the state who had been riding in a car with his girlfriend and her daughter, for whom they both cared. The Castile video, and others like it, have changed the way news about shootings is consumed — now, the immediacy of his death is viewable on Facebook, for all kinds of different people.
"It's sad that he got shot and killed for a broken tail light," Schommer said next to a makeshift memorial that sprang up across the street from where Castile was killed. "The cop knew that he had a concealed carry, which is what [his girlfriend] told us and that's fine — it's good that she told him that — but the cop could have had a better command, you know, 'Come out of the car and let me watch you take out your ID.'"
"Whatever happened prior to that gunshot wasn't on video," he acknowledged. "But from what I saw if there were better commands, it would have ended probably way better."
As an outside observer, Schommer's paid attention as some criticize Black Lives Matter an anti-police movement. The movement has highlighted the deaths as tragic signposts of widespread racial injustice and inequality, but Schommer said he never saw it that way.
Schommer said he has black friends, but none of them are "anti-police." His friend, Mason Vosburg, also 17, said Hugo is a small community that is growing. Vosburg said the Castile incident legitimized for him inequality he'd only heard about — from a medical technician who is Native American and said that he gets stopped by the cops regularly for no reason.
"Our community [in Hugo] is small, but it's growing — but it's still not very diverse," Vosburg. "But when you come down here and hear it from a technician that it does happen to a lot of people you learn that it isn't right."
"He knew it was a mistake," Schommer said of the officer, who has been identified as Jeronimo Yanez. "We all angry about it, it's emotional and it's sad but we just can't go after all these other cops."
Schommer said he was not paying as much to what happened in Dallas.
"I still have faith in police officers," Schommer said, adding he still wants to become an officer and that their deaths serve as a reminder. "When they started in law enforcement, they took an oath to serve and protect. So when you take that oath to serve and protect your city or community, they know they're risking their lives every single day. You have to own and face up to that."
He couldn't describe exactly what it was that made him want to come pay respects to Castile. He hopes the ordeal comes to a peaceful end with no more people hurt and more Americans of all backgrounds getting along. "That's what we're about," he said.
"I can see it both ways," Schommer said. "I can see why people are mad at cops, and it's because they're out there to serve and protect us. But they shouldn't be out there as targets because of one person's mistake. The way I see cops — I'm not out there as someone who's hating cops. I like cops. I look up to them."