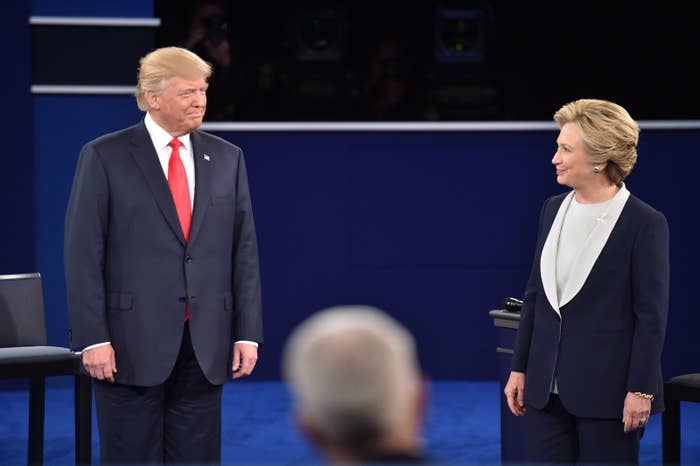 LAS VEGAS — One of the members of the Central Park Five says it "would be great to be invited" to the third and final presidential debate.
In an interview with BuzzFeed News, Yusef Salaam said he thinks an appearance at Wednesday's debate in Las Vegas would be a good response to an event Donald Trump held at last week's debate, where he appeared with several of Bill Clinton's accusers. The women also sat in the audience for the debate.
"It would be great to be invited and sit on her side and be there the same way [Trump] invited those women to rattle her," said Salaam. "Honestly, it [would be] more of a statement to the public so that they'll know she has her hands of the pulse of what's going on."

The Central Park Five were a group of young men who were falsely accused in 1989 of raping a beating a woman who had been jogging in Central Park in New York. Salaam, who served five-and-a-half years for the crime, which he did not commit, has recently partnered with MoveOn.org and For Our Future PAC. In a recent ad, Salaam added his voice to the chorus of well-known figures denouncing Donald Trump. He has not, however, officially endorsed Hillary Clinton.
Salaam isn't completely decided on Clinton, but he's not voting for Trump. "I definitely love the idea of a woman being in office, it would be a powerful thing for America."

But he's been paying close attention to the election, and the renewed attention to his life story. Salaam recalled distinctly the moment in the first debate, in which Trump said Clinton "the one who brought up the word 'super predator' about young black youth.'"
Salaam questioned why Clinton declined to hit Trump on his behavior of nearly 30 years ago, when he called for the death penalty for a crime he and four others were falsely accused of.
"He thought we were predisposed to this gene that caused us to be evil. Instead of looking at our humanity, he looked at evidence that was completely fabricated," he said.

Clinton's refusal to talk about Trump's role in the case, he said, may mean she's not 100% on their side yet. But he'd like to see Clinton change that. "It says not just to us but to all people she's an objective person looking at that facts, looking at reality, and she's plugged into the [plight] of the little people. Because there other people out there who want the spiked wheels of justice to roll over us."

Salaam believes that Clinton had used problematic terminology, but in calling for the death penalty for the Central Park Five, Trump signaled that he actually believed they really were super predators.
With the case back in the national conversation, Salaam said he's worried specifically about how Trump's political ascendance may retry the facts of the case. Salaam said he's seen a lot of positive and negative response — most troubling to him, however, is the amount of people behind Trump who are distrustful in the facts of the case that exonerated the men in 2002.
The assertion from former New York Mayor Rudy Guiliani's that Trump has a "pretty solid basis" for saying the Central Park Five are still guilty stung Salaam. He said he was "very disgusted by it."

And Salaam disclosed that he and the others were considering taking legal action against Trump or Guiliani.
"I've got to be honest are weighing the options available to us, but we haven't reached any conclusions yet."
To him, the people who don't believe their story have one thing in common. "I'm sure they're Trump supporters," Salaam said of the voters he's seen on social media emboldened by Trump don't believe he and the four others are actually innocent. "That's the part that's the scariest." What's clear, he said, is that "whether he loses or not, we're still divided as a people and as a country."