A Medal Of Freedom For Golf's Jackie Robinson
President Obama honored 92-year-old Charlie Sifford for the role he played in helping to desegregate the PGA Tour.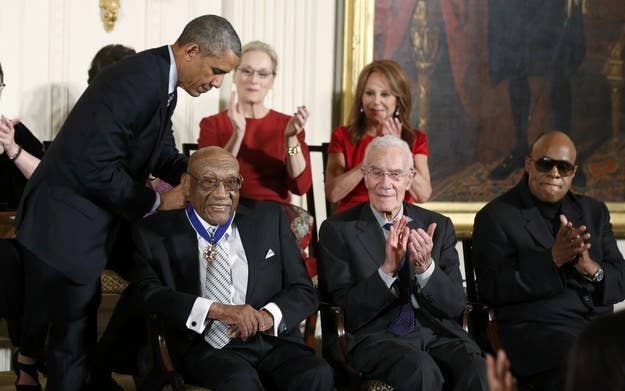 WASHINGTON – When President Barack Obama told an audience gathered in the East Room at the White House that people who did not want Charlie Sifford playing on the golf course would resort to kicking his ball into the rough, Obama gestured toward him.
"Charlie laughed about that," Obama said. "My ball is always in the rough."
More than just a joke, it was a symbolic moment that represented the intertwining legacies of Obama – a relative novice of the game who is welcome at the most exclusive golf clubs in the world – and the North Carolina son who in the 1950s dominated all black tournaments but was only permitted to caddy on the PGA Tour.
Obama awarded Sifford with the Presidential Medal of Freedom, the nation's highest civilian honor on Monday. He was awarded alongside Meryl Streep, Tom Brokaw, and Ethel Kennedy.
In his remarks, Obama addressed the injustice Sifford faced as a player on tour.
"Charles 'Charlie' Sifford just wanted to play golf," Obama said as he read the citation. "At a time when the PGA adhered to a 'Caucasians only' rule, he risked everything to affect change. In the face of death threats and stinging insults, he persistently challenged the discrimination that plagued his beloved sport while demonstrating his extraordinary skills on the course, winning six National Negro Opens before receiving his PGA Tour card. "
"Sifford leveled the fairway for generations of athletes of all races and inspired a community beyond the sport he loves."
Obama is a well-known golf lover. On Sunday, he played at the exclusive Shadow Creek club in Las Vegas with former All-Star baseball player Derek Jeter.
The effort to have Sifford awarded the medal was set in motion in part by Wendell Haskins, senior director for diversity and multicultural initiatives for the PGA. Notable athletes Alonzo Mourning, Bill Russell, Vernon Jordan and Arnold Palmer sent letters of support for Sifford to the White House, Haskins said. In all, about 25 letters were sent on his behalf.
Sifford was inducted in the World Golf Hall of Fame in 2004 and received an honorary doctorate from the University of St. Andrews in 2006.
Tiger Woods, who once said that if it wasn't for Sifford, he might not be playing golf, tweeted about the honor.
"You're the grandpa I never had," Woods said in a tweet. "Your past sacrifices allow me to play golf today. I'm so happy for you Charlie."
The golf world reacted Monday.
"It is not lost upon me that Charlie Sifford is receiving this award not only from an avid golfer but also from the first African-American president in our nation's history," the Golf Channel's Damon Hack told BuzzFeed News. "This is a moment rife with tremendous symbolism. Charlie Sifford came to prominence at a time when his rights were not fully recognized and his life was threatened because of the color of his skin.
"He has lived in an era where he has seen a black man reach the White House and another because the greatest golfer of this generation. I would imagine Charlie receiving the Presidential Medal of Freedom from President Barack Obama for his bravery and courage will be tremendously moving for him."