A Maryland Democrat's Unusual Campaign Move: Making Black Lives Matter A Big Theme
In an uphill race against a popular Democrat for Maryland's Senate nomination, Rep. Donna Edwards attaches her legislative record and personal narrative to the spirit of the movement and the ardor of its activists.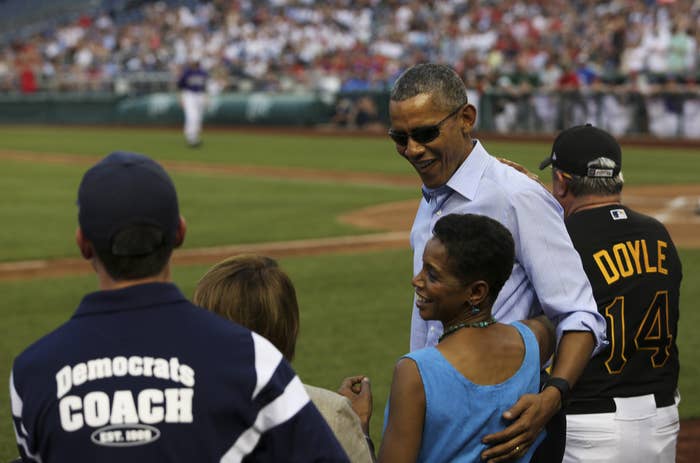 WASHINGTON — Rep. Donna Edwards is doing something pretty unusual, even in Democratic politics: She's making Black Lives Matter a big part of her campaign for Senate.
She's criticized the media's coverage of the standoff in Oregon over a federal building (peaceful Black Lives Matter activists are called "thugs" while the men in Oregon are called "an armed militia," she argued in a statement last week). She's written an op-ed about the need for black mothers to be a part of the national discussion. She spoke about Black Lives Matter at Netroots in Phoenix last summer and in Washington on a panel about the effort. Aides say her campaign has even communicated with activists in the movement, including DeRay Mckesson of Campaign Zero.
Edwards, who has always had a reputation for aggressively courting and advocating for progressive and lefty causes, has embraced Black Lives Matter in her bid against colleague Rep. Chris Van Hollen for Maryland's Democratic senate nomination, which has proved challenging.
"These issues that are being raised [by Black Lives Matter] are not new to me," Edwards said in an interview with BuzzFeed News. "It's natural for me to weave the current dialogue about the fact that black lives do matter into things I have long held as part of my legislative agenda."
On the trail, she incorporates those issues into her personal story — Edwards is a single mother — telling audience she feared her son would one day have a routine interaction with a police officer that turned ugly. "When I do that I can see heads nodding in the room," she said. "There are other moms and dads who have the same conversation with their young people that I had with my son. And what they know from me is that they're going to have somebody in the Senate who understands their experience because it's my experience."
"My voice in that room is going to be unique and different precisely because I've raised my son in this very complicated environment," said Edwards, who was the first black congresswoman in Maryland's history. "Frankly, I think we'll get better public policy as a result."
Only recently has her opponent taken stances that can be considered supportive to the movement, Edwards argued.
"We took a vote almost two years ago on militarizing the local police departments," she said. "I voted against that and my opponent voted for it. Now, he thinks it's a good idea to demilitarize the police. Well it's a day late and a dollar short."
"I have to cast quite a skeptical eye at somebody who's just started to adopt the language because it's now safe to do it in the current political environment," she said. "I don't think that's real."
Whether this is a strategy that will lead to votes is less clear. Democratic operatives from national groups can't point to a single candidate in statewide races who are cozying up to Black Lives Matter like Edwards, who hasn't quite gained traction against her opponent. Van Hollen is popular, well-known, adept at fundraising, and liberal, but less so than Edwards. About 40% of Maryland's voters are black — but Van Hollen has black support in, for instance, a county that Edwards represents: Prince George's County, which is one of the wealthiest black counties in the country. (Popular Prince George's County Executive Rushern Baker and State Sen. JoAnn Benson have endorsed him.)
Meanwhile, although the state is generally considered fairly liberal, Maryland elected a Republican governor in 2014. At the time, many attributed Gov. Larry Hogan's victory to a backlash against Maryland's high taxes under Democratic leadership; Hogan still holds a high favorability rating in the state, after a year in office. Presidential year turnout will likely make Maryland much more blue, but that turnout level may not extend to the primary.
Edwards is undeterred, and feels the policy implications of the current time need further representation in Washington. "I think that's important especially in this moment to be reflected in the Senate as we move forward in these conversations about incarceration, education, the relationship of local law enforcement to the communities they police.
"I think what's most important for Donna Edwards is that she is running on a very strong record of supporting women and families, in particular the African-American community in Maryland," Stephanie Schriock, the president of Emily's List, which has endorsed Edwards, told BuzzFeed News. "She's starting from such an incredibly strong position."
But it's the community of black activists shaping 2016 from the grassroots that Edwards, increasingly, seems to want to have an impact with. "What they will know about me," she said, referring to the activists "is that they will have somebody inside the Senate who is actually listening to them."