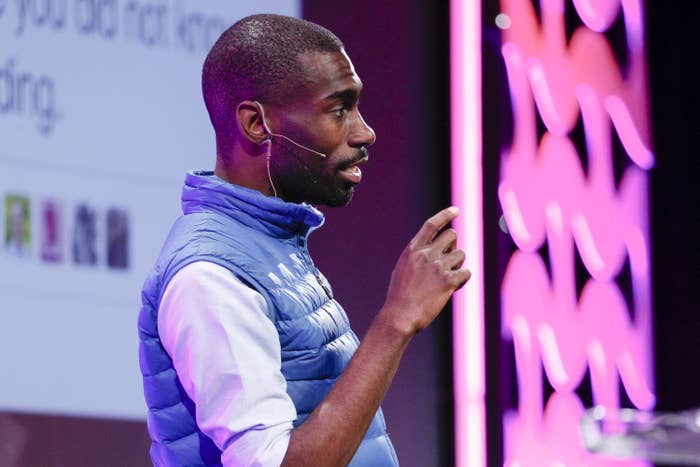 WASHINGTON — New data from an online fundraising tool for political candidates suggests that more than 60% of Baltimore City mayoral candidate DeRay Mckesson's campaign contributors are under the age of 34 — many of whom are contributing to a candidate for the first time.
Mckesson's campaign recently reached its goal of raising $250,000, doing so in under two months from 5,100 individual donors. He is running an challenger effort but he has emerged as something of a fundraising juggernaut, drawing money from all over the country.
According to Crowdpac data, made available to BuzzFeed News Tuesday, more than half his Maryland donations are from Baltimore. Crowdpac also tells BuzzFeed News that 15% of the campaign's donors are students or teachers (Mckesson was a former Teach for America corps member). Half of the contributions were considered "small-dollar" donations of $200 or less with an average size of $48.
But Mckesson has also raised a lot of money from powerful corporate executives, many in the tech industry. Netflix CEO Reed Hastings contributed $6,000, which is the maximum amount allowable by law. Omid Kordestani, Twitter's executive chairman, donated $6,000. His wife, Gisel, a Crowdpac co-founder also donated $6,000. Slack founder Stewart Butterfield has also donated to Mckesson's election effort.

Mckesson said these donations represent part of a growing interest by forces outside of Baltimore who want to see the city thrive and believe in his leadership.
"When it comes to fundraising I've made a choice — one that is important to me even if it means that I'll be at a financial disadvantage relative to my peers," Mckesson said in an email statement to BuzzFeed News.
"Instead of seeking donations from the typical special interests that dominate Baltimore elections year after year, I'll be raising funds from folks inside and outside of Baltimore that share my commitment to a Baltimore where every student learns in a safe environment, where folks can get a job and support their family, and where all neighborhoods are safe," he said.