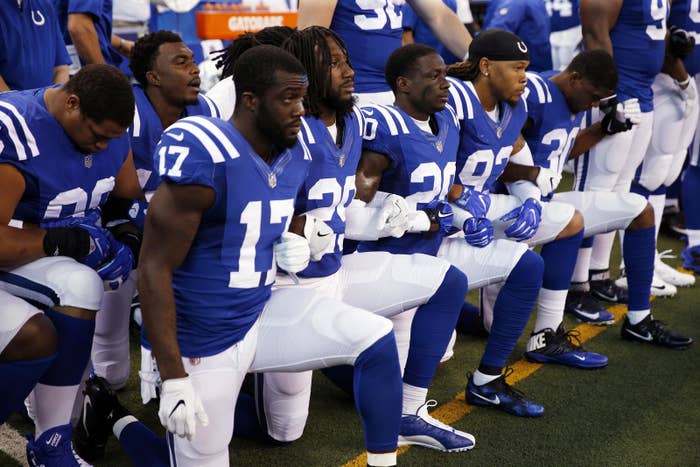 A group representing the mothers of NFL players directed an open letter to President Trump on Thursday, as the tense fallout over his remarks about the NFL continues.
The Professional Football Players Mothers Association (PFPMA) — whose self-stated purpose "is to be a support system for the mothers of professional football players and to serve, support, educate and strengthen our communities through charitable giving" — responded to Trump's comments during a rally that it'd be great to see an NFL owner say of a protesting athlete, "Get that son of a bitch off the field right now."
In a letter obtained by BuzzFeed News, the PFPMA defended players, saying the group felt personally targeted by Trump's attacks, which have continued in the days since the rally.
"[We] believe in promoting a positive image of professional football players as athletes and young men of character," the letter reads. "It saddens the organization to know that President Donald Trump would make our sons — as well as their mothers — the target of inflammatory, offensive comments that are intended to promote anger and hatred, depleting them of their heritage and self-identity."
Since Trump's comments, scores of players have knelt, while others locked arms. Meanwhile, Trump has continued his campaign, calling on owners and the NFL to demand players stand and show respect for the anthem, attacking those who protest, and also attacking individual athletes in other sports as well.
The mothers group said their sons serve their communities to better the country, and joined a chorus of advocates who assert the protests are not meant to convey disrespect for either the American flag or the national anthem.
"Whether it be by kneeling or standing with their arms locked, our sons have chosen this platform to get the message out about social justice and unity, and they will always have our support," the letter reads. "Now that we obviously have your attention, let's put a stop to the divisive language and start a productive dialogue for positive change."

In an interview with BuzzFeed News, Michele Green, the president of the PFPMA and the mother of former NFL offensive tackle Bryant McKinnie, said she was appalled at Trump's comments and knew she wanted to respond as a group of mothers in part because the remarks amounted to bullying. Green said they want to communicate to Trump that hate "just won't do."

They also felt personally attacked.
"We know our self-worth as mothers," Green told BuzzFeed News. "We're not what he said we were."
A National Football League Players' Association (NFLPA) spokesperson told BuzzFeed News that the NFLPA worked in tandem with the mothers' group over concern about Trump's rhetoric in the effort to defend their sons.
The mothers' group thanked the entire NFL community and its fans "for standing with our sons to affect change in America."
"We know the hearts of our sons and therefore, we know that they will continue to present themselves in a positive image that exemplifies professional sportsmanlike behavior, high moral values, and good character," the letter reads.
The letter also quotes scripture, from Proverbs: "Whoever keeps his mouth and his tongue keeps himself out of trouble."