3 Zika Deaths In Venezuela
Although the Zika virus normally causes only mild symptoms, Venezuela is reporting hospitalizations and three deaths as the virus linked to birth defects spreads.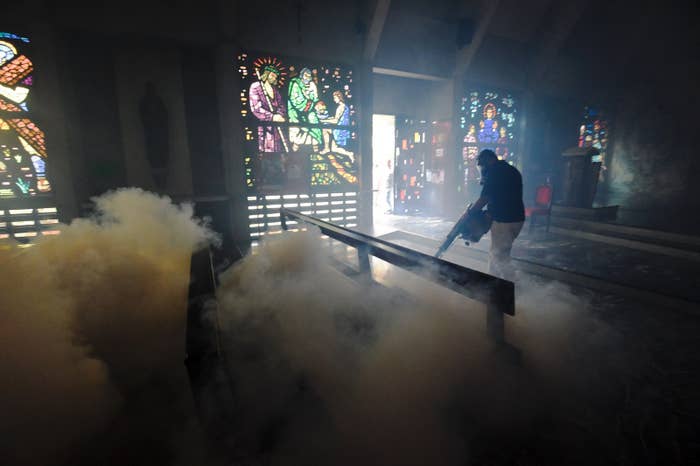 As the Zika virus spreads in an outbreak now hitting Venezuela, reports of deaths and serious illness underscore the often-mild disease's potential danger.
At least 3 Venezuelans have died from Zika infections and 68 have been hospitalized, Venezuelan President Nicolas Maduro said on Thursday, in an outbreak that spread from next-door Brazil in November. Venezuela is monitoring pregnant women there for signs of the severe birth defects that accompanied the outbreak in Brazil.
Overall, more than a million Brazilians have been infected with Zika virus since the beginning of a May outbreak. Officially, about 5,000 Venezuelans have been infected in a outbreak there that began in November, although actual numbers are thought to be much higher. World Health Organization experts have estimated that 3 to 4 million people may suffer Zika infections in North and South American countries in the next year.
"It's a mistake to call it a mild disease," Zika expert Andrew Haddow of the United States Army Medical Research Institute for Infectious Diseases told BuzzFeed News.
While only about 1 out of 5 people infected with the virus develop disease symptoms, such as a rash, joint pain and eye redness, the very worst cases resemble dengue fever and may sometimes be mistaken for that dangerous disease. (Severe dengue is marked by bleeding absent from Zika infections.)
The Venezuelans who died of Zika infections had also suffered from Guillan-Barre syndrome, a paralyzing ailment caused by the body's immune system turning on its own nerves after an infection, according to Maduro. The Zika link to Guillan-Barre has only emerged in retrospective looks at virus outbreaks in Brazil and French Polynesia.
"Severe Zika cases are much, much worse than the mild flu people sometimes use to describe it," Haddow added. "There's just a lot we don't know about this disease."
On Friday, CDC head Thomas Frieden made the same point on Twitter, describing the limited research on Zika done since its 1947 discovery in Uganda as "50 years of neglect."
Last week, President Obama called for $1.8 billion in funding to address Zika, with some $1.48 billion intended for CDC research into a vaccine and the biology of the virus. The World Health Organization suggested that it may take three years to develop a vaccine for Zika, which has been linked to more than 3,500 cases of severely shrunken brain and skull birth defects, microcephaphly, in Brazil.