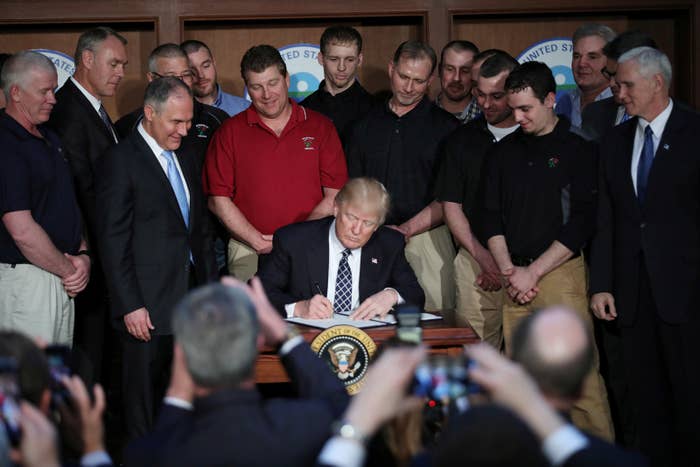 On the campaign trail and in the White House, Donald Trump promised to reverse the Obama administration's moves to limit greenhouse gases — especially ones that cut into coal mining.
He delivered on that promise Tuesday by signing a sweeping executive order at EPA headquarters in Washington, DC. The order starts a review that halts the Environmental Protection Agency's plan to limit power plants burning coal.
"Perhaps no single regulation threatens our miners, energy workers, and companies more than this crushing attack on American industry," Trump said at the signing event on Tuesday.
The "Energy Independence" order tells federal agencies to ignore climate change's costs — rising seas, heat waves, drought, ocean acidification, and other calamities — in their regulatory calculations. And it reverses a moratorium on leasing federal land for coal mining in Western states.
Trump had said the executive order would, "turn the EPA from a job-killer into a job-creator," at a rally in Louisville, Kentucky, last week, putting miners back to work.
On Sunday, EPA Administrator Scott Pruitt had similarly said on ABC's This Week the order would counter "the past administration's effort to kill jobs across this country." He suggested the administration's environmental policies would be both pro-jobs and pro-environment, following clean air and clean water rules while asking federal agencies over the next six months to identify rules that hinder development of energy resources.
However, the US coal industry is dying regardless of anything Trump does, said industry experts, with fewer than 100,000 jobs now largely concentrated in Appalachian states.
"It won't add any coal jobs, but it will set back the country as a leader on the environment," finance director Tom Sanzillo of the Institute for Energy Economics and Financial Analysis based in Cleveland told BuzzFeed News. Coal is a declining industry that serves up a product, energy, that costs more than wind, solar, and natural gas.
"That isn't going to change and the fundamentals are inescapable," Sanzillo said. "Nobody in the industry has a serious plan to reverse that."
Robert Murray, head of the largest private US coal firm, Murray Coal, for example, told The Guardian on Monday that Trump should "temper his expectations" on reviving coal industry jobs, adding: "He can't bring them back."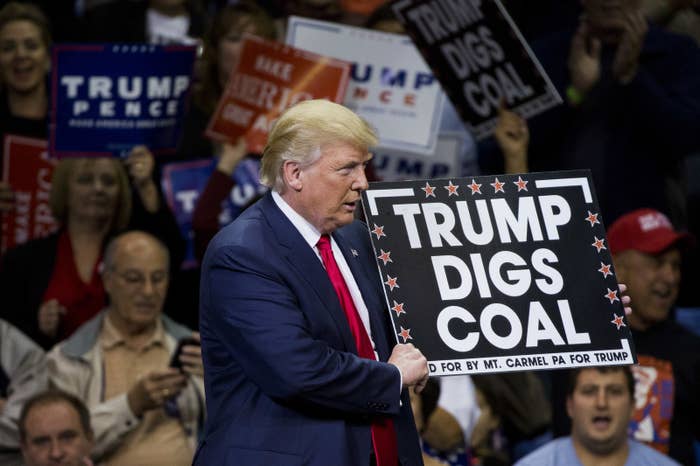 People release some 40 billion tons of carbon dioxide into the air every year, largely by burning fossil fuels such as oil, natural gas, and coal. These gases contribute to global warming by retaining heat, which has helped raised the atmosphere's average temperature by about 1.5 degrees Fahrenheit since 1880.
Trump's executive order sets aside a federal estimated economic cost of these carbon dioxide emissions, set at $36 a ton and calculated by the Obama administration in 2009. US agencies relied on this estimated cost to calculate the pollution effects of greenhouse gases. Trump's order would effectively set it to $10 or less, based on a 2003 rule that heavily discounts environmental damage.
This US "social cost of carbon" estimate was first necessitated by a 2007 court case that the federal government lost, because it ignored climate costs in its car fuel mileage standards.
"The 'social cost of carbon' wasn't something just invented by the government. It has been calculated since the 1980s," climate policy analyst Robert Kopp of Rutgers University told BuzzFeed News. Kopp was on a recent National Academy of Science report panel that concluded an accurate cost should likely be higher than $36 a ton. Depending on assumptions, the social cost of carbon under the 2003 rule "might even be negative," he said, effectively suggesting that the benefits of global warming outweigh its costs.
Former vice president Al Gore, who met with Trump prior to his inauguration to urge him to address climate change, called the executive order "misguided' in a tweet on Tuesday.
In a Monday briefing, a White House official acknowledged that lawsuits would likely result from the Trump administration's efforts to halt or rescind climate rules, delaying their removal by one to three years or more.

New York attorney general Eric Schneiderman, for example, said at a Tuesday news conference that his office would take up the legal defense of the plan if the EPA walks away from a lawsuit that coal and oil patch states had filed against its implementation in 2015.
"We're confident the EPA cannot simply demolish the [Clean Power Plan] and leave nothing in its place," Schneiderman said at a briefing. "We intend to make sure the federal government does its part."
The Justice Department late Tuesday asked the US Court of Appeals for the DC Circuit, which is handling litigation over the Obama administration's Clean Power Plan, to place the case on hold in light of Trump's new executive order. A full sitting of the court heard arguments on challenges to the regulations in September, but has yet to rule. States and organizations that have been defending the regulations in court intend to oppose the government's request.
The executive order also puts on hold Obama administration rules prohibiting releases of methane, another potent greenhouse gas, from new natural gas wells.

But it sets aside the question of whether the US would continue to participate in the 2015 Paris Climate Agreement, which committed the country to cut greenhouse gas emissions by 26% by 2025. And it leaves intact a 2009 EPA "endangerment" finding that carbon dioxide was a harmful pollutant due to its effects on climate.

Some opponents of climate change regulation have criticized the administration for not pulling back the agreement and finding, along with the other Obama policies axed by the executive order.
Pruitt had previously helped lead a multi-state lawsuit against the Clean Power Plan, under which US power plant emissions of carbon dioxide would have fallen 32% lower. The plan foresaw states switching from coal-powered plants, which will drop from providing 39% of electricity nationwide to about 27% by 2030, with natural gas, solar, and wind power taking up the slack.
The EPA estimated that an overall gain of 60,000 to 80,000 jobs nationwide would result from the plan by 2020, largely windmill and solar panel installers. But the same estimate saw heavy job losses among coal miners. Voters in both Midwestern states that would benefit from the plan and coal states that would lose from it went heavily for Trump in the election. (In a typical month, the US economy might add 200,000 jobs, for perspective.)
A 2015 analysis in the journal PLOS One last year concluded that the health benefits alone — fewer asthma attacks and premature lung disease deaths from power plant emissions — exceeded the costs of the plan by $12 billion. Including the environmental benefits in that estimate raised that number to $33 billion by 2020.
Another part of Trump's order would end a moratorium on coal companies digging up coal from federal land in Western states such as Wyoming, often sold with few bidders at below market prices. But since the price of natural gas is so low, there's little reason for coal firms that have suffered a wave of bankruptcy to snatch up those leases now, Sanzillo said.
"Miscasting the issue to think that coal jobs are coming back just makes it harder to really help people," he said. "That's one part of the tragedy here."
UPDATE
Updated with information about a motion filed by the Justice Department late Tuesday to put litigation over the Clean Power Plan on hold.
Outside Your Bubble is a BuzzFeed News effort to bring you a diversity of thought and opinion from around the internet. If you don't see your viewpoint represented, contact the curator at bubble@buzzfeed.com. Click here for more on Outside Your Bubble.