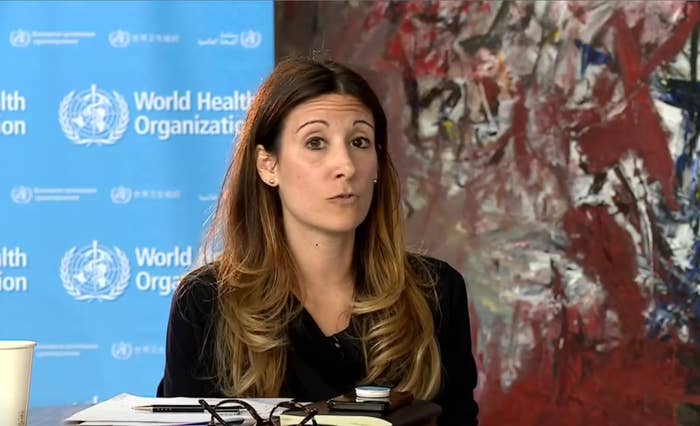 A high-stakes dispute over whether new COVID-19 cases are being spread by people without any symptoms has the World Health Organization once again on the defensive.

After calling asymptomatic transmissions "very rare" on Monday, triggering a firestorm of criticism from public health experts, the WHO's Maria Van Kerkhove walked back her comments, saying Tuesday, "We don't have that answer yet," and adding, "This is a major unknown."
Initially, Van Kerkhove had pointed to a small number of studies suggesting that 14% or fewer of coronavirus infections sprang from asymptomatic cases. She also referenced unreleased contact tracing data submitted to the WHO by unidentified "Member States" suggesting that asymptomatic individuals were much less likely to transmit the virus to others than those who develop symptoms.
Scientists immediately called those statements into question. Some estimates suggest that 40% to 45% of infections spring from people with no symptoms.
"All of the best evidence suggests that people without symptoms can and do readily spread SARS-CoV2," a Harvard Global Health Institute statement said on Tuesday morning.
Infectious disease expert Marm Kilpatrick of the University of California, Santa Cruz called the dispute a "P.R. disaster" for the WHO. "Abundant data now shows that transmission from people w/out symptoms makes up a huge fraction (40-50%) of transmission," Kilpatrick tweeted. "But a key question has been whether transmission is from pre-symptomatic people who develop symptoms later or truly asymptomatic people who never do."

Many studies looking at asymptomatic spread to date have not been able to distinguish between truly asymptomatic individuals, who never experience symptoms, and those who are considered presymptomatic, meaning they just haven't developed any symptoms yet. That could potentially lower the percentage of new cases being driven by asymptomatic people, but we don't yet have enough long-term data to know for sure.
The threat of asymptomatic cases has been a big part of the arguments behind the need for wearing masks and social distancing to stop the spread of COVID-19.
The asymptomatic spread dispute comes as just the latest controversy over WHO coronavirus guidance, following previous botched messaging over the use of masks, immunity passports, and its outward acceptance of China withholding information. The highly publicized snafus have fueled further criticism from President Donald Trump, who has sought to make the organization a political scapegoat in his reelection campaign.
"There is a pattern here," Lawrence Gostin, director of the O'Neill Institute for National and Global Health Law at Georgetown University, told BuzzFeed News. "WHO is tarnishing its reputation as a science agency by putting out conflicting and confusing statements."
Since the first outbreak of the novel coronavirus, the degree to which the virus can spread from infected people without symptoms has been one of its central mysteries. An early controversy arose in late January, when a New England Journal of Medicine report suggested an asymptomatic businessperson from China had spread the virus to Germany. The journal later acknowledged that she had felt mild symptoms and had treated herself with cold medicine.
A Science magazine update to its original story about the incident noted that, "this story has been cited widely on social media to argue against the use of face masks and shelter-in-place policies. This is based on a misreading of the article."
Adding to the confusion, patients who had less common symptoms of the virus — such as fatigue, aches, and diarrhea — sometimes don't recognize they were infected, because they didn't have the coughs and fevers usually associated with respiratory diseases, infectious disease expert Amesh Adalja of the Johns Hopkins University Center for Health Security told BuzzFeed News. This adds to uncertainty in retrospective studies where patients are asked to self-report their past illness status.

Mike Ryan, executive director of the WHO's Health Emergencies Program, said the statements from Monday were in the context of encouraging strong contact tracing to control outbreaks in low-income countries, rather than turning to wide-scale lockdowns, which carry vast health and economic costs of their own. "We know the suspect cases with symptoms," said Ryan.
"The problem is that their asymptomatic comments don't help us in any way from a public health standpoint, they just add to the confusion," said Gostin. It's inevitable that some miscommunication will occur during daily press conferences, he added. "That just means you have to be extra careful to not lose your scientific credibility, or else everything else you recommend falls down like a house of cards."