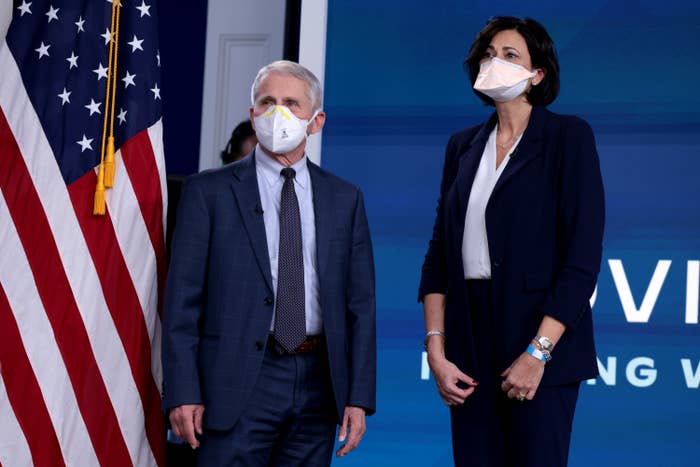 The White House on Wednesday dug in against critics of the new CDC guidelines that shortened the recommended isolation period from 10 days to five days for asymptomatic people infected by the coronavirus.
Announced on Monday, the guidelines halved the isolation time — the period when people who have tested positive for SARS-CoV-2 should not be in contact with others — to five days. The five days begin when someone first shows symptoms; people should only emerge from the isolation afterward if those symptoms have stopped. They should then wear "well-fitting" masks for the next five days, according to the new guidelines, rather than continue in isolation. The change comes as COVID-19 cases hit their highest numbers for the entire pandemic, more than 240,000 cases a day on average.
The revised policy attracted criticism from many outside public health experts, who said a negative antigen test should be required before someone ends their isolation, or that the shorter isolation should apply only to vaccinated people. The changes came just days after the CDC relaxed recommendations for infected healthcare workers to seven days of isolation, with a negative test.
"Let me make clear that we are standing on the shoulders of two years of science, two years of understanding transmissibility," CDC Director Rochelle Walensky said on Wednesday, defending the five-day guideline.
Around 85% to 90% of viral transmissions, the "vast majority," she said, happen in the first one to two days before people feel symptoms, and within the two to three days of those symptoms starting. COVID-19 symptoms include a cough, sore throat, headache, fever, chills, lost sense of taste, diarrhea, and other cold and flulike complaints.
Walensky said that PCR tests for SARS-CoV-2 genes could give positive results for weeks after a person ceases being infectious, making them useless in isolation decisions. The CDC did not recommend a negative antigen test before ending isolation, she added, because the results, positive or negative, do not definitively show whether someone is still infectious. "On the other hand, we know that after five days people are much less likely to transmit the virus and that masking further reduces that risk," Walensky said, pointing to the five days of masking required after the isolation period as significant added protection.
Nevertheless, critics such as University of Saskatchewan virologist Angela Rasmussen argue that a positive antigen test does point to some significant amount of virus still present in a patient, meaning they could be infectious. People should have that information before ending isolation, she suggested on Twitter, in response to Walensky.
The CDC's relaxed policy has sparked derision on Twitter, where satirical takes on the agency's permissiveness have (perhaps excessively) taken off:

But some independent experts have defended the agency's reasoning.

Amesh Adalja, an infectious diseases physician and senior scholar at the Johns Hopkins Center for Health Security, told BuzzFeed News on Tuesday via email that he welcomed the news.

"It's been clear for some time that a one-size-fits-all period for isolation did not fit the period of contagiousness," Adalja said. "The updated guidance reflects the fact that this is going to be an endemic virus and the disruption of a case can be safely minimized based on the enhanced scientific understanding that has accumulated."
Yet Adalja cautioned that antigen testing would improve the protocol. "Rapid antigen tests, if they were widely available, should also be used to precision-guide these durations."
At the Wednesday White House briefing, National Institute of Allergy and Infectious Diseases chief Anthony Fauci cited continuing signs that the Omicron variant, now responsible for the majority of US cases, tends to cause severe illness less often.
However, it's unclear whether this means Omicron is an intrinsically less dangerous bug than previous variants. It could also be that Omicron seems milder because it is infecting more vaccinated people, who are mostly protected from severe disease.
"Increased transmissibility of Omicron resulting in an extremely high volume of cases may override some of the impact of the lower disease severity," Fauci said. "So we should not become complacent."
David Mack contributed reporting to this story.