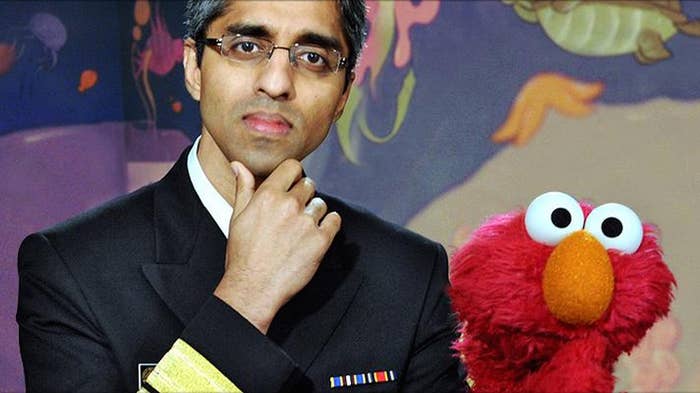 WASHINGTON D.C. — Two blocks south of the U.S. Capitol sits the office of the world's least frightening general, the U.S. Surgeon General, Vivek Murthy.
He's having a good week, appearing both with Sesame Street's Elmo in a public service ad touting vaccinations, and with Vice President Joe Biden, who on Wednesday ceremonially confirmed Murthy in his new post.
Murthy wants to change the world. "We're trying to build a movement around public health," he told BuzzFeed News from his office in the Hubert Humphrey Building, the concrete monstrosity that houses the U.S. Department of Health and Human Services. The Surgeon General, strangely enough, is technically an admiral, and wore a Navy blue uniform. "The fundamental job of this office," he said, "is to look out for the health of this country."
Arrayed against Murthy's aspirations, however, is the utter powerlessness of his office. Not so long ago, the Surgeon General loomed large in every outbreak, from influenza to AIDS. But now the "nation's top doctor" is just another mortality statistic in Washington D.C., the victim of lost influence and relevance.
"Our latest Surgeon General was just confirmed after nearly two years without one, which says something about the importance of the job," Howard Markel, a medical historian at of the University of Michigan in Ann Arbor, told BuzzFeed News.
The bully pulpit that the Surgeon General once monopolized to proclaim health messages has been overtaken by a smorgasbord of medical voices catering to the public, Markel said. The Surgeon General now faces towering competition from pundits, celebrities, and even other federal officials.
But Murthy's not ready to bow out. He wants to move his $216,550 position into the 21st century by tweeting, Tumblring, and even urging Elmo to get his shots. "I really enjoyed working with Elmo," Murthy said with the calm voice of a physician. "We were working together to get out an important message."
And he's been taking that message on the road. From December to March, Murthy traveled across the country, from Miami to Cincinnati to Seattle, talking to doctors and patients about everything from exercise to Ebola.
A Harvard-trained physician and son of Indian immigrants, 37-year-old Murthy is the youngest Surgeon General in more than a century.
But Murthy's youth, some say, won't help him gain the public's attention and respect.
"Dr. Murthy is a really terrific doctor, but he really has no big leadership history, which is really a disadvantage," former Surgeon General Richard Carmona told BuzzFeed News. "Maybe in 20 years he would have earned the legitimacy to be Surgeon General. You really want someone with a very long leadership history in public health in that role."
Murthy responded to such criticism, which came up at his nomination hearings, by pointing to his experience founding VISIONS, an HIV/AIDS education program in India and the United States, and community health programs in India. "No one is too old or too young to change the world," Murthy said.
A bigger problem, Carmona argued, is Murthy's politics. He co-founded Doctors for Obama, now Doctors for America, a 16,000-member physician and medical student group that calls for universal health insurance.
"With all due respect — and I think he is a terrific doctor — he wouldn't have the job if he hadn't founded Doctors for Obama," Carmona said. "The Surgeon General shouldn't have the appearance of a patronage job."
In response to the same complaint made at his Senate hearing in February of 2014, Murthy said Doctors For America largely worked to build community healthcare partnerships "that served people of all political affiliations," and that his focus as Surgeon General would be on obesity prevention.
Murthy's fondness for Twitter (he has 46,000 followers) got him in hot water with the NRA, which opposed his confirmation because of "political activism in support of radical gun control measures." Those included calling for gun purchasers to take safety classes and for limits to purchases of ammunition.
Murthy said that gun control would not be his focus as Surgeon General. "I was speaking out of my experience of treating gunshot victims," he said. "Violence of all kinds is a public health problem."
His nomination passed in December in a close vote, largely due to the Democratic control of the U.S. Senate. In a speech outlining his ambitions last Wednesday, Murthy said he would focus on mental health, tobacco's role in disease, violence, and exercise. (He practices what he preaches, doing yoga daily.)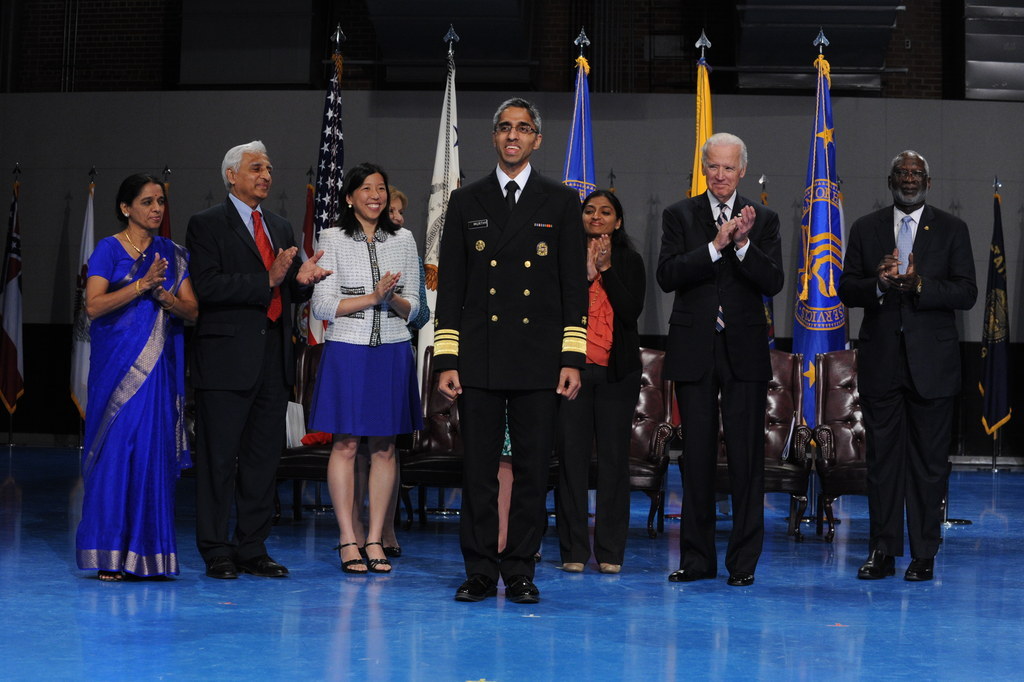 The high point of the Surgeon General's office came in the 1950s and '60s, when reports highlighted the links between smoking and cancer.
But by 1967, the office lost its budgetary power and control over the 6,700 uniformed medical officers of the U.S. Public Health Service. This began a long decline, as described in last year's Surgeon General's Warning: How Politics Crippled the Nation's Doctor by Associated Press medical reporter Mike Stobbe.
But Murthy says that he doesn't need money to boost public health.
"In Washington people assume that power just means you control a budget or legislation," Murthy said. "But I think there is power in the ability to convene a conversation and set the agenda. C. Everett Koop didn't succeed because of his budget."
Koop, who served as Surgeon General from 1982 to 1989 and died in 2013, looms large over the history of the office. By breaking with the Reagan Administration and speaking out about HIV, even cobbling together money to mail U.S. households frank advice on avoiding the disease, Koop set a standard for independence that Surgeons General ever since could only aspire to, Markel said.
All claims of an independent Surgeon General evaporated in 1994, when Bill Clinton fired Jocelyn Elders after she spoke out about masturbation, Markel added. "This has had a real effect: Do you want your doctor to give you the truth or not?"
Murthy contends that his power will come from honest public discourse. That means not just issuing reports, but debunking misinformation, such as the unfounded links between vaccines and autism that played a role in the recent measles outbreak.
In trying to make connections among community health groups, Murthy sees himself building a new model for the Surgeon General. "There is a real hunger out there for partnerships to better health."
But it is worth noting his predecessor, Regina Benjamin, voiced similar ambitions about "a grassroots movement, to change our healthcare system from one focused on sickness and disease to a system focused on wellness and prevention." She left the office in 2013, without making much of a dent on public opinion.
Perhaps the biggest problem for the modern-day Surgeon General? Lots of other people are already doing the job — everyone from Dr. Oz, who touts alternative medicine on daytime television, to Thomas Frieden, the CDC director who led the government's response to the Ebola epidemic. As Markel put it, "There is lots of competition to be the guy in the spotlight now, the one the President listens to at the highest level."