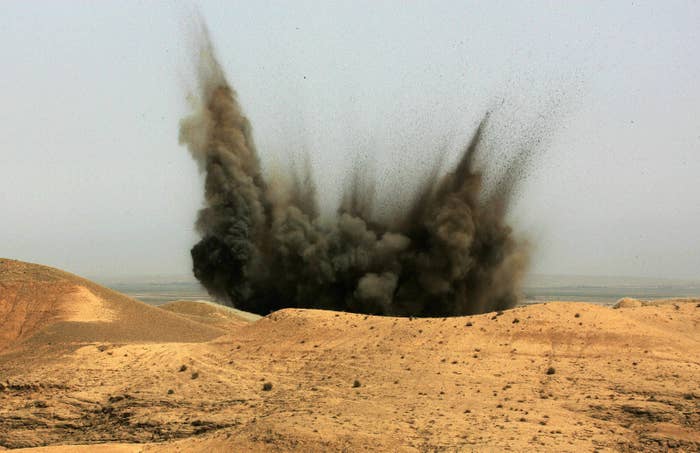 Iraqi earthquake monitors erected to detect nuclear bomb tests in Iran are instead picking up airstrikes, car bombs, and munitions blasts, seismologists reported on Tuesday. The unexpected data shows a decade of conflict in the jagged lines of seismometer measurements.

Iraq is girded by a network of 10 seismic monitoring stations that were set up in 2005 following the U.S. invasion, tied to a central facility in Baghdad first erected in the 1970s. Iraqi universities — using U.S. military funding — established these seismic monitors to map small earthquakes and watch for any signs of nuclear tests next door in Iran.
But a team of American scientists report that the seismic data also includes a treasure trove of blast signatures in the strife-torn region. Lead scientist Ghassan Aleqabi of Washington University in St. Louis, who helped establish the Iraq network at some peril during the insurgency, stumbled on the data after correlating it to news accounts of car bombs and large explosions.
Aleqabi and his colleagues don't know whether the U.S. military is using the seismology data for non-scientific purposes, but he says that it's likely. The study was partly funded by the U.S. Air Force Research Laboratory.
Aleqabi and his colleagues don't know whether the U.S. military is using the seismology data for non-scientific purposes, but he says that it's likely.
The new report recreates, for example, a massive 2006 fire set off by an insurgent mortar at U.S. Forward Operating Base Falcon, five miles south of the Baghdad Observatory in the Iraqi capital. It also reports details of car bombs, helicopter flights, and drones, while a related analysis presented last week at a geophysics meeting described a June U.S. airstrike on an ISIS car bomb factory.
In an era of urban warfare and clandestine bombing, seismology is turning into a battlefield technology, according to the report.

"If you can hear it and feel it, we can describe it," study co-author Michael Wysession of Washington University in St. Louis told BuzzFeed News. "What used to be clandestine and confused in warfare, seismology can start to pinpoint."
At the October 10, 2006 ammo dump explosion, shown live on CNN and widely seen in videos. Blasts there ranged from 3 to 13 tons of TNT, the analysis shows. The nighttime conflagration caused no injuries, but barbequed a trailer-park-sized ammunition dump. One mushroom-shaped explosion was so large that local news accounts at the time chattered of a tactical nuclear bomb exploding just outside of Baghdad.
"We can testify that it wasn't that large," Wysession said. The data confirms an insurgent mortar blast around 9pm local time set off small explosions at the ammunition dump, culminating in four very large ones an hour and forty minutes later. Small explosions popped off into the next day. The monitors were sensitive enough to pick up the passage of helicopters flying overhead and measure their speed, 100 to 130 miles per hour, during the inferno.

"What was surprising was how small were the mortar blasts that set things off," Wysession said, equivalent to a few pounds of TNT. Insurgents were regularly firing mortars on Baghdad and the base at the time, the height of the Iraqi insurgency. The ammo dump analysis is so precise, Wysession said, because it was close to the Baghdad seismology center.
The study also discerned the signals in the data of improvised explosive devices (better known as IEDs) in Baghdad, such as one on December 20, 2006 that measured just 32 pounds of TNT. Wysession said he suspects the U.S. military is using such seismic data to monitor battlefields today, but has no direct knowledge of its use. A U.S. Defense Threat Reduction Agency (DTRA) spokesperson, Dan Gaffney, confirmed to BuzzFeed News that the agency and national labs have investigated the seismology of small explosions.
The Baghdad monitors, which include microphones capable of hearing noises in the air that travel great distances at frequencies too low to be heard by the human ear, also picked up signals of drones and fighter jets.
These improved sound monitors added to the Iraqi network are also detecting more recent U.S. airstrikes on ISIS targets, such as the June 3, 2015 attack on a car bomb factory south of Kirkuk. Sensors 55 miles away recorded the early morning blast on a depot filled with Humvees, tanks, and explosives, an explosion of about 50 tons of TNT in size, according to Aleqabi.
"I am not surprised that a seismometer in Baghdad picked up signals related to the war and violence," seismologist Goran Ekstrom of the Lamont Doherty Earth Observatory at Columbia University told BuzzFeed News. "These instruments are very sensitive to anything that impacts the earth, and pick up things like crashing airplanes, meteorites, [and] collapsing buildings," such as the collapse of the Twin Towers on September 11, 2001.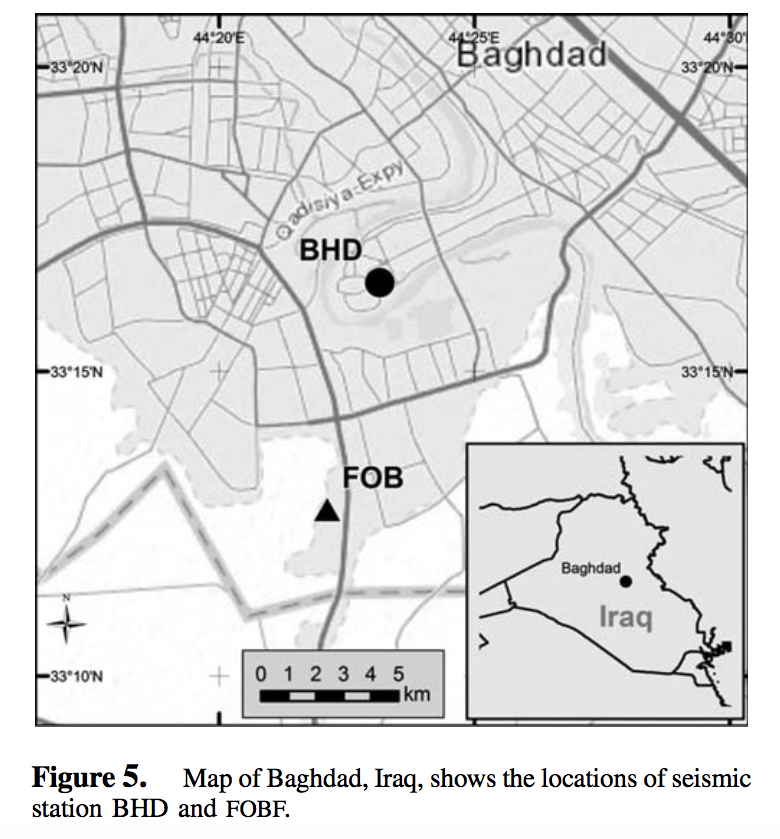 Originally designed to test for earthquakes, seismology detectors moved into the military sphere during the Cold War, when their increasing reliability made nuclear test ban treaties feasible because cheating would be instantly revealed. Now, Wysession said, seismometers are detecting less sizeable conventional explosives in an era of terrorism, as well as smaller shakes from mining blasts and even landslides.
On the military side, DTRA conducted a seismic test last year that analyzed a small explosion 80 feet underground in Idaho. And in May, scientists from the Lawrence Livermore National Laboratory used data from earthquake sensors in Turkey to estimate the size of a tunnel bomb explosion by Syrian rebels underneath an air base (it was about 40 tons of TNT, they found).
Seismic data is set to become even more pervasive with modern cell phones equipped with sensitive accelerometers, Wysession said. Already networks of phones equipped with both Global Positioning System and accelerometers can pinpoint the origin of moderate earthquakes. "It's not just going to be cameras everywhere, but seismic data too."