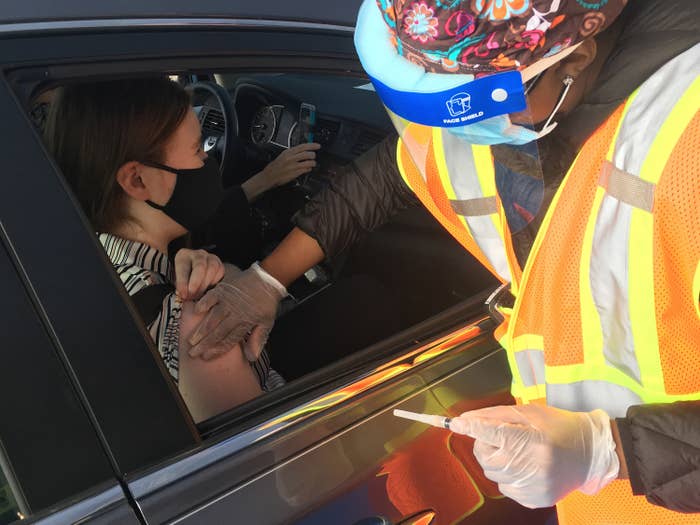 Federal health officials on Tuesday called for a pause of COVID-19 vaccinations with Johnson & Johnson's shots citing concern over "extremely rare" blood clots reported in six people.
"We are recommending a pause in the use of this vaccine out of an abundance of caution," said a joint statement from FDA and CDC officials.
Out of some 6.8 million doses of the vaccine, cerebral venous sinus thrombosis (CVST) clots were reported in six women under the age of 50 between 6 to 13 days after getting a shot. One of the women died and another is in critical condition, officials said in a press briefing on Tuesday morning.

Acting FDA Commissioner Janet Woodcock said the pause was expected to be "a matter of days," while the blood clots are reviewed. The agency does expect to see reports of more cases.
"We are aware of an extremely rare disorder involving people with blood clots in combination with low platelets in a small number of individuals who have received our COVID-19 vaccine," said a statement from Johnson & Johnson. The company will delay the rollout of its vaccine in Europe while the cases are reviewed, and later updated its statement to add that it is pausing all clinical trials of its vaccines as well.
Similar concerns about extremely rare blood clots after a dose have surrounded AstraZeneca's COVID-19 vaccine, which also immunizes via a harmless cold virus carrying the genes for the spike protein of the coronavirus. European countries put the shot on hold while the frequency of the clots was weighed, linked there to 18 deaths. The AstraZeneca vaccine is not authorized for US use.
Part of the intent of the Johnson & Johnson pause is to inform the medical community about proper treatment of the rare CVST clots, found in combination with low counts of blood platelets, according to health officials. "Treatment of this specific type of blood clot is different from the treatment that might typically be administered," said the FDA and CDC statement, where the typical blood thinner treatment for blood clots may be dangerous.
The CDC will convene a meeting of its vaccine advisory expert panel on Wednesday to review the clotting cases, weigh their significance, and consider limiting the vaccine to certain age groups. Although the cases were seen in women of child-bearing age, the FDA has not seen any link to birth control pills in the cases, noted the FDA's Peter Marks.
"This announcement will not have a significant impact on our vaccination plan," because Johnson & Johnson vaccines make up less than 5% of recorded shots in the US, said Jeff Zients, the White House COVID-19 response coordinator, in a statement.
"We are working now with our state and federal partners to get anyone scheduled for a J&J vaccine quickly rescheduled for a Pfizer or Moderna vaccine," Zients added.

Early symptoms after the shot included headache in five of six patients, and back pain in the sixth followed by a headache. One also had abdominal pain, nausea, and vomiting. Four patients later had strokes, including the patient who died.
"I support the FDA and CDC decision this morning," said Kathryn Edwards, scientific director for the Vanderbilt Vaccine Research Program. It was important that health officials are fully transparent with the public about any vaccine side effects, she stressed, to reflect a commitment to safety. "We are all deeply committed to delivering safe and effective vaccines to the public."

States including New York and Ohio have already begun either halting the use of the Johnson & Johnson shot or advising local vaccine providers to do so. Marks noted that if people decided with their doctor that they would go ahead and still get the shot after weighing the clot risks against their chances of getting COVID-19, the FDA would take no issue with the decision.

Since the US reports of blood clotting look so similar to the ones seen in Europe linked to the AstraZeneca vaccine, they will likely emerge as a rare event for all of the COVID-19 vaccines that rely on harmless viruses as an immunization platform, Baylor College of Medicine vaccine expert Peter Hotez told BuzzFeed News, by email. That might include Russia's Sputnik vaccine, released without much safety data. "This will be a problem for African and Latin American countries," Hotez added, unless more options become available. This "adenovirus" class of vaccines is particularly useful in immunization efforts because they only require standard refrigeration and one shot, in J&J's case.

Meanwhile, Moderna announced that data suggests no link between the blood clotting issue at hand and its own vaccine, which relies on a separate mRNA technology for immunization. "A comprehensive assessment of the totality of the available safety data for mRNA-1273 after over 64.5 million doses administered globally does not suggest an association with cerebral venous sinus thrombosis (CVST) or thrombotic events," the company said in a statement.