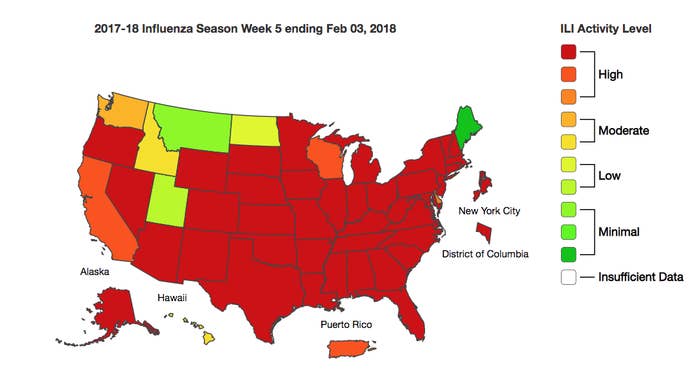 A dangerous US flu season is still striking the elderly and infants, federal health officials warned on Friday, and looks likely to continue for several weeks. One out of every 10 people who died in the US last week died of flu or associated illness.
Now in its 11th week of high activity, the current US influenza season is still active in 48 states, according the Centers for Disease Control and Prevention. This year's flu is breaking records for hospitalizations and is on track to infect about 34 million Americans this season.
"This is a difficult flu season and we can't predict how long it will last," CDC acting director Anne Schuchat said at a briefing for reporters. Past flu seasons have lasted as long as 20 weeks. "There is a lot of flu out there."

The winter's flu season has struck the elderly and infants particularly hard, with the deaths of 63 children under 5 now ascribed to flu as of Feb. 3, an increase of 10 such infant deaths from the previous week.

The current outbreak is a mixture of three strains of the flu bug: H3N2, H1N1, and influenza B. While lab tests show some declines in positive tests for H3N2 — the most active and vaccine-resistant strain — they are also reporting increases in the influenza B infections, notably on the West Coast, where H3N2 had started to decline. Only Hawaii and Oregon are seeing overall drops in infections.
People can get infected with multiple strains during the same flu season, Schuchat said, urging people to still get vaccinated. Inoculations typically lead to less severe symptoms in those who catch the virus.
The CDC has tentatively estimated the effectiveness of this year's vaccine at around 30%, largely due to a genetic mismatch between the vaccine strain of H3N2 and the wild strain infecting people.
Vaccine officials are discussing reconfiguring next year's vaccine already, looking to produce it with alternative methods to growing the vaccine virus in eggs. That method seems to have produced the genetic mismatch with the H3N2 strain.
Schuchat urged parents to remind children to wash their hands. Ill children with difficult or rapid breathing or a high fever should see a pediatrician. Particularly dangerous are cases in which recovery is halted by resumption of symptoms, perhaps a sign of a dangerous secondary pneumonia.
While shortages have been reported of anti-viral drugs that can limit the severity of bouts of flu, manufacturers report adequate supplies. People might need to call around to pharmacies to fill a prescription, said Schuchat.
"Taking [anti-viral] medicine within 48 hours of beginning symptoms will give those drugs the best chance of working."