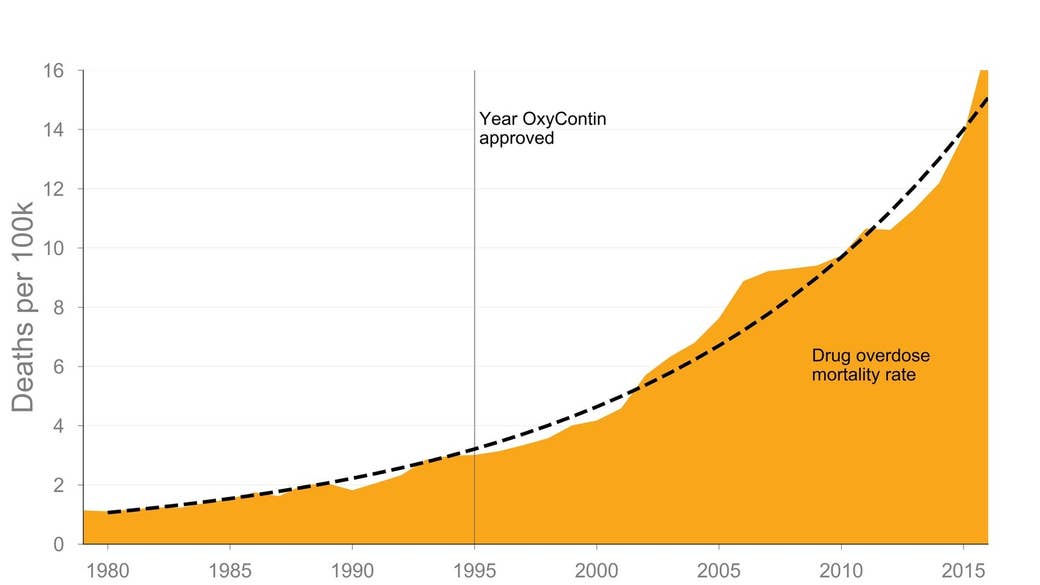 WASHINGTON — US drug epidemics of the last four decades — from crack to pain pills to heroin — have led to an accelerating rate of drug overdose deaths, according to a new study. The researchers say the shockingly steep rise points to deep problems in the economy spurring fatal drug overdoses.
Drug overdoses killed more than 70,000 people in the US last year — a record — and killed some 600,000 people between 1979 and 2016, according to the new Science report. If the trend continues, the researchers say, then overdose deaths will double every eight years for the foreseeable future.
The new study's discovery that past drug epidemics add up together to one larger, accelerating death trend, rather than marking isolated ups and downs, points to something deeply wrong with the nationwide response to illegal drugs and an economy that produces so many deadly overdoses, according to the study's authors.
"I'm concerned that economic collapse and disparity has reached the point where a sense of community has disappeared in many places," spurring drug use, the study's senior author, Donald Burke of the University of Pittsburgh Graduate School of Public Health, told BuzzFeed News. "I think it is all connected."
The study looked at rates of overdose deaths through epidemics of cocaine, methamphetamines, heroin, prescription opioid painkillers, and synthetic opioids such as fentanyl, now the leading cause of fatal drug overdoses, killing around 29,000 people in 2017.
The "sub-epidemics" of these drugs wreak havoc for distinct time periods, populations, and places, including some in cities and some in rural Appalachia, according to the study. Together they point to a trend that began well before the surge in opioid painkiller prescriptions in the 1990s, which has been blamed for the overdose crisis.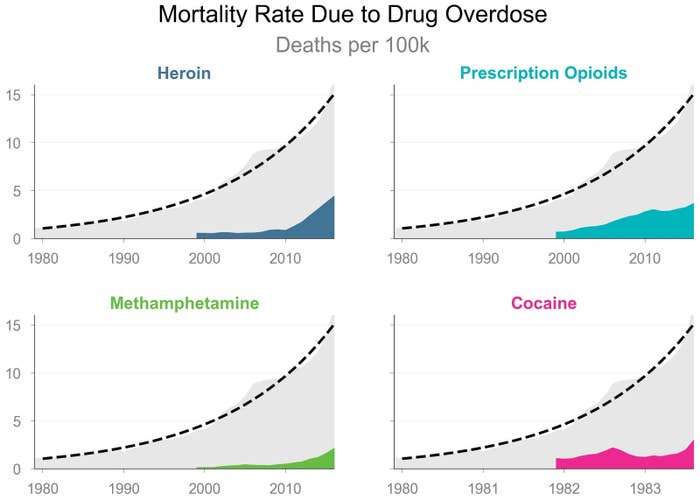 The death curve looks similar to a famous graph from economics called Moore's Law that held true for about 50 years, Burke said. That points to "something economic or technological," driving the increasing deaths, he suggested, perhaps steadily lower prices for more potent drugs.
That idea supports a well-known theory that pins the opioid epidemic on underlying economic trends. The so-called diseases of despair theory says that overdoses, alcohol abuse, and suicide have led to shorter life spans in middle-aged white people who have lost good-paying jobs and seen towns languish since the 1970s.
In recent decades, each drug epidemic has seemingly arrived as a separate wave with its own peculiarities, from the crack epidemic of the late 1980s to the rapid infiltration of fentanyl into the illicit drug market today. But seeing each one as a separate misfortune is likely a mistake, said some researchers.
"This paper makes a very interesting argument that might help us understand a mystery," social epidemiologist Jay Unick of the University of Maryland, Baltimore County, told BuzzFeed News. Even while overall illicit drug use has been stable for decades, overdose deaths have increased, with rates more than three times higher in 2016 compared to 1999. Nobody knows if that's due to people taking more risks, or drugs becoming more dangerous, or both.
"Something is wrong with us," Unick said. "We might just be having a cultural moment with lots of extreme drug use."
One implication of the study is that even if the opioid crisis is tamed — as suggested by recent studies of fewer new painkiller prescriptions, opioid use disorder diagnoses, and heroin users — another drug will come along to cause even more deaths, similar to the way that fentanyl has superseded heroin in the last five years.
"We should be careful about focusing too much on the notion of an 'opioid epidemic' and instead should be thinking about a more general fatal drug epidemic," health economist Christopher Ruhm of the University of Virginia told BuzzFeed News by email.
Ruhm cautioned, however, about extrapolating from the future based on a curve fit to death data collected after the fact. A curve fit from 1979 to 1995 when the prescription opioid epidemic began, for example, might not have forecast the future particularly well. "I'm also doubtful that running a similar analysis for specific age groups would necessarily fit as well," he said, making the larger curve less useful for predicting the future.
Alexander Walley of Boston Medical Center's Grayken Center for Addiction also doubted the usefulness of the curve. "It doesn't tell us what to do to stop overdose deaths," he told BuzzFeed News.
Walley is also skeptical that deeper economic or social forces can explain overdose deaths. "I don't see despair has grown exponentially in the last 10 years, when overdoses were lower," he said, pointing to the Great Recession of 2008.
And even if our current situation is part of a decades-long trend of various drug use, Walley said, "the opioid crisis is the one we have to deal with right now."
The report was published during the federal government's Prescription Opioid and Heroin Awareness Week, accompanied by efforts from federal agencies and the passage of an $8.4 billion bill in the US Senate aimed at cutting imports of fentanyl from overseas.
US Surgeon General Jerome Adams released a report calling for more Americans to discuss the overdose crisis, noting that only 53% of Americans consider opioid addiction a problem, and that only about 25% of those addicted to drugs receive specialty treatment.