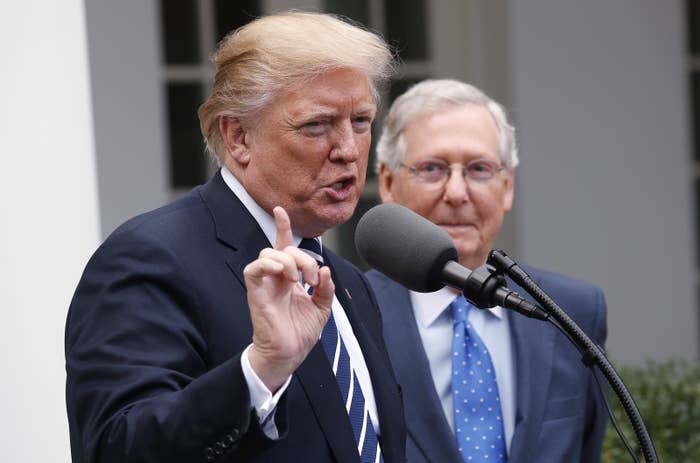 President Donald Trump on Monday said he would declare a nationwide public health emergency over a rise in opioid drug overdoses.
More than 65,000 people died last year from overdoses of painkillers, heroin, and synthetic opioid drugs, as well as cocaine and other illicit drugs, according to provisional federal data. The epidemic has ravaged rural America, and led to a blue ribbon opioid crisis panel calling for a national emergency declaration over the crisis.
"We're going to be doing that next week," Trump said at a White House press conference with Senate majority leader Mitch McConnell of Kentucky. "It's a very important step, and to get to that step a lot of work has to be done and it's time consuming work."

The declaration allows the Department of Health and Human Services to waive Medicare payment and paper requirements for treatment of addiction disorders, which are currently limited to approved doctors and limited numbers of patients. The declaration would also free up grants for emergency services, and pay states to address a public health emergency. It would also allow addiction treatment centers with more than 16 beds (the vast majority) to treat adults on Medicare who are dependent on opioids, rather than only paying for emergency room treatment. And it could force lower prices for naloxone, the overdose reversal drug.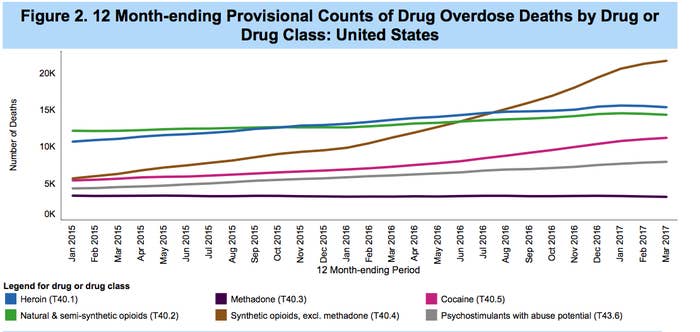 Most worrisome, deaths from fentanyl and other synthetic opioids, 10 to 100 times more potent than morphine, have surged in the last five years, killing some 20,000 people last year, according to the Centers for Disease Control and Prevention (CDC).
Trump's declaration came as his pick to head the White House Office of National Drug Control Policy, Rep. Tom Marino of Pennsylvania, has come under fire for his role in shepherding a 2016 law that tied the federal government's hands on prosecuting drug firms for over supplying prescription opioid painkillers to pharmacies. A Washington Post and 60 Minutes report on Sunday first raised the issue.
"I'll look at the report and take it very seriously," Trump said. "This country, and frankly, the world, has a drug problem."
Trump first said he would make the public health emergency in August, following initial recommendations from the opioid crisis commission headed by New Jersey Gov. Chris Christie.
"The symbolic potential is huge — the president is paying attention to a crisis that is bigger than HIV at its height," public health epidemiologist Daniel Ciccarone of the University of California San Francisco School of Medicine told BuzzFeed News at the time. "A declaration of national emergency can unite the Congress and make rapid progress towards legislation that is much needed, overdue and essential in correcting the horrifying course of this national crisis."