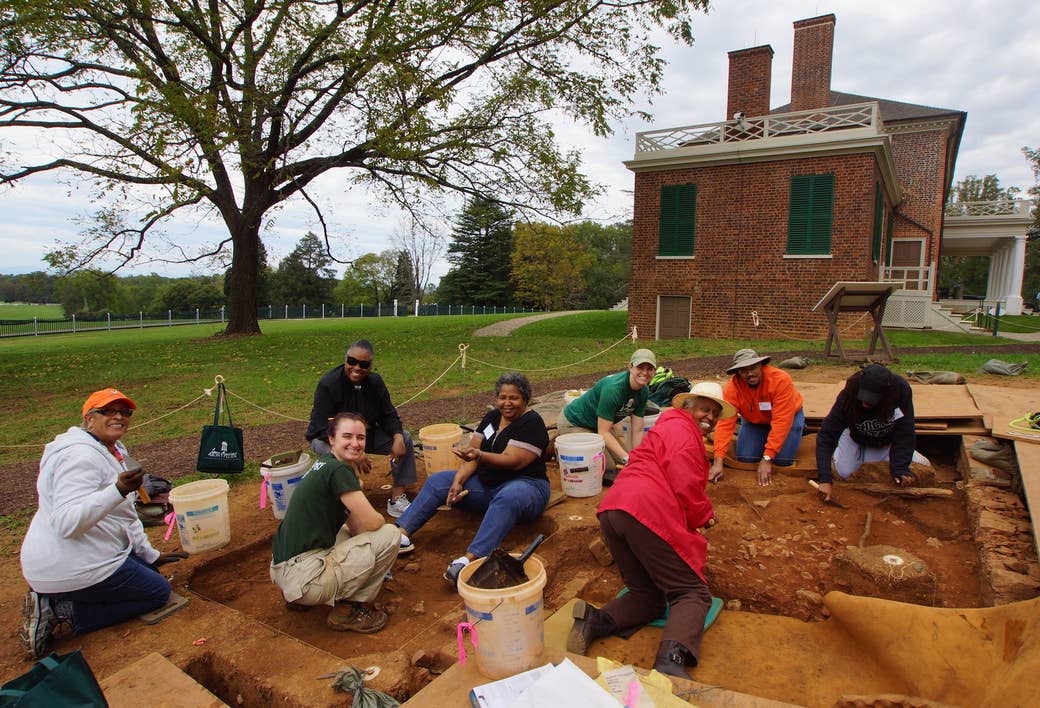 The marble rests with surprising heft in Leontyne Peck's hand, as she stands outside the rebuilt slave cabin.

"It's heavy. I was surprised when I found it," she said, rolling the limestone ball in her hand, chipped and scratched, but still unquestionably a marble.
She had found the trinket first thing in the morning next to the mansion of James Madison, the fourth president of the United States and the author of the Bill of Rights, while digging in the buried garbage of the people enslaved by him.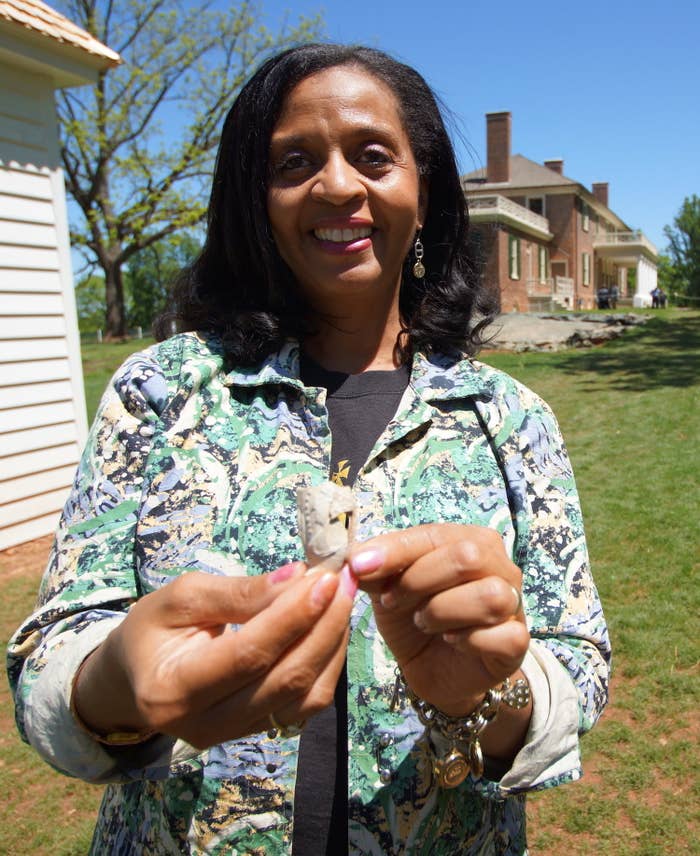 "When I was a child I played with marbles all the time," said Peck, a retiree from nearby Charlottesville whose ancestors were enslaved in Madison County, not far from here, and who is genetically related to Henry Clay Sr., one of Madison's friends. Children, she mused, had probably played with the marble in the yard where she now rolled it in her hand. "To find something that lets you feel a connection to the people who lived here is wonderful."
Here, where some of history's highest ideals of freedom of the press, religion, and assembly were first written into the foundation of US law, the past is being uncovered by archaeologists and volunteers like Peck, some of them descendants of the people who lived in these rebuilt plank-sided homes next to the big brick house.
In the Black Lives Matter era, we are still living with the founding fathers' legacy — the contradiction between soaring notions of freedom and liberty, and the lives of people who face constraint and coercion. It was all inescapably bound together, and birthed in its constitutional form, at Montpelier.
A new exhibition, "The Mere Distinction of Color" — named after something Madison once said while denouncing slavery in a 1787 speech — will open here to the public on June 5, commemorating the lives of the people who lived in these rough cabins, visible from the windows of Madison's home.
The exhibit's creators want to move beyond stale re-creations of plantation life, antique furniture, brooms, and chains, to talk about the intertwined lives at the plantation: Madison, who knew slavery was wrong but couldn't or wouldn't end it, and the enslaved people who bore the price.
They are re-creating Madison's Montpelier in its 1790s setting for the first time, revealing it as not just a brick Georgian mansion, but a slave camp set in the rolling Virginia countryside.
"We want to talk about how slavery affected people, from a place of empathy, and how it is connected to today," Montpelier Education Director Christian Cotz told BuzzFeed News. "We want the American public to see us as a place where we can tell the truth."
On the north slope there stood a gazebo, "Madison's temple" to republican ideals, and in the South Yard lived his slaves, closer than most neighbors live today. Inside the reconstructed cabins, there are no placards recounting the travails of those enslaved people. Instead, wooden cutouts of their living descendants — Peck stands delighted next to one of herself in what was the cabin of a young couple — tell the recorded oral histories of their families before and after Montpelier and its people were sold off.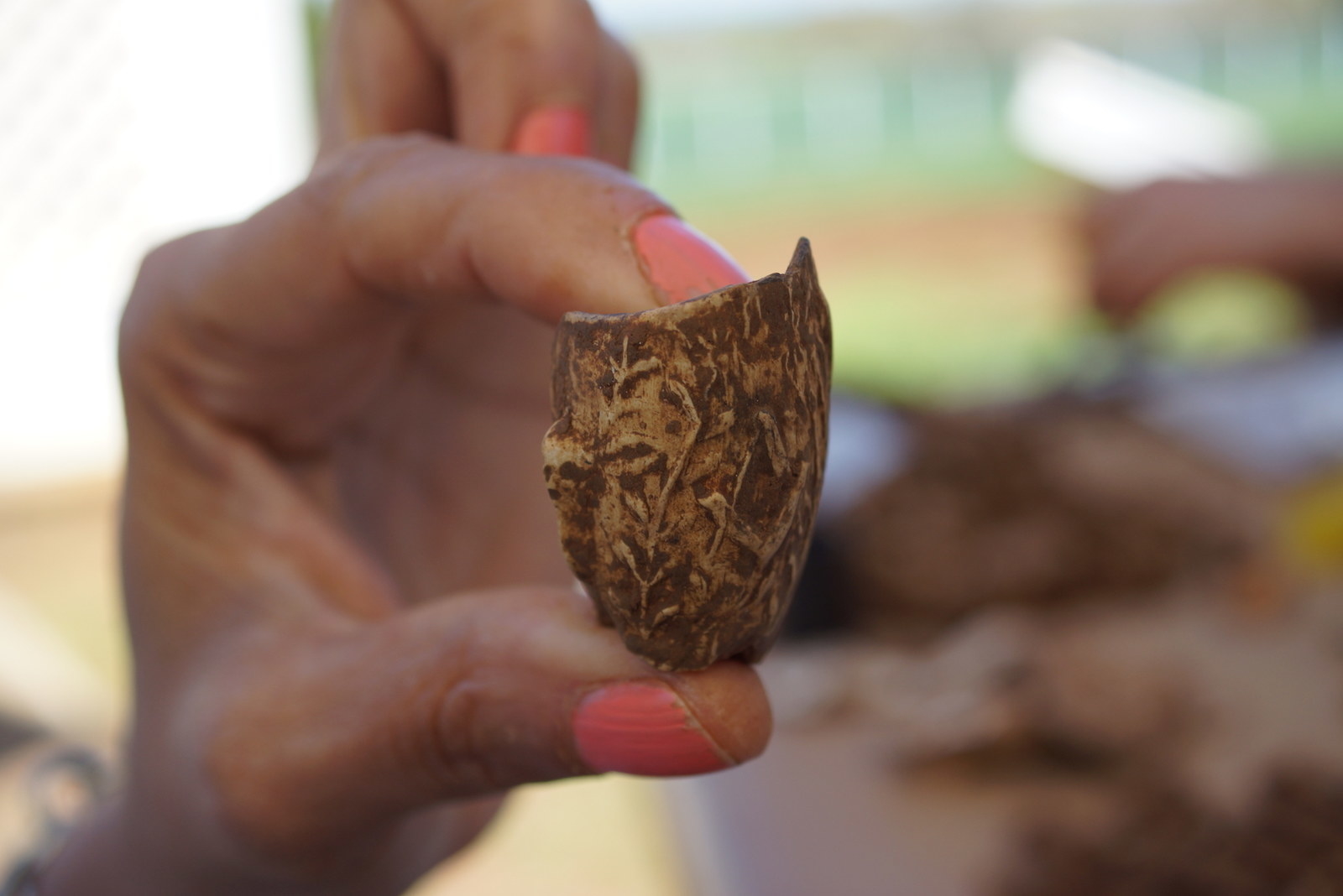 One of the discoveries made by archaeologists at the site, Cotz noted, was a pipe inscribed with the word "liberty."
"I often think about whoever smoked that pipe," he said. "They knew what that meant, what ideas were talked about by Madison. What must they have thought?'
The exhibit brings into stark relief the hypocrisy of the founding fathers, and the resulting three centuries of pain and injustice that have befallen African-Americans.
"Why did Madison and Jefferson understand the importance of liberty and freedom so profoundly and write about it so fiercely?" historian Hasan Kwame Jeffries of Ohio State University told BuzzFeed News. "They lived off people who didn't have any — right among them. How could they not get it when denying people freedom was essential to their lives?"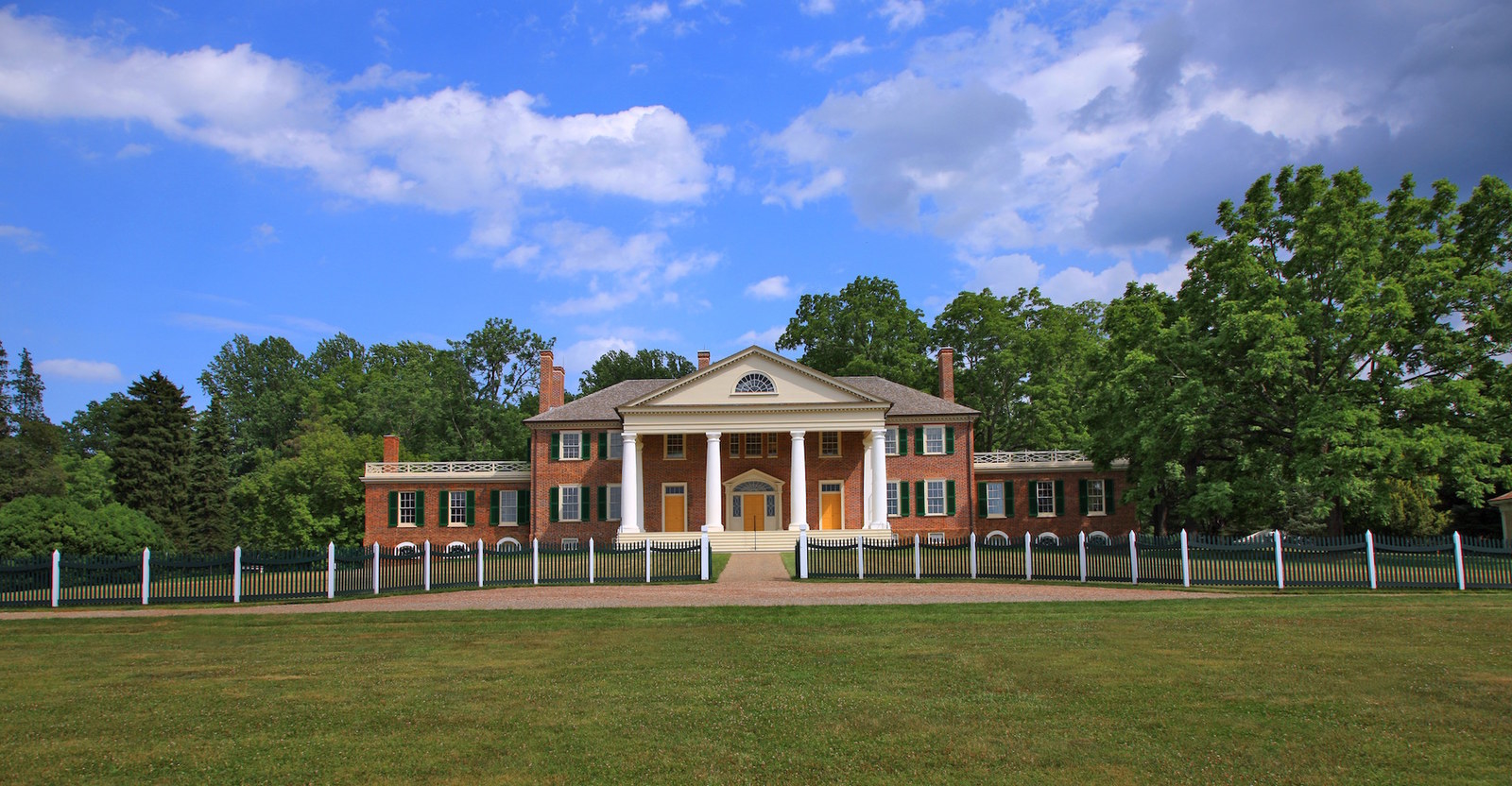 An elegant round drive, set amid lush grass and trees, emerges today to greet visitors to Montpelier, just as it did in Madison's time.

He had many guests, including Peck's ancestor, Clay, the "Great Compromiser" who tried to avert the Civil War. Arriving at Montpelier, visitors would have proceeded up the north side of the circle, past the temple and the mansion. There they would alight to be greeted by Madison, and the empty carriage would continue past the slave houses to the stable.
The Du Pont family bought the plantation in 1901, and it was turned over to the National Trust for Historic Preservation in 1984. The Montpelier Foundation formed in 2000 and has administered the estate since then, leading renovation efforts, archaeology, and a center for the study of the Constitution.
Upstairs are the stately rooms occupied by Madison and his wife, Dolley, the woman who put the role of first lady on the political landscape. In the basement is a recounting of how the slave trade engulfed the entire economy of the fledgling US in Madison's era, and the lives of 120 slaves living on his plantation. The exhibits tell the story not just of how black slaves went from a value of $300 million in 1805 to $3 billion by 1860, but of the families split apart after Madison's death in 1844.
Jeffries, the historian, felt a mix of emotions when he visited Montpelier last year to discuss the exhibit's preparations.
"As a scholar and a historian, and a huge fan of the First Amendment, I was really excited to go to Montpelier," Jeffries said. But "the African-American in me as we made the drive up to the big house felt really uncomfortable. This is not cool, something in me was saying. This is literally where slavery happened."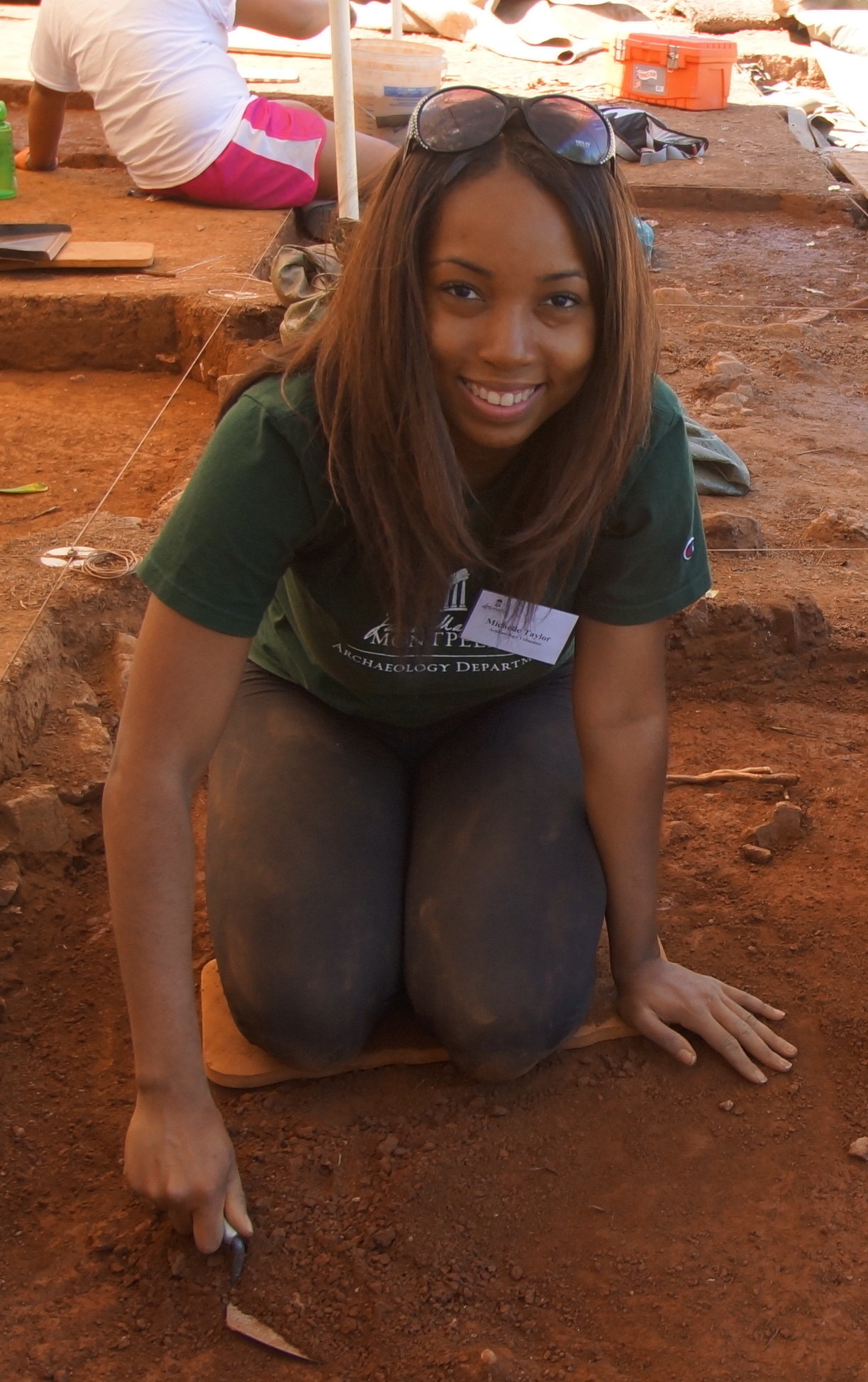 For Michelle Taylor, 27, her first visit to Montpelier was even more complicated. An archaeology student at Virginia Commonwealth University in Richmond, she looked into the digs at Montpelier after news of scholarly investigation of Harlem's African Burial Ground made her think about African-American history, and her own family.

Taylor found one ancestor, George Gilmore, who was born a slave at Montpelier in 1810, and whose freedmans farm was built atop an abandoned Confederate Army camp site. Five years ago, a professor urged her to join the long-running archaeological fieldwork at Montpelier, one of the best known "Citizen Archaeology" sites nationwide. She did volunteer digging for a week on that first dig.
Because Montpelier was essentially abandoned as a plantation after Madison died in 1844, archaeological remains at the site are fairly pristine — and excellent for making discoveries.
"On the first day I was finding things, it was awesome," Taylor told BuzzFeed News. "It was everything I had learned in class, but I was finally getting to apply it.
Her genealogical detective work had also turned up the name of a separate great-great grandmother who was born a slave at Montpelier and lived nearby.
"By the end of the week it became really emotional, because I was able to connect it to the lives of the people who lived there. I began to think this could have belonged to someone who I'm a descendant of," she said.
"Just knowing they were imprisoned, didn't have anywhere else to go, and living by barely any means," she added. "It became real to me."
Taylor returned to school and focused her scholarship on finds from the quarters of field hands (several camps were scattered around what was a 4,000-acre plantation). Now she plans to lead her own dig in Kentucky, where she has more family. "Archaeology gives you great evidence to support the oral history," she said.
These oral histories have supplemented the excavations, said Matthew Reeves, the director of archaeology at Montpelier. Stories of grandmothers sweeping the yard, for example, helped explain refuse that turned up regularly along fence lines, and crystals left in foundations explained why the scientists also found crystals in the house's stone piers.

"We're trying to understand, from the ground, how to recapture people's lives," Reeves said. Some 500 volunteers have helped on the digs at at Montpelier in the last decade, many of them returning like Peck and Taylor, in a bid to explain the hidden private life of Madison and the people who lived around him.
"It is very rare that descendants are invited in, and find it inviting, to participate in uncovering their ancestor's enslaved lives," College of William & Mary archaeologist Michael Blakey, who ran the New York African Burial Ground project, told BuzzFeed News by email.
"The nation will never be healthy unless descendants of the enslaved participate fully in unraveling the story of slavery from the tangled web of white virtue in which plantation site interpretation is usually wrapped," he said.
The archaeology at Montpelier feeds into the new exhibition, which includes artifacts of plantation life, hoes and sewing needles, and much else uncovered by archaeologists. Despite his voluminous political writing, Madison was an intensely private man, Reeves said, rarely recounting the happenings of Montpelier that are revealed in the displays. He had himself buried without a headstone on the plantation.
"If he knew we were digging up all his stuff, he'd be rolling around in his grave," Reeves said. "But sorry, Mr. Madison, you've got this legacy we have to understand for our country."
Still, black people will see the exhibit differently than white ones, Jeffries said. "You literally cannot understand the 20th century or the 21st century for African-Americans unless you take a long view of their experience as a whole stretching back to this time," he said. "You have to walk it back before you can walk it forward."
One irony for Peck in ending up immortalized in a cabin at Montpelier is that she tried to avoid the South and the history of slavery her whole life. After the Civil War, her family moved north into West Virginia, where she was born. Only in retirement, after her husband convinced her to move to the "nice college town" of Charlottesville, a place still roiled about removing Confederate statues, did she look into her family's history in nearby Madison County and Orange County, where Montpelier resides, and let herself look into the past in ways she hadn't want to before.
"When I hold that marble, and I think this was how they spent their free time while they were enslaved, it lets me touch their humanity," she said. "You had to keep going, despite all the horrible things that happened."