Senate Fails To Pass Bill To Defund Planned Parenthood
A bill to bar Planned Parenthood from receiving federal funds did not receive enough votes to move ahead in the U.S. Senate.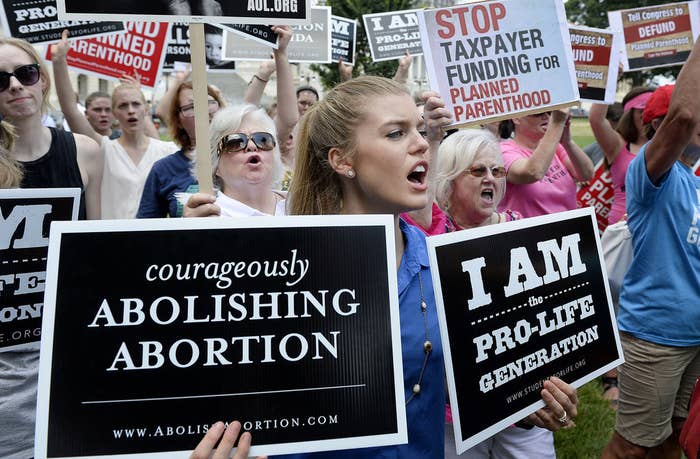 An effort to strip Planned Parenthood clinics nationwide of $528 million in annual federal funding fell short of the votes needed to advance in the U.S. Senate on Monday evening.
The bill, sponsored by Sen. Joni Ernst of Iowa, failed to receive the 60 votes needed to end debate. The 53–46 vote largely fell on party lines, with Republicans in favor and Democrats opposed. By the rules of the Senate, three-fifths of legislators must support a cloture bid to end debate and move on to a full vote on a bill.
"Tonight, the Senate sent a clear message: blocking millions of women, men and young people from seeking care at a Planned Parenthood health center is a political non-starter," Cecile Richards, president of Planned Parenthood Federation of America, said in a statement.
The vote was spurred by four hidden camera videos released in July that showed Planned Parenthood doctors describing abortion procedures and costs of providing fetal tissues to anti-abortion activists who had pretended to be representatives of a biomedical tissue culture firm. Planned Parenthood has called the videos deceptive and said they depicted legal repayments for handling tissues donated for medical research as sales.
"This is about women's health," said Sen. Barbara Boxer of California, who opposed the move to defund Planned Parenthood.
Throughout the Monday afternoon debate, opponents of the bill noted that 97% of Planned Parenthood's health services, such as cancer screening, health testing, and birth control, did not involve abortion, which is already barred from federal funding. They contended that cutting off federal payment to the 900 Planned Parenthood clinics nationwide would prevent low-income women from receiving needed health care.
Those who wanted to defund Planned Parenthood, on the other hand, decried the "harvesting of baby body parts," as Ernst called it, that they saw depicted on the hidden camera videos. Community health centers, they argued, would provide the health services now provided by Planned Parenthood clinics if the bill moved forward.
Federal funding (largely Medicaid and related payments) provides about 40% of Planned Parenthood's income.
Senate majority leader Mitch McConnell changed his vote to oppose the bill when it became apparent it would not garner enough votes. He is expected to offer the defunding measure as an amendment to spending bills later this year.
This fall, the House is likely to offer its own bill to defund Planned Parenthood, and at least three congressional committees have promised to investigate the videos.