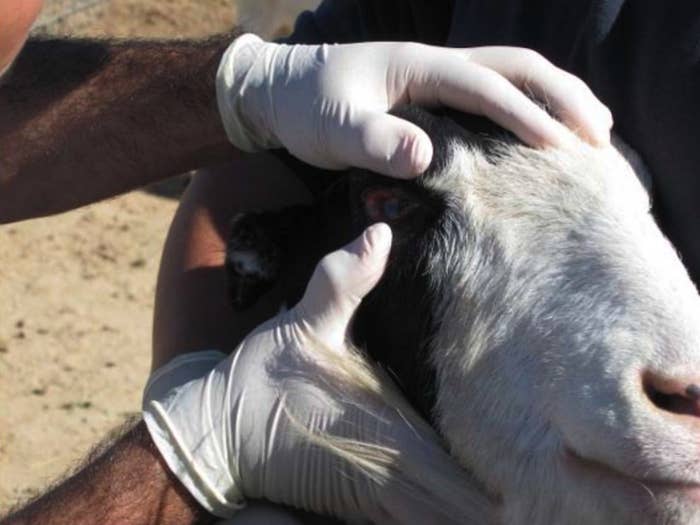 After years of allegations of mistreated research goats and rabbits, a settlement agreement announced late on Friday will put Santa Cruz Biotechnology out of the scientific antibody business. The company will also pay a $3.5 million fine, the largest ever issued for this type of violation.
The U.S. Department of Agriculture had last year held hearings on Santa Cruz's license to sell antibodies — immune system proteins harvested from the blood of animals that scientists commonly use in labs. For years, inspectors have reported poor animal treatment at the firm's farm near San Luis Obispo, California.
Once a top supplier of scientific antibodies, Santa Cruz collected the proteins from the blood of goats and rabbits for sale to labs worldwide. At the 2015 hearing, a former veterinarian testified that the firm had hidden a barn full of 800 goats from federal animal welfare inspectors for years.
Santa Cruz "is not admitting or denying," that it has violated the 1966 Animal Welfare Act in the settlement with USDA. But it will lose its dealer's license, stop selling all but its remaining stocks of animal antibodies, and stop acting as an "animal research facility" under the settlement, alongside the fine.
"It should serve as a loud and clear message to all research facilities, animal dealers, exhibitors and airlines regulated under this law," said Animal Welfare Institute president Cathy Liss, in a statement on the announcement.
In February, Santa Cruz had indicated in inspection reports that it no longer held any goats or rabbits at its farm. Scientists had called for a boycott of the firm after a series of tweets about protecting animals that some saw as insensitive in light of the investigation.
The federal Animal Welfare Act, passed in 1966, governs animal care at more than 1,100 research, zoo, or pet operations around the country, including Santa Cruz. The previous record fines for violations of the act were less than $300,000.