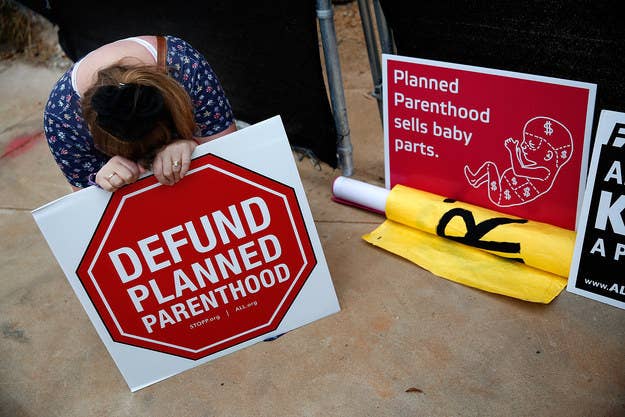 Instead of debating hidden camera videos, Planned Parenthood President Cecile Richards spent Tuesday defending her group's finances to Congress.
The highly partisan House Oversight Committee hearing, chaired by Rep. Jason Chaffetz of Utah, came as one of four committees investigating the $1.3 billion women's health care group in the aftermath of videos released by an anti-abortion group over the summer.
"Does Planned Parenthood really need federal subsidies?" Chaffetz asked to begin the hearing, announcing that he wanted to focus on some $528 million in federal health care payments, most of it reimbursements for medical checkups and tests reimbursed under Medicaid paid to Planned Parenthood.
The fight matters because of the ongoing efforts in Congress to pass a federal budget for 2016. Some anti-abortion Republicans are refusing to pass a budget unless Planned Parenthood loses all federal funding. The hearings were triggered by a series of secretly recorded and highly edited videos alleging illegal fetal tissue sales by Planned Parenthood.
"Planned Parenthood is the only health care provider for many women in many places all over the country," Richards said at the hearing. She was the sole witness at the hearing, and appeared voluntarily.
About half of Planned Parenthood's 700 health centers nationwide perform abortions, amounting to roughly 327,000 procedures each year and accounting for about 3% of the organization's services, Richards said. Federal funding cannot by law pay for abortions, Richards noted, except in cases of rape, incest, or threats to a woman's health.
Chaffetz and other opponents charged that Medicaid reimbursements for medical services freed Planned Parenthood to perform abortions they opposed, even if funding is kept separate. These critics also took issue with how much revenue the group received for abortions, alleging that the nonprofit was making money instead of providing women more services.
Chaffetz also complained about Planned Parenthood paying hip-hop trio Salt-N-Pepa to play at a fundraiser, and asked Richards to justify her $520,000 salary.
Other critics, such as Rep. Blake Farenthold of Texas, contended at the hearing that Planned Parenthood overcharged the federal government for health services, lacked mammography machines, and that its services could be taken over by other health centers nationwide.
But abortion rights supporters such as Rep. Brendan Boyle of Pennsylvania pointed to a Congressional Budget Office report finding that 390,000 women would lose access to health care if Planned Parenthood was defunded. Another report suggested that U.S. abortions would increase 30% if Planned Parenthood lost funding, because it widely provides contraception to low-income women nationwide.
"I believe low-income women all over the country deserve the same care as all other women," Richards said.
The committee was largely split on partisan grounds.
"We're having a debate about abortion that will never end," said Rep. Peter Welch of Vermont, a Planned Parenthood supporter, calling the hearing pointless.
Rep. Jim Jordan of Ohio — head of the House Freedom Committee, whose members are refusing to vote for a budget bill that doesn't defund the group — complained that a separate advocacy group connected to Planned Parenthood didn't spend any of its $12 million in political advertising funding to support Republicans in recent elections.
"Let's be honest, plain and simple, this is about money and politicians," Jordan said, saying the spending explained Democratic support for Planned Parenthood.
The defunding fight led to the resignation of House Speaker John Boehner last Friday, in a political move that frees his members to vote for a federal spending bill free of Planned Parenthood defunding.
The missing witness at the hearing was David Daleiden of the Center for Medical Progress, the activist behind the three-year secret video effort.
Committee Democrats had called for Chaffetz to subpoena Daleiden to appear at the hearing, and to ask for complete copies of his hidden camera videos.
"We're cooperating with all the Committees who are investigating, and I'm happy to testify if called by a Committee," Daleiden told BuzzFeed News by email. But so far, he has not been asked.
Over the past three years, Daleiden and his colleagues pretended to represent a fake fetal tissue procurement company called BioMax Inc., and they surreptitiously recorded conversations with officials from Planned Parenthood and other tissue firms. On the videos they discuss costs and techniques of procuring the cells donated via abortions for biomedical research.
Richards had earlier apologized for the clinical tone of the videos — characterized as "barbaric" over the summer by Boehner — and parried questions about her apology from Jordan and other critics. She noted that a forensic analysis of the videos revealed that even the supposedly complete videos have been edited in a fashion she called "deceptive."
Rep. Elijah Cummings of Maryland and others complained at the hearing that the committee had not received complete copies of Daleiden's videos to settle the charges of deception. Chaffetz said that a federal lawsuit against CMP in California enjoins the release of the tapes and that the committee's attorney was attempting to negotiate their release.
A 1993 law allows for "reasonable" reimbursement for handling fetal tissues donated to biomedical research. Richards said that Daleiden had repeatedly offered Planned Parenthood affiliates more than 10 times the going rate of recompense — including a $1,600 payment to a Rocky Mountain affiliate in Denver — and was always turned down. Since no contracts were signed, no laws were broken in what Richards called an effort to "deceive and entrap" abortion doctors.
"The contract issue is a complete red herring because our investigation was primarily documenting existing Planned Parenthood contracts for fetal tissue and organs," Daleiden said. "We never carried negotiations to the final contract stage, although the Rocky Mountain affiliate was waiting for a final contract from us and no one refused business with us."
The hearing recessed in mid-afternoon to vote on whether to proceed with two bills: one that would defund Planned Parenthood, and another that would keep the federal government funded for the next two months. The defunding bill is expected to pass in the House of Representatives but immediately die in the Senate, while the funding bill will go on to pass there tomorrow, keeping the government in business until December.
More Planned Parenthood hearings are also expected, with four congressional committees investigating the group, including the House Oversight Committee. A fifth "select" committee is on the way, promised by departing House Speaker Boehner last Friday when he resigned.