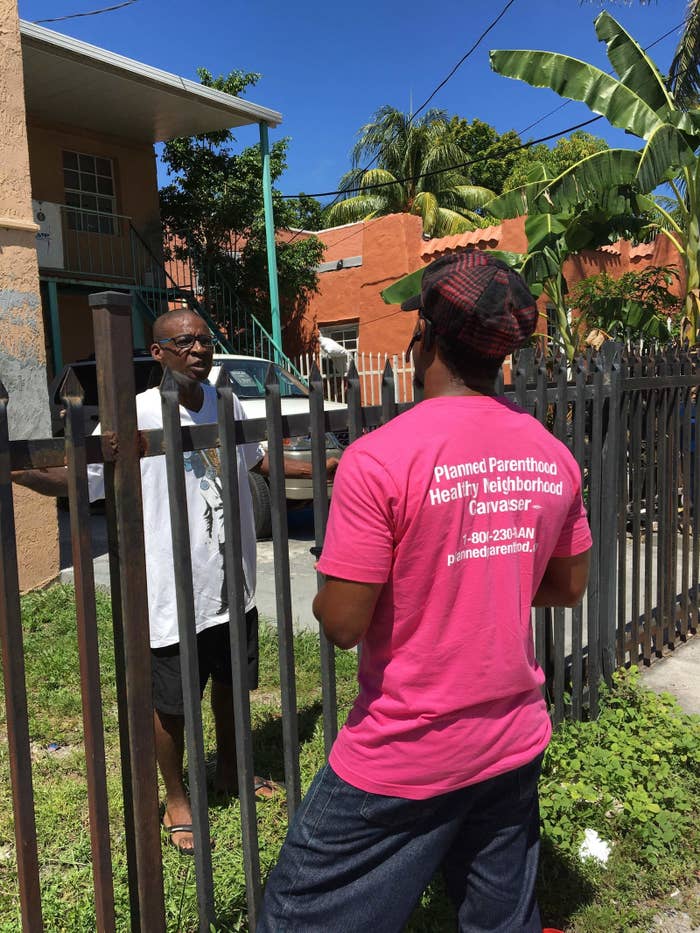 Planned Parenthood is sending canvassers to knock on 25,000 doors in Miami, to warn women in the Little Haiti and Little Havana neighborhoods of the severe birth defect risks linked to the Zika virus.
"You'd be surprised how many women we are finding don't even know that Zika is sexually transmitted," Lillian Tamayo, president and CEO of Planned Parenthood of South, East and North Florida, told BuzzFeed News. "We are stepping in because there is an urgent need here."
Since the start of a Zika epidemic in Brazil last year, the virus has spread to about 50 countries, accompanied by a wave of nearly 2,000 cases of the shrunken brain and skull birth defect called microcephaly. The virus is most often spread by mosquito bites, and sometimes through sex.

US health officials warned pregnant women last week to avoid travel to Miami-Dade County, home to 2.7 million people, following mosquito-borne infections of the Zika virus in two Miami neighborhoods, Wynwood and South Miami Beach. Florida health officials have confirmed 42 Zika cases tied to mosquito bites there, as of Tuesday.
For the next six weeks, Planned Parenthood will also provide Zika prevention kits, with bug spray, condoms, water treatment tablets, and dental dams to Miami women who are pregnant or thinking of becoming pregnant. The CDC strongly advises pregnant women to use condoms if they or their partner have travelled to a Zika-afflicted region. They should take these precautions for at least eight weeks, and up to six months if have had symptoms such as rashes, red eyes, and fever.
"We are talking to residents who feel they have been neglected, and (they) are surprised by things they didn't know about Zika," community canvasser Lenroy Watt, who is working on behalf of Planned Parenthood, told BuzzFeed News. While most people had heard of Zika, many didn't know that transmission during pregnancy caused birth defects, he said. "People get very serious when they hear this for the first time. It surprises them."
On Tuesday, Florida governor Rick Scott also announced that the state would start investigating a possible Zika case caused by a mosquito bite in Tampa, on the other side of the state. At Scott's direction, all Florida health departments offer pregnant women free Zika tests, but Tamayo complained that Scott had focused the state's efforts on mosquito control, rather than addressing sexual transmission and preventing its spread.

Planned Parenthood and Scott have been in a federal court battle over his efforts to cut the reproductive health group's funding over its abortion services, a fight which ended last week in a victory for Planned Parenthood.