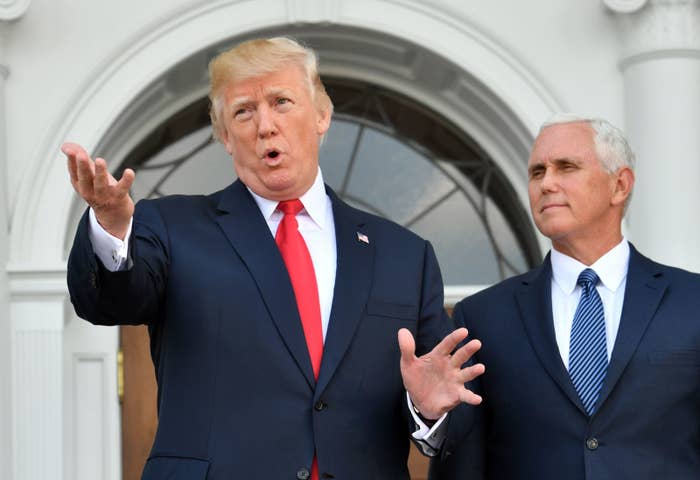 President Donald Trump declared a nationwide public health emergency over the US epidemic of opioid drug overdoses on Thursday, aimed at curbing a scourge killing tens of thousands of people nationwide.
"My administration is effectively declaring the opioid crisis a national public health emergency," Trump said. Under his direction, Eric Hargan, the acting secretary of the US Department of Health and Human Services will declare a 90-day public health emergency over "drug addiction and opioid abuse", subject to regular renewal. "It is time to liberate our communities from this scourge," said Trump.
First lady Melania Trump spoke about overdose victims ahead of the president's speech, saying she would work on the issue, in remarks delivered in front of first responders and families of people hurt by the crisis. Trump spoke about the struggle with alcoholism of his older brother, Fred, in his own remarks, attributing his avoidance of alcohol and tobacco to witnessing the effects of addiction in his own family. "I have no longing for it to this day," Trump said
Trump's tone was similar to a speech given by Attorney Gen. Jeff Sessions earlier Thursday, in which he said that the country needs to "reestablish "its "view that you should just say no. People should say no to drug use."

The declaration stops short of declaring a national emergency similar to hurricane responses, a move advocated by some public health experts, largely shifting existing federal efforts more toward combatting addiction. The federal fund for public health emergencies is meanwhile empty, meaning new money will have to be added in federal budget negotiations with legislators this year to start new programs. The administration has previously supported calls for an extra $15 to $45 billion in federal funding to address the overdose crisis in failed health care bill negotiations earlier this year.
"I agree with the president saying that prevention is the best medicine, but we have a lot of people facing addiction, right now, who need treatment," Baltimore City health commissioner Leana Wen told BuzzFeed News. She is having to ration supplies of a medication that reverses overdoses in Baltimore, for example, because of rising drug costs, more potent heroin, and increased numbers of users. "Without more resources, I don't see how this is going to help them."
The president informally declared the crisis an emergency on Aug. 10 in apparent off-the-cuff answer to a reporter's question. "The opioid crisis is an emergency, and I'm saying officially right now it is an emergency," Trump said at the time. (His then-health secretary, Tom Price, had said just two days before no emergency declaration was needed).
Overall, opioid overdose deaths quadrupled from 8,050 in 1991 to 33,091 in 2015, according to the Centers for Disease Control and Prevention, with provisional data pointing to 53,000 deaths last year. An initial wave of prescription painkiller deaths was succeeded by a sharp jump in heroin deaths in this epidemic, both now killing around 15,000 people a year. Those deaths have been surmounted by deaths from illicit fentanyl, an opioid 10 to 30 times stronger than heroin, which has infiltrated the illicit drug supply since 2012, last year killing more than 20,000 people.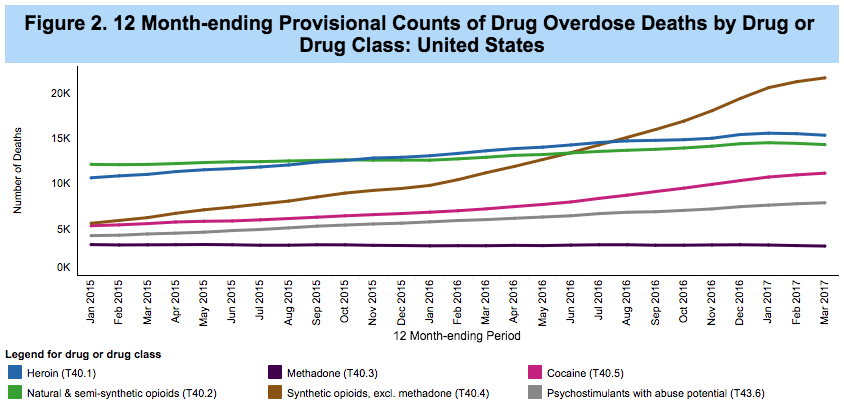 Opioid drugs, whether in prescription painkillers such as Vicodin or illicit heroin, commonly trigger a physical dependence in people who take them for extended periods of time (estimates range from about 5% to 20% of patients being vulnerable to addiction), with almost half of patients who take them for a month still using them a year later, one recent study found.
Nevertheless, physicians and pharmaceutical firms began providing opioid painkillers to patients on a massive scale starting in the 1990's, with prescriptions peaking at more than 300 million in 2012.

Largely as a result of these prescriptions and a surge in heroin supplies, over 12 million people are thought to yearly misuse opioids nationwide, with parts of the Deep South, Appalachia, and New England hit particularly hard by overdoses as a result. More than 1,000 people a day are treated in emergency departments for prescription opioid overdoses.
Federal limits now mean that only about 4% of doctors can prescribe drugs used to taper down the doses of those people. Those limits could also be adjusted under a national emergency declaration. The Department of Health and Human Services will also waive limits on Medicaid paying for addiction treatment in working age adults to facilities with 16 or fewer beds, Trump said. Only 1 in 10 people physically dependent on opioids who wants to start medication assisted treatment to taper their dependence — the gold standard for recovery — can now find an open bed immediately in a treatment center.
"In what other disease, diabetes or heart disease, do we tell patients 'well, if you are alive in two weeks, come back and we will find a bed for you'?" said Wen.
A former Office of Drug Control Policy official, Regina LaBelle, warned that the proof of Trump's declaration will only come if federal dollars follow his declaration. "There has been a lot of build up to this issue," LaBelle told BuzzFeed News. "But I am afraid the build up may have been bigger than the event."
"We need to stem the rising tide of overdoses. Not sure these steps will have an immediate impact."
Former Obama administration drug czar Michael Botticelli, executive director of the Grayken Center for Addiction at Boston Medical Center, told BuzzFeed News that efforts to cut expansions of Affordable Care Act Medicaid funds this year in Congress would threaten addiction treatment for many of the people in states ravaged by the overdose epidemic, undercutting the public health emergency declaration.
Even without extra funds, the declaration will allow treatment for recovery from addiction by tele-medicine to start, permitting remote prescription of drugs meant to stave off withdrawal pains, a boon for people in rural areas short on physicians that LaBelle and others applauded. And it will allow rapid deployment of specialists to areas suffering overdose outbreaks previously prevented by federal hiring rules.
A Trump-named commission headed by Gov. Chris Christie of New Jersey is expected to release a report on an overall strategy for combating the opioid crisis on Nov. 1.
CORRECTION
About 5% to 20% of patients are vulnerable to addiction with long term opioid use. An earlier version of the post suggested that was the risk for physical dependence, which is common with long term use.