Obama's Tighter Ozone Rules Aren't Strong Enough, Say Public Health Experts
On Thursday the EPA tightened smog rules on ozone. Health advocates worry the rules still leave too many kids vulnerable to asthma.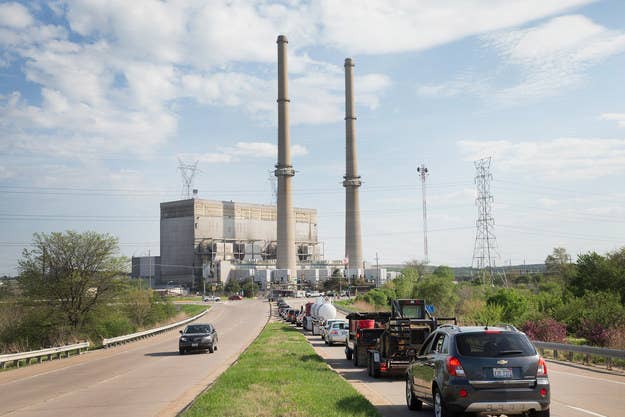 EPA chief Gina McCarthy announced tighter rules on ozone smog from cars and smokestacks on Thursday, saying the move would result in 230,000 fewer asthma attacks and 160,000 fewer lost school days for kids nationwide.
But health advocates say the rule doesn't go far enough.
Ozone, the most widespread air pollutant and the chief ingredient in smog, has been widely shown to lead to asthma attacks and premature deaths from lung ailments. In setting a new ozone limit — 70 parts per billion (ppb) concentration in the air — the new rule lowers a Bush administration limit of 75 ppb, set in 2008.
"Breathing ozone hurts lungs and increases the risk of harmful health impacts," McCarthy said at a news briefing. "It essentially eliminates exposures where we have seen harmful effect."
Under the Clean Air Act, the EPA has control over harmful air pollution. The new rule sets the limit for ozone smog at 70 to 60 ppb, the upper end of the range suggested by an expert EPA health advisory committee.
Manufacturers and other industry groups have attacked the proposed rule as too costly in the last year, after the agency said it was considering as low as a 65 ppb limit on ozone. Widely leaked, the new 70 ppb limit is not making health advocates happy.
"It's a step in the right direction, but parents need to know that a lower standard would be much healthier for their children," Paul Billings of the American Lung Association in Washington D.C. told BuzzFeed News. A 60 ppb standard would prevent 1.8 million asthma attacks and 7,900 premature deaths every year. Under the new standard, kids would still be at risk for asthma attacks on "Code Yellow" air quality warning days.
McCarthy defended the agency by saying the rules mean 70 ppb would only be a level seen a few days a year, and that the rules would be reviewed again in five years. "Not too high or not too low," McCarthy said, was her goal in setting the new standard, which she said would mean 98% of school children would not be exposed to harmful levels of ozone.
Ground level ozone has declined 33% since 1980, according to agency statistics.
Critics of the new rules, such as the American Petroleum Institute, complained they would increase costs for businesses and lead to lost jobs.
"Further tightening the standards will not improve air quality any faster, but new regulations will hurt jobs," Jack Geraud of the American Petroleum Institute said in a statement.
More than 900 counties will violate the new lower standards, according to industry estimates. That's more than four times the number that violated the older standard, adding to costs.
However, EPA estimates the benefits of the rules, a net gain of $2.9 billion a year in reduced health costs nationwide, outweigh the added costs of the rules. Only about 14 counties outside California are expected to violate the rules by 2025, McCarthy said.
"Innovation has always found a way to give us cleaner air," Billings said. "The air is cleaner now than it was, but we still have to get better."