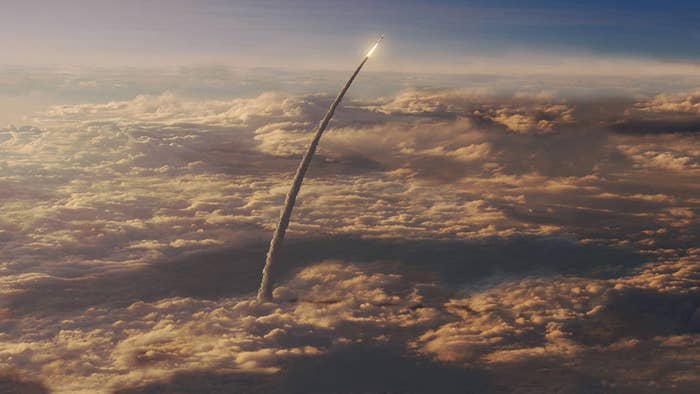 While The Martian launches to the top of the box office, Congress is slamming the idea of sending real astronauts to the Red Planet.
A new NASA report called "NASA's Journey to Mars" outlines a three-step proposal to visit the Red Planet in the 2030s. The $18.5 billion agency wants to start by building a jumbo space rocket that would help shuttle people to an asteroid. Then, after that practice mission, NASA would (somehow) transport people into Martian orbit. An unbuilt solar powered habitat is proposed.
Parts of the jumbo rocket and a space capsule have been built. Two test launches have been funded, with flights set for 2018 (with no crew) and 2023. But that's it.
"This proposal contains no budget, it contains no schedule, no deadlines," House science committee chairman Rep. Lamar Smith of Texas said at a Friday hearing.
"This sounds good," he added, "but it is actually a journey to nowhere until we have that budget and we have the schedule and we have the deadlines."
While criticizing the plans, Smith also advocated more money for the jumbo Space Launch Systems (SLS) rocket that NASA says will carry astronauts to Mars someday. He and other Republican critics of the Obama administration want to give the $3.25 billion effort an extra $400 million next year.
Democrats such as Rep. Don Beyer of Virginia complained that spending caps on the federal budget favored by Republicans have flatlined space agency spending in this decade. The National Research Council told Congress in 2014 that Mars plans weren't realistic without yearly 5% increases to NASA's budget. That hasn't happened.
All of the science committee members at the hearing complained that NASA hasn't given them a price tag for a trip to Mars. At past hearings, NASA has said that it will stretch out its Mars program to fit whatever budget they get from Congress, in a bid to avoid the cost overruns that led to the cancellation of a predecessor Mars mission proposed by the previous Bush administration.
"Are we setting ourselves up for political failure?" asked Rep. Jim Bridenstine of Oklahoma at the hearing.
Bridenstine complained that the administration's 2016 plans for the SLS rocket — sometimes called the "Senate Launch System" because of its longstanding patronage from space state senators such as Sen. Richard Shelby of Alabama — only include $2.9 billion in spending, a drop from last year.
Nevertheless, the rocket is being built, Doug Cooke, a former NASA official, said at the hearing. "It ends up being inefficient and costs more in the end. Even so, you have dedicated people at NASA who make [the mission] work."
What is really going on in the fight over NASA's Mars plans is a battle between the Obama Administration and Congress over the funding of private company rockets from SpaceX and Boeing to send crew to the International Space Station, wrote Keith Cowing of NASA Watch. Congress keeps trying to cut this commercial crew program, while the administration cuts SLS in a political game of tit-for-tat.
"No one has a plan or a budget," Cowing wrote. "This is no way to send people to Mars."