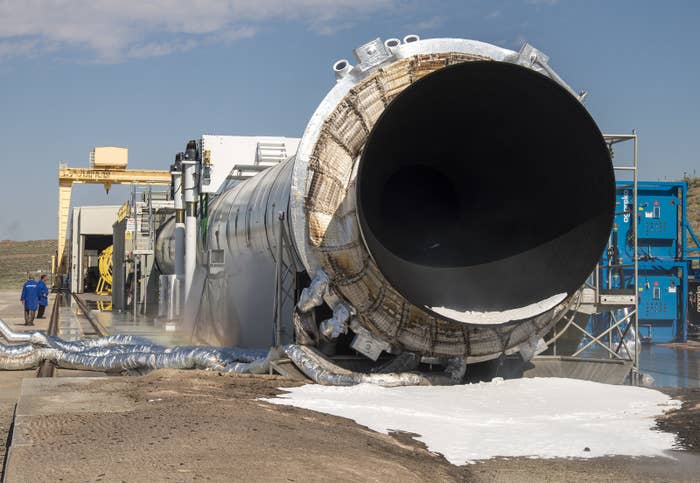 NASA will not send astronauts around the moon next year, space agency officials announced on Friday, despite a White House request to investigate a lunar flyby.
Instead the space agency delayed the first launch of its massive Space Launch System rocket — without a crew — to 2019.
"We're in this for the long haul," NASA acting administrator Robert Lightfoot said at a briefing on the decision, long expected for the $23 billion effort to build SLS and its Orion launch capsule.
The Trump administration had requested study of a crewed flight around the moon with SLS earlier this year, and agreed with the decision not to go ahead, according to Lightfoot.
The lunar flyby for astronauts was "technically feasible," he said, but the crewed launch study made it clear, "we have to move that launch date to 2019." The cost of the nixed lunar mission was estimated at $600 million to $900 million. Production problems with liquid oxygen tanks and a February tornado that hit a production facility in Louisiana added to the need for delay.
"If you talk to folks in the agency, they all knew this was coming. It's unfortunate, but predictable," Phillip Larson, a former senior advisor for space and innovation in the Obama administration, told BuzzFeed News.
Meanwhile, Elon Musk's SpaceX still plans to launch its own jumbo Falcon Heavy rocket late this summer for the first time.
SpaceX tested its rocket in a ground firing earlier this week.
Delay of NASA's first SLS launch will likely also push back the planned second launch of the rocket from 2021 to later, said NASA's William Gerstenmaier. The SLS was originally intended to fly several years ago, and has been subject to repeated delays over the course of its development in this decade, he acknowledged.
"We were pushing a lot of new manufacturing, and I think a lot of that new manufacturing has caused some of the delay," he said.