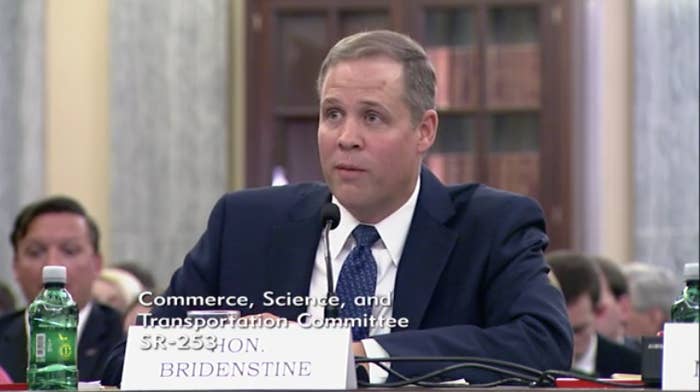 A confirmation hearing for the new NASA chief devolved on Wednesday into a climate change debate among U.S. Senators.
Trump's pick, Rep. Jim Bridenstine of Oklahoma, came before the US Senate's science committee, along with three other nominees for agency posts, for a hearing intended to look at the future of the $19 billion space agency. Instead, the meeting turned into an examination of his political past as a deeply conservative congressman, and his previous statements denying climate change.
Leading the charge against Bridenstine was Sen. Bill Nelson of Florida, a former astronaut, who criticized the Oklahoman's past political rhetoric: Bridenstine said during the 2016 presidential campaign, for example, that even some Republican senators had "made this country less safe" and "destabilized the Middle East." A conservative congressman from a deeply conservative state, Bridenstine said these older statements were part of the job of a politician, and pledged to be "apolitical" as head of NASA.

His testimony also took a more mainstream stance on climate science, diverging from his past. As a new Congressman four years ago, Bridenstine claimed that global temperatures had stopped rising: "Global temperature changes, when they exist, correlate with Sun output and ocean cycles," he said then. But just like those temperatures, which have set heat records in the last three years, Bridenstine's views have evidently changed.
"Carbon dioxide is in fact a greenhouse gas," Bridenstine said after questioning from Sen. Brian Schatz of Hawaii, adding that it meant more rain and flooding for the country. "All that is very real and happening."
The questions irked Republican senators, such as Sen. Jim Inhofe of Oklahoma, who are unwilling to accept the scientific evidence that people are causing climate change.
"We can't have a confirmation hearing without climate change coming up," complained Inhofe, the author of The Greatest Hoax: How the Global Warming Conspiracy Threatens Your Future. Inhofe then went on to claim that no scientific consensus exists about climate change — a myth that NASA itself has debunked. Another senator, Roger Wicker of Mississippi, noted that the experience of Galileo, persecuted by religious authorities in 1633 over his astronomical observations, raised doubts about modern climate science.
In his remarks, Bridenstine hesitated to say whether people burning fossil fuels and cutting down forests was the major reason for climate change. NASA acknowledges this is the case, citing 18 prominent scientific societies. His dithering led Sen. Ed Markey of Massachusetts to extract a pledge from him not to inject politics into NASA's climate science, or seek to reassign outspoken scientists to non-jobs, something that has happened at the Department of Interior, according to whistleblowers.

"I will not punish them," Bridenstine said. "I'm not going to reassign anybody."
NASA operates a fleet of climate satellites, some nearing old age. Bridenstine said decisions on their replacement would be driven by the US National Academy of Science report on priorities for climate research.
Left unexamined at the hearing was the cost and multiple delays of NASA's jumbo $23 billion Space Launch System, which Bridenstine pledged to support at the hearing. He is expected to receive a vote in favor of his nomination from the committee, largely along party lines.