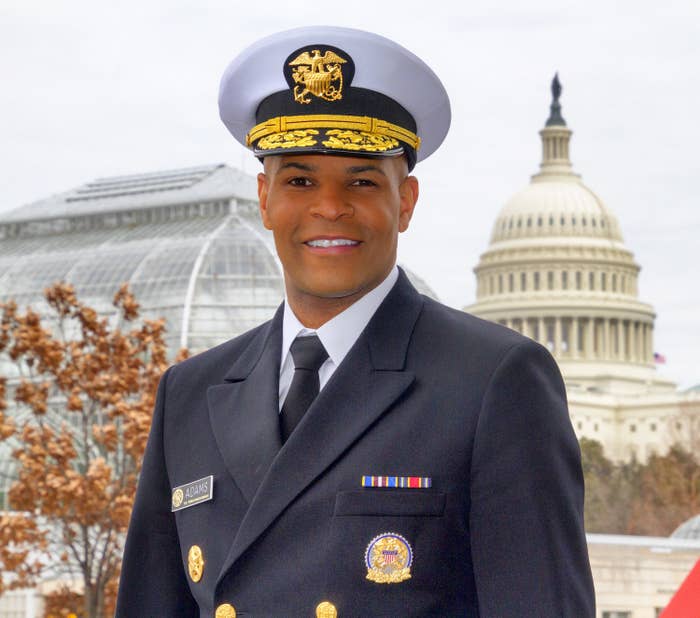 ATLANTA — US Surgeon General Jerome Adams will on Thursday issue a nationwide advisory — the first from his office in 13 years — for more people to get access to and training for the overdose-reversing drug naloxone.

"Be prepared. Get naloxone. Save a life," the advisory states.
Adams will unveil the message here at the National Rx Drug Abuse & Heroin Summit, a meeting of public health experts and law enforcement officials all grappling with an epidemic of fatal overdoses across the country that killed more than 63,000 people in 2016.
Often called "the nation's doctor," the surgeon general has traditionally served as a voice from the bully pulpit for public health warnings, with advisories serving as signposts to the public and doctors, affecting both treatment and insurance reimbursements.
"I think it will help," Tennessee health commissioner John Dreyzehner told BuzzFeed News. "I expect the surgeon general's advisory will help both directly prevent deaths from overdose as well as help prevent people from getting involved with these very dangerous drugs in the first place."
The epidemic is largely driven by opioids — painkillers, heroin, and fentanyl — whose breath-stopping effects are reversed by the prescription drug naloxone. Public health experts around the country have pushed for more drug users, their families, and first responders to get access to naloxone, a move now formally endorsed by the surgeon general.

"Naloxone isn't perfect, but it is a life-saving drug," Adams told BuzzFeed News in an interview on Wednesday. Roughly half of overdoses are happening at home, which means family members trained to use naloxone can save lives and avert tragedies, he said.
Adams was the public health commissioner for Indiana during an HIV outbreak tied to heroin use in 2015, and was an influential advocate for needle exchange programs. He has also spoken about his own family's struggle with the drug crisis, with his younger brother in prison. "I took my two sons, 12 and 13, to see him. You can imagine it made an impression," Adams said.

Given as a shot or as a nasal spray to people overdosing, naloxone blocks the brain's response to opioids and can restore breathing. Although most states now have laws easing the prescription of naloxone, not every state allows doctors and pharmacists to readily prescribe it to family and friends of drug users, or for "Good Samaritan" rules preventing the prosecution of people who report an overdose.
What's more, a National Safety Council report released on Monday at the conference found even those Good Samaritan laws are incomplete in many of the 40 states that have passed them, and only three states — Illinois, New York, and Rhode Island — require insurers to pay for naloxone.
President Trump declared a nationwide public health emergency over the overdose epidemic in November, and his blue ribbon opioid crisis panel headed by former New Jersey Gov. Chris Christie recommended widening access to naloxone.

As surgeon general, Adams said he hopes adding his voice to the call for wider naloxone use in more states will "help people see addiction as a disease like any other."
Price hikes by naloxone makers amid a fatal overdose epidemic have angered some public health officials, with one "auto-injecting" talking naloxone dispenser now costing $4,100 for a twin pack.
"Unfortunately, we are having to ration naloxone because we simply don't have the resources to purchase this life-saving antidote," Baltimore health commissioner Leana Wen said in a statement to BuzzFeed News. "Every week, we count the doses we have left and make hard decisions about who will receive the medication and who will have to go without."
Surgeon General Adams said he predicts that manufacturers will be lowering the price of naloxone soon. "I've really pushed them hard on price," he said.
Some controversial research has suggested that naloxone won't actually help curb the epidemic. A study released in March, for example, suggested that wider access to the overdose-reversal drug doesn't save lives overall and might spur more risky behavior by some drug users. But that study has faced intense criticism from public health advocates, and Adams said he's convinced by the evidence in favor of naloxone, which gives people a chance to enter treatment for a drug use disorder.
"It's not the people who are failing when they overdose, it is the system that doesn't get them into treatment," Adams said. "We need more treatment, and naloxone can be a bridge to treatment."
His own brother, Philip, in prison for crimes committed to pay for his addiction, is not undergoing any treatment, Adams noted. "We need to get to the place where everyone's brother, everyone's son, everyone can get treatment."
The surgeon general heads the US Public Health Service, which employs some 6,500 doctors and public health experts who mobilize in the face of disasters. The previous surgeon general, Vivek Murthy, released a well-received report on drug addiction and alcoholism in 2016.