Scientists Are Trying To Rescue 1,500 Monkeys In Puerto Rico
Puerto Rico's Cayo Santiago, home to 1,500 research monkeys, was hit hard by Hurricane Maria. Scientists are trying help staff wiped out by the storm to resupply the island.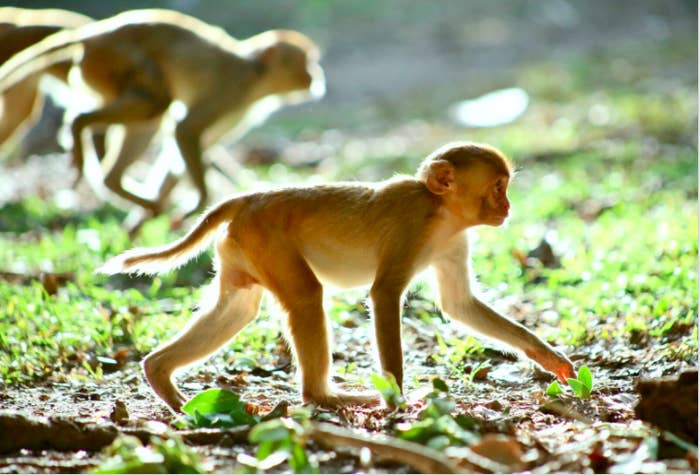 Hurricane Maria smashed headfirst into an island off the coast of Puerto Rico, Cayo Santiago, home to 1,500 research monkeys.
Scientists are now trying to help staffers wiped out by the storm and get fresh water to the island for the stranded macaque monkeys, studied for decades on the island.
The monkeys live in six social groups on the island, which is uninhabited by people. Monkeys from all six groups have been observed after the storm, "living their normal monkey lives," Yale psychologist Laurie Santos, who heads one animal cognition project team on the island, told BuzzFeed News.

"The good news is that the monkeys seem to have got through the storm," Santos said. "The bad news is that pretty much everything else has been wiped out there."
Hurricane Maria arrived as a Category 4 storm with 155 mph winds, killing at least 16 people by the latest count. On Cayo Santiago, the storm uprooted trees, severed a peninsula, and decimated the nearby town of Punto Santiago, where most of the research island's staff lives.
"We've been able to view some aerial footage from a helicopter and some areas are unrecognizable," Angie Ruiz-Lambides, associate director of the Caribbean Primate Research Center, told BuzzFeed News. "Beyond physical destruction of facilities and homes, people are without fresh water, food, and some basic supplies."
The biggest need in the town is for batteries, she added, and battery- and solar-operated items such as radios, flashlights, and fans. In many areas, including Punta Santiago, only cash is being accepted for purchases, and lines at ATM machines and for gasoline are over three hours long. "Food, water and supplies are not making it to areas like Punta Santiago yet and many people do not have the ability or means to seek out help in San Juan," said Ruiz-Lambides.
In town, the area near a research station for scientists appears heavily damaged, she said, and primate center vehicles have flooded. On the island itself, research facilities are destroyed.
Scientists from the research teams who have projects on the island are trying to reach shipping companies to get supplies to the town and the island. New York University and University of Pennsylvania researchers chartered a helicopter to reach the town and assess the monkeys.

"The priority is helping the staff," Santos said. "The science has stopped because the people who do the science have been wiped out by this storm. Some of them have lost everything, homes completely gone."
A full census of the monkeys to see if any died will take days, she added. Given the devastation elsewhere in Puerto Rico, there is an understandable need to get people up on their feet, but the researchers do want to save the monkeys. The critical need is getting them fresh water, with storm surge filling any small ponds with salt water.
"No one is going through this alone. Neighbors are reaching out and sharing whatever they have," said Ruiz-Lambides, from food to electricity.
"It's 'un país a oscuras pero lleno de luz' — 'a country in the dark but full of light.'"
A GoFundMe page has been set up to help the Cayo Santiago center and employees.