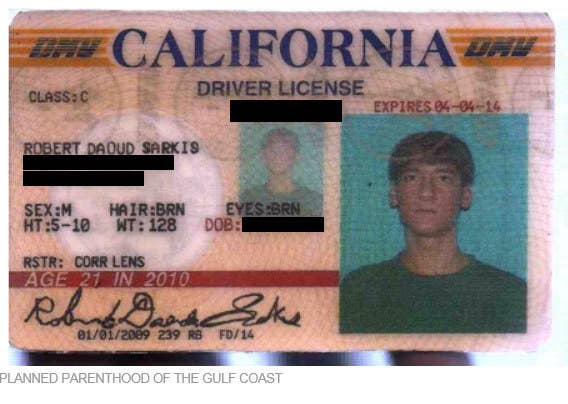 Planned Parenthood's defenders are pressing for the anti-abortion activist, David Daleiden, whose secretly recorded videos have sparked a political bonfire, to testify before Congress. And a federal judge has now ordered Daleiden to provide complete, unedited copies of those videos to the National Abortion Federation, as well as Congress.
Early on Tuesday, Democrats on the House Oversight Committee had asked committee chairman Rep. Jason Chaffetz of Utah — who grilled Planned Parenthood president Cecile Richards about her organization's finances last week — to call Daleiden to explain how he allegedly pretended to be an employee of a tissue bank. The lawmakers released a list of 21 questions for Daleiden, as well as a fake ID (for a "Robert Sarkis") he allegedly used to fool Planned Parenthood clinic officials into talking about fetal tissue donation programs.
"I've still received no request or subpoena to testify from any Committee," Daleiden told BuzzFeed News by email. He called the testimony request, "a pet project of Planned Parenthood's political cronies in the minority."

In a series of videotapes released this summer, Daleiden's Center for Medical Progress (CMP) depicted Planned Parenthood officials discussing procedures and reimbursements for delivering fetal organs to a fake research group called Biomax Procurement Services. Daleiden and his supporters in Congress suggest the tapes reveal Planned Parenthood illegally profiting off these tissue donations. But Planned Parenthood has pointed out that "reasonable" reimbursements, typically $60 a specimen, are allowed under federal law.
"Mr. Daleiden and his group engaged in a host of potentially illegal activities, including filing false documents with government agencies, falsely impersonating a legitimate business concern, soliciting charitable contributions under false pretenses, and secretly recording Planned Parenthood officials without their consent," the Democrats, headed by Rep. Elijah Cummings of Maryland, wrote.

The fake California driver's license and allegedly fake corporate filings made by CMP in its campaign to videotape abortion clinic doctors have been cited in calls by House Democrats to California Attorney General Kamala Harris to investigate the anti-abortion group. The same fake California driver's license was used to gain entrance and secretly videotape National Abortion Federation meetings this year in Baltimore and last year in San Francisco, according to filings in the National Abortion Federation lawsuit against CMP.

The veracity of the edited tapes has also become an issue at Congressional hearings. A Planned Parenthood-sponsored video analysis in August reported deceptive edits in the tapes. Daleiden said the cuts were just of bathroom breaks and meeting room downtimes.
At last week's hearing, Chaffetz said that he would not ask Daleiden to testify until he had received complete videos from the activists to settle the deception charges.
On Tuesday, federal district court judge William Orrick III ordered CMP to provide identical copies of that complete footage the National Abortion Federation before complying with a subpoena for the videos issued by Chaffetz's committee. NAF had asked Orrick to block Daleiden from sending the video in response to the subpoena and bypassing the lawsuit, but the judge said CMP had to send copies to everyone.
The Thomas More Society, which is representing Daleiden in the case, told BuzzFeed News that CMP would comply with the judge's order.
Four Congressional committees are already investigating Planned Parenthood, with a fifth "select" one on the way, all due to the CMP videotapes. Daleiden told BuzzFeed News that the complete footage contains evidence of a Planned Parenthood official describing banned abortion procedures to facilitate fetal tissue collection, a contention hotly debated in Congressional hearings this Fall.
"There's no other way to describe this than a long-con fraud by extremists who are obsessed with banning abortion in this country," Planned Parenthood's Eric Ferrero told BuzzFeed News by email. "If these were serious people who thought they really witnessed wrongdoing, they would have immediately alerted authorities and turned over everything."
Chaffetz is now vying for the House speaker's job vacated by Rep. John Boehner of Ohio. Boehner resigned last month in a political move aimed at breaking an impasse over passing a federal budget that didn't defund Planned Parenthood. The organization yearly receives bout $520 million in federal funding, mostly reimbursements from Medicaid for health screenings and checkups.
UPDATE
This post has been updated to report the federal judge's ordered release of complete video from the Center for Medical Progress.
UPDATE
This post has been updated to include comments from Planned Parenthood and David Daleiden.