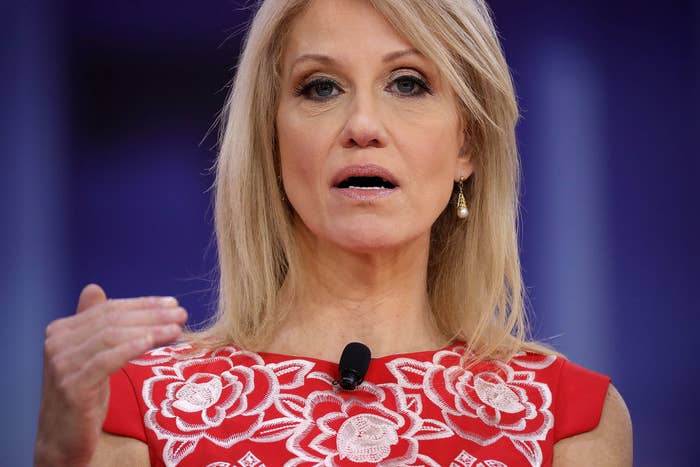 ATLANTA — Kellyanne Conway defended the Trump administration's response to the opioid crisis Wednesday at the nation's largest public health meeting devoted to the epidemic.
Trump's strategy, and particularly his calls to execute drug dealers and to make commercials to scare kids off drugs, has drawn criticism from experts. But at the National Rx Drug Abuse & Heroin Summit, Conway addressed an audience of doctors, public health experts, and government officials, touting the administration's commitment to curbing drug overdoses, which resulted in more than 63,000 deaths in 2016.
In a Q&A session, she clarified that Trump's comments on the death penalty referred only to "drug kingpins," and suggested that the threat of execution would "punish and deter" these figures. (Researchers are skeptical of this approach.)
Conway acknowledged that a federal law already exists that would allow drug kingpins to get the death penalty, but said, "I don't know if anybody ever used it."
Conway, counselor to President Trump, is heading an "opioids cabinet" of agency chiefs. In a speech at the meeting, she touted the three main aspects of Trump's approach to the crisis: reducing painkiller prescriptions, increasing medication-assisted treatment such as methadone, and disrupting the flow of heroin and fentanyl from Mexico and China.
"Things are going to get worse before they get better, so we are committed for the long term," Conway said.
Conway headlined a bevy of administration officials — including Surgeon General Jerome Adams, National Institutes of Health chief Francis Collins, and FDA head Scott Gottlieb — speaking at the summit, all just ahead of former president Bill Clinton, who is scheduled to speak Wednesday evening.
The political star power at the meeting reflected the voter focus on the US overdose crisis, and its bipartisan concern, former Office of National Drug Control Policy official Regina LaBelle told BuzzFeed News. "This meeting has always been bipartisan, a place where the parties agree we need solutions."
Trump has declared the opioid crisis a top priority of his administration, pledging "this scourge of drug addiction in America will stop" at a March speech in New Hampshire, where he floated the idea of the death penalty for drug dealers. Sociologists have noted the strength of Trump's political support in counties with the highest drug, alcohol, and suicide death rates, where his "build a wall" rhetoric resonated during the 2016 campaign.
"We convene meetings on this every day at the White House," Conway said. "People need to act."
But the administration has stumbled in some ways on its opioids response, losing its initial secretary of Health and Human Services, Tom Price, to a private plane travel scandal, and its initial pick to head the Office of National Drug Control Policy (ONDCP), Rep. Tom Marino of Pennsylvania, who withdrew after reports emerged that laws he sponsored in Congress hobbled Drug Enforcement Administration efforts to limit opioid painkiller sales. The ONDCP still has only an acting director; a 24-year-old campaign staffer who was briefly its deputy director stepped down in January over a résumé scandal.
Increases in federal funding aimed at the opioid crisis — $6 billion over two years in a budget bill signed recently by Trump — are key to paying for the administration's efforts, Conway noted.
In an interview with BuzzFeed News, Rep. Harold "Hal" Rogers of Kentucky also applauded recent bipartisan congressional actions — such as the 21st Century Cures Act and the Comprehensive Addiction and Recovery Act of 2016 — that added more money to the fight.
Before Conway spoke, an energetic Collins, the NIH chief, announced a Helping to End Addiction Long-term (HEAL) initiative building on $500 million in recently approved federal funding of addiction research. The program will research the biological causes of chronic pain as well as new painkillers that don't rely on the addictive brain chemistry of opioids.
"What we want to do is push this forward at a much faster pace," Collins said.