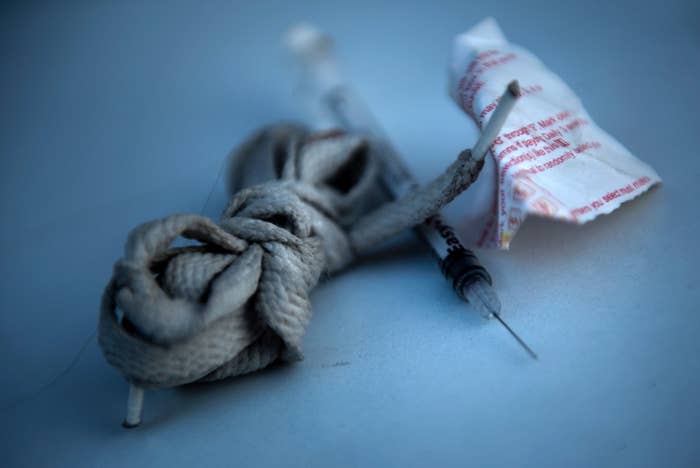 Women are increasingly giving birth to children infected with the liver disease hepatitis C, an 89% increase from 2009 to 2014, pediatrics experts reported on Thursday. A notable uptick was found in parts of Appalachia ravaged by the heroin crisis.
Overall 3.4 out of every 1,000 infants born in 2014 (the year with the latest nationwide data) were born infected with hepatitis, according to the CDC's weekly report. Hepatitis C, which kills about 19,000 people a year and infects about 3.5 million people nationwide, is a virus that mostly spreads by contact with blood, and rarely through sex.
"We found that rural and Appalachian counties were particularly impacted by the virus," said study lead author Stephen Patrick of Vanderbilt University Medical Center in a statement on the report, which calls for better screening of mothers at high risk for an infection. (About 5% of infected mothers transmit the virus to their children.)
In West Virginia, 2% of all infants were exposed to hepatitis C at birth, the highest rate nationwide.
"In some counties in Tennessee, nearly 8 percent of pregnant women were documented as being infected with hepatitis C at the time of delivery," Patrick wrote.
The increase is particularly marked among white women in places where heroin injection use has spiked among an epidemic of people addicted to opioid painkillers, with some 33,000 people dying of overdoses in 2015. Heroin and painkillers such as oxycodone are both opioids, which deliver euphoria and stave off searing withdrawal symptoms in people physically dependent on them.
"Some of this increase can be explained by people actually looking for hepatitis C in pregnant women, which honestly, I don't think was happening before," maternal-fetal medicine specialist Marjorie Meyer of the University of Vermont Medical Center told BuzzFeed News. "But this is a very real issue and I think what is going to happen is we will have to look at broader screening of newborns."
Injecting heroin through shared needles can transmit the disease, but so can sharing straws to snort the illicit drug.
"People shouldn't think they're safe from hepatitis C just because they're not injecting drugs," Meyer said. About 35 infants a day nationwide are exposed to the virus from infected mothers. "The more we look, the more [hepatitis C] we are going to find."
Some people clear the virus on their own after an infection. But many people don't and become chronic victims of the disease, requiring very costly drugs for treatment. A related analysis in the CDC's weekly report found 17 states had high hepatitis C rates. Only three of them pursue policies to prevent and treat the disease, such as needle sharing programs and rules allowing medical treatment even after a failed drug test.
Hepatitis C increases in mothers and newborns "are just part of a bigger trend," Meyer said. "We are really going to have to ask as a society if and how we are going to do what needs to be done here to deal with it."
CORRECTION
Hepatitis C can spread by blood contact and through sexual transmission. An earlier version of this post incorrectly included saliva as a means of transmission.
CORRECTION
Marjorie Meyer is a maternal-fetal medicine specialist at the University of Vermont Medical Center. An earlier version of this story misspelled her first name.