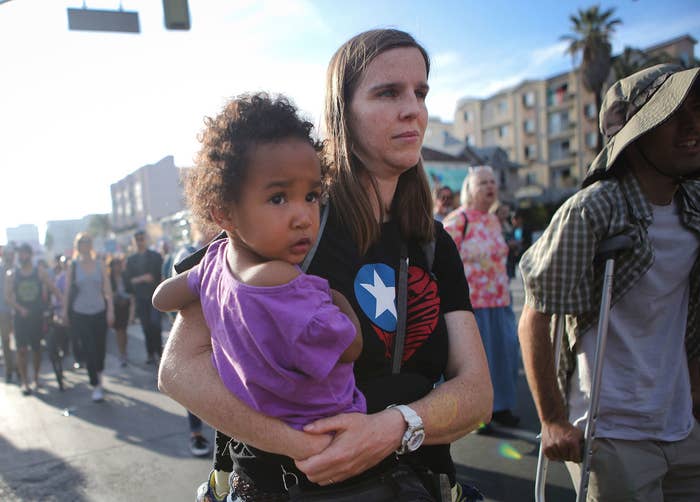 Homeland Security Department officials forcibly separating immigrant children from their parents — which has been done with nearly 2,000 of all ages since the policy went into effect in April — will likely cause many of the kids physical and psychological challenges for the rest of their lives, medical experts told BuzzFeed News.
Past research on children forcibly separated from their parents has found links to asthma, obesity, and cancer later in life, as well as substance abuse, developmental delays, and mental health problems, according to the American Academy of Pediatrics, which opposed an immigration bill released by House Republicans on Friday for not barring forcible separation.
"[It can] cause irreparable harm to lifelong development by disrupting a child's brain architecture," AAP President Colleen Kraft told BuzzFeed News. "Immigration has become so politicized. We would really like people to sit back instead and think of the health of these children."
Around 11,000 immigrant children, mostly unaccompanied teens, are in the custody of the US Office of Refugee Resettlement (ORR). Their numbers have increased quickly since Attorney General Jeff Sessions announced a change in policy April 19 that separated all children from parents caught entering the US illegally because children cannot be held in adult detention centers. (Previously, the adults and children were released while their immigration cases were adjudicated.)
President Donald Trump said Friday morning that his administration was separating immigrant children from their parents at the border because it's "the law," which isn't true: Sessions announced the policy change in response to a 37% increase in illegal border crossings in March as a move to discourage immigrants.
"While not all of the children we are ripping from their parents will suffer the full consequences of toxic stress, many may," child psychologist Megan Gunnar of the University of Minnesota told BuzzFeed News.
Studies of detained immigrant children have found both physical and emotional ailments, particularly problems in learning and behavior, for years after the separation. A 2014 inquiry into immigrant children detained by Australian authorities, for example, found that three-quarters had developed psychiatric ailments. An earlier study found 8 out of 10 had developmental delays or emotional disturbances.
"The age of the child matters," Gunnar said. Children under age 10 are of deep concern, she said. "Those under 5 should get us all running around with our hair on fire to get this practice stopped."
The science of how "toxic" stress damages kids' brains has become well established in the last two decades. Stress hormones enlarge the region of the brain called the amygdala, the seat of the "fight or flight" response, increasing impulsivity. And toxic stress also impedes the development of brain networks that reward self-control. Both effects lead to learning disabilities. Infants can see language development halted or slowed.
Removing a child from a parent both causes stress and takes away an attachment figure who can soothe the stress, a double load on the developing mind. The damage is proportional to the length of the separation. What's more, an American Civil Liberties Union report in May cataloged "verbal, physical, or sexual abuse" of immigrant children from US Customs and Border Protection officials. (CBP called the allegations "unfounded.")
Past studies of children separated from their parents during wartime, for example in evacuations in Finland during World War II, show a link to depression and anxiety in adulthood, particularly in women, Theresa Betancourt, a child mental health expert at Boston College, told BuzzFeed News.
"Here, what we are doing is even worse, adding a traumatic break with a parent onto children, many of whom have already been traumatized where they left."
Since 2014, an unprecedented wave of migration has begun from Central America, from nations such as El Salvador, Honduras, and Guatemala, fleeing violence. Those nations are the origin point for more than 90% of the minors in detention.
Even after reunification, the children would likely need some counseling, as would their parents, to avoid long-term health or psychological effects from the separation, studies suggest.
"This is an extremely high price for these children to pay who have done nothing wrong, simply so that the US can punish their parents as a deterrent to others," said Gunnar.
"We need to stop this practice immediately and return these children to their parents so they can begin healing."